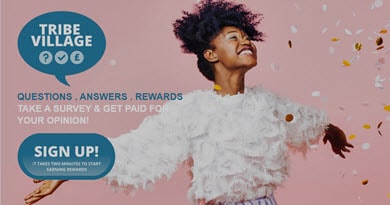 Welcome to my Tribe Village review!
I've recently discovered another UK-based survey panel called Tribe Village and decided to give it a try.
The company promises to pay you just for sharing your feedback with your favorite brands.
Because of the large number of scams on the internet, you may be frightened to join Tribe Village and give away your personal data.
In this review, I am going to cover everything you need to know about this website and give you my honest opinion.
Is Live Tribe a scam or legit site? Does it pay for your opinions?
Before you leave this page, don't forget to check out the step by step program that helped me reach $1,600+ per month from my laptop. The first 10 lessons are free! 
Tribe Village Review
---
Name: Tribe Village
Company: Tribes Research Limited
Website: www.tribevillage.com
Membership Eligibility: Worldwide
Price: Free to join
Similar sites: Survey Friends, Vindale Research, Branded Surveys
LEGITIMATE
Overall Rating: 2.3/5
What is Tribe Village?
---
Tribes Village is a survey panel operated by a marketing research agency called Tribes Research Limited.
The company gathers feedback from customers and provides quality research projects to big brands like Unilever, Red Bull, Danone, and iTV.
As a Live Tribe member, you will earn points from participating in surveys, which can be converted into cash once you reach 500 points.
When you take an online survey, you are helping companies identify market trends and influence the creation of new products and services.
Is Tribe Village a Scam?
---
Tribe Village is not a scam by any means!
After thorough research, I didn't find any complaint about the company on forums and review sites.
So, you should get paid once you reach the minimum payment threshold.
It's also important to mention that Tribe Village takes important measures to comply with strict privacy regulations in Europe (GDPR).
Therefore, you can expect the company will process your personal data lawfully and transparently.
Be aware that marketing research companies are always rating the consistency of your responses.
So, to avoid being banned, make sure you read all the questions carefully and provide truthful answers.
How Does Tribe Village Work?
---
Registration 
If you want to join the Tribe Village panel, click on the Signup button and fill up the registration form.
The registration process takes about 2 minutes.
You will be asked to answer some questions about your education, employment, address, date of birth and more.
After you complete your sign-up questions, you will earn your first 20 Tribe Points.

To finish registering, click on the confirmation link that Tribe Village will send to your email address.
Tribe Village Getting to Know You Survey.
Once you log in for the first time, click on "Surveys" and then "Available Surveys".
Right of the bat, you will see the "getting to know you" survey.

The purpose of this survey is to help Tribe Village selects the most interesting and suitable marketing studies for you.
It takes approximately 5 minutes to complete and you will earn 30 Tribe Points. 
Taking Surveys
Tribe Village will send you an email invitation whenever a new study matches your profile.
You can find all the available surveys in the "surveys" tab.

Keep in mind that you must answer some qualification questions before you are allowed to take the actual paid survey.
Once you qualify, you can expect to complete the survey in about 10 – 20 minutes.
Unfortunately, you won't qualify for every survey and thus, you will waste a lot of time!

In the "completed surveys" tab, you can find a list of the surveys you have participated in, the completion status of the surveys and the points awarded.
How Much Money Can You Earn? 
The number of points that you will earn for each survey depends on its length.
However, it's rare to find surveys that give you more than 100 points or £1.
Usually, you will make between £0.30 and £1 per survey. 
The amount of time vs the amount of money that you will make is disproportionate.

This reward platform is going viral! Cash out via PayPal, Visa, Gift Cards, and in-game currencies - Click here to find out how to generate an extra $10+ per day! 
But that is not the only downside of Tribe Village!
Depending on your country and profile, you may only get a handful of invitations per month.

Therefore, I believe that it's very difficult to earn more than £30/mo.
If you want to complete more surveys, I advise you to join a GPT site that will connect you with a couple of marketing research firms.
You will never run out of surveys if you join a GPT site like Prizerebel or Offernation.
How do You Cash Out?
---
You have to earn 500 points to be eligible for a £5 Amazon gift voucher.
That is not a high threshold, but still, it can take a long time to cash out!
Tribe Village doesn't process payments via PayPal, which is a bummer for those who don't like to spend their money.
Conclusion
---
Tribe Village is a legitimate survey panel that you can use to earn an extra income online.
However, the amount of money that you can make per month is very discouraging for most people!
There are not many survey opportunities and you will probably waste a significant amount of time trying to qualify for them.
If you have no other alternative in the short term and you are desperate for money, it may be worth it for you.
BUT…
There are much better alternatives to making money online!
For example, you could use your time to build an affiliate site that earns you a job-replacing income.
How would an extra £500, £1,000 or even £10,000 per month change your life?
Well, it has certainly changed mine!
My site has allowed me to quit my job last year and travel all around SE Asia for 7 months.
Here is a picture of me working from a Tepee in Cambodia.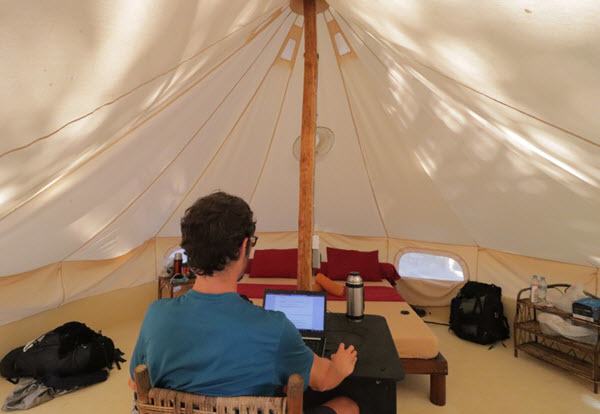 You can also reach remarkable results if you learn the proper strategies and take massive action.
Now, many people fail because they don't have reliable mentors that will guide them every step of the way.
My advice?
Have a look at my #1 online business program and start your first 10 lessons for free!
Final Words
---
Thanks for taking the time to read my Tribe Village review. I hope it was helpful!

If you have any questions, just let me know in the comment section and I will be more than glad to help! 🙂
All the best
Stefan