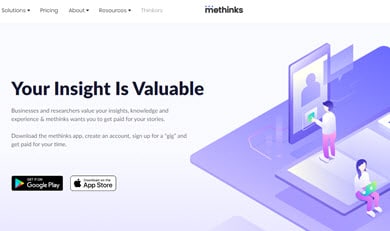 Welcome to my methinks app review!
I have recently installed methinks, which is another popular survey app available for Android and iOS devices.
As a member, you will get paid for sharing your opinions with businesses on different topics and products.
You may have used another survey panel in the past that didn't live up to your expectations.
Or worse…
Maybe they blocked your account and you couldn't receive your payment.
Now, you want to make sure you are using a reliable app so you don't fall victim of companies that are not willing to pay you for your efforts.
In this review, I am going to cover everything you need to know about methinks app and tell you if it's worth joining or not.
Is it a scam or a legit app? Does it pay?
You will find out soon!
While you are still here, don't forget to check out my top recommendation, which is the same program that helped me reach $1,600/mo from my laptop. It's free to get started and you don't need any previous experience. 
Methinks app Review
---
Name: methinks
Website: https://www.methinks.io/thinker
Company: METHINKS TECHNOLOGIES INC.
Membership eligibility: Worldwide
LEGITIMATE
Overall Rating:

4.1/5
What is Methinks?
---
Methinks is a mobile application where you can get paid for providing valuable feedback on products and services
The app operated by Methinks Technologies Inc., a company specialized in customer insight.
By providing your insights on products and services, you will help companies make better decisions to grow.
In return, you will receive remuneration proportional to the time and effort required.
Methinks stands out from other survey apps because most of the opportunities involve video chat interviews.
Therefore, you can expect to receive much higher compensation for your time. For example, some gigs pay over $100!
Is mehinks app a Scam?
---
No, methinks is certainly not a scam!
The app is operated by a reputable company that don't have the bad habit of blocking accounts and denying payments.
So, once you complete a gig, you can rest assured you will get paid.
The main downside of methinks is that, in general, people find it very hard to qualify for jobs.
Keep in mind that most opportunities pay very well, but they usually require only a handful of participants.

That's the reason why they are very selective!
As a result, you can spend a significant amount of time applying for gigs and don't get any.
It can be very frustrating, especially because you are sharing a lot of personal data without any compensation.
Pros and Cons
---
Pros
Many gigs pay very well.
It's available for Android and iOS devices.
You don't need to reach a minimum threshold for cashing out.
Receive weekly payments via PayPal.
Earn a $5 bonus for referring friends.
Cons
It can be difficult to qualify for gigs.
Some gigs are targeted at Thinkers who live in a particular country or city.
Some screeners require a short video of yourself.
You won't receive any compensation if you get disqualified.
How Does Methinks App Work?
---
Installation and Registration
If you want to join methinks, the first step is to install the app and sign up using your email, Facebook or Google account.
Next, methinks will ask permission to access your photos and files as well as send you push notifications.
Complete Your Profile
You will only be able to apply for gigs after completing the Core Profile, which includes key personal and demographic information.
In addition to the Core Profile, there are other profile categories that will help researchers find you.
These include lifestyle, shopping, travel, gaming, technologies, and app usage.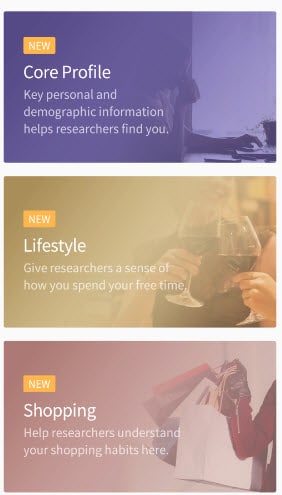 Paid Gigs
After completing your profile, visit the "Paid Gigs" tab to browse all the opportunities available.

As a "Thinker" you can get paid for different types of projects such as the following:
Participating in face-to-face group discussions.
Testing new websites, apps, and products before they become available to the public.
Completing short online surveys.
Participating in live video chats.
Search for any project that interests you and read its description carefully.
The gig description will show you everything you need to know such as the required tasks, base compensation and preferred conditions.
If you meet all conditions and you think you can complete all the tasks, tap on the blue button to apply!
As of writing this review, there were more than 30 Gigs available!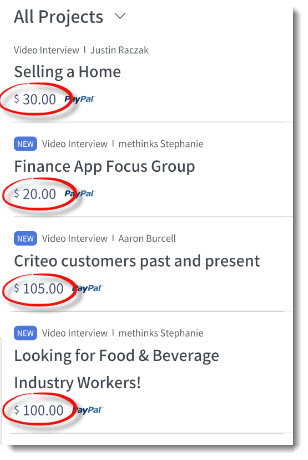 This reward platform is going viral! Cash out via PayPal, Visa, Gift Cards, and in-game currencies - Click here to find out how to generate an extra $10+ per day! 
Here are some of them:
Video interview ($30): this gig involves a 30-minute 1:1 video chat interview during which you will take a look at a live website. The base compensation is $30.
Product test with an interview ($100): You will be asked to try out a 360 camera for 14 days, for about 15 minutes each day. You will then be invited to participate in an online interview with a researcher, after which you will return the product.
Survey ($10): complete a screener questionnaire and participate in a 15-minute survey project.

Earn Referral Commissions
Methinks allows you to earn referral commissions by referring other people.
All you have to do is copy your referral code and share it with people on social media, forums, etc.
If the person completes his/her first project that pays at least $10, both you and your referral will receive a $5 bonus. 
How Much Money Can You Make With methinks?
---
Methinks pay very well, especially for live chat interviews with researchers.
Most video interviews pay more than $20, and some pay over $100!
If you complete simple online surveys though, you will earn less than $3.
When you join a platform like methinks, you can't expect to earn a consistent income because you won't qualify for every gig.
Some people complain that they haven't been selected for any gig despite submitting lots of applications.
How Will You Get Paid?
---
You will receive your payment directly to your PayPal account on a weekly basis.
Alternatively, you can choose to receive an Amazon gift card.
Conclusion
---
In my opinion, methinks app offers a great opportunity to make money in your spare time.
There are lots of opportunities that pay very well!
However, many people don't pass the screening process because clients s are very picky when choosing the right candidate.
So, unfortunately, you may end up wasting a significant amount of time.
On the other hand, those who qualify and complete the gig will get a nice paycheck!
Lots of people have had a great experience with methinks app and highly recommend it.
If you want to join similar panels where you can earn $20, $50, and even $200 per project, you can try Respondent.io, Survey Squad and Engage in Depth.
Bear in mind that it's usually difficult to qualify for such high-paying gigs, but not impossible. So, it may be worth applying!
Verdict: Legit
How to Make a Full-time Income from Home
---
Although methinks is a decent app to earn money, you won't be able to make a living off of it.
In fact, some people don't make any money at all!

In 2015, I discovered an excellent step by step program, which helped me grow an affiliate site and generate a full-time income from home.
It took me 8 months to earn my first $1.
But I knew it would require some upfront effort before enough people would visit my website. So, kept writing!
After 2.5 years of consistent work, I was able to reach $1,000 in a month, in 2019, I finally waved goodbye to my boss and co-workers!
It can be very challenging to build a successful website without proper guidance, especially if you have no marketing skills.
If you want to build a profitable affiliate as I did, check out my #1 recommendation.
In my opinion, this is the best training for those who dream about working remotely and achieve time and location freedom.
The best part? You can start the first 10 lessons, create your website and get premium support for the first 7 days!
Final Words
Thanks for taking the time to read my methinks app review. I hope it was helpful!
If you have any questions about the app, just leave me a comment below and I will be more than glad to help. 😊
All the best
Stefan