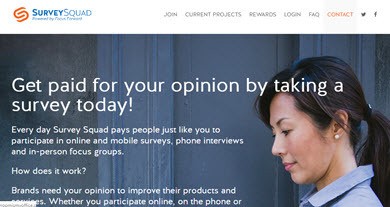 Welcome to my Survey Squad review!
I discovered Survey Squad after reading a blog post about the top companies that pay up to $100 per hour for your opinion.
What caught my attention was that the company supposedly pay $50 – $250 to participate in consumer research studies.
You probably know there are countless fake survey sites on the internet.
So, Is Survey Squad a scam? How much money can you really make?
Keep reading to find out!
You may also want to check out my #1 recommendation, which is the same program that helped me build a profitable online business and reach $1,300 per month from home. 
Survey Squad Review
---
What is Survey Squad?
---
Survey Squad is a focus group and survey panel operated by Focus Forward, a recruitment agency for marketing research studies.
The company has been helping provide participants for different marketing research companies since 2003.
At that time the Survey Squad was called Focus Foward Online.
As a member of Survey Squad, you can get paid to participate in many types of surveys such as
Online surveys
Mobile surveys
Phone interviews
In-person focus groups.
Whether you are a healthcare professional, a business professional or simply a consumer, you are welcome to join Survey Squad and share your opinions.
Is Survey Squad a Scam?
---
There are mixed opinions about Survey Squad on the internet, but I am confident that this is a legit company.
Some people are very upset because they hardly ever qualify for surveys. So, they think joining Survey Squad is a complete waste of time.
I've seen some people complaining about payments as well.
In 2016 a woman claimed that she completed a 5-day survey but didn't receive her $125 reward.
I can't comment on these cases because as I don't know what really happened, I can't make any judgements.
Just keep in mind that many survey panels have issues with payments, so this is not exclusive to Survey Squad.
Pros and Cons
---
Pros
There are 3 panels to join.
Participate in focus groups, phone interviews, mobile and online surveys.
Excellent pay rates.
Cons
It's very hard to qualify for studies.
You can't cash out via PayPal.
There are not many opportunities.
Who is Survey Squad For?
---
Currently, Survey Squad is only available for residents in the United States.

How Does it Work?
---
If you want to join Survey Squad, click on the "Join Now" button and fill up a short registration form.
You just have to provide your name, email, phone number, date of birth, state and gender.
The next step is to answer some profile questions so that Survey Squad send you surveys that match your interests and demographics.
You will earn 2,500 points ($2.50) just for completing your profile.
As a Survey Squad member, you will be invited to join 3 different panels:
Consumers: Everyone can participate in this panel and share their opinions on different products and services.
Business professionals: If you work in a specific business segment, you can share your insights with companies who may be a supplier in your industry.
Medical professionals: If you are a doctor, a nurse or other health practitioner, you can take part in medical surveys and get paid good money for that.
Survey Invitations
When a new survey becomes available, you will receive an email invitation.
Alternatively, you can sign up to your Survey Squad account and visit the current projects page.
All the marketing research studies that match your profile will be available for you there.
Another way to keep track of new marketing studies is to follow Survey Squad on Tweeter.
Survey Squad tweets whenever a new project becomes available!
Here is a screenshot of the most recent projects: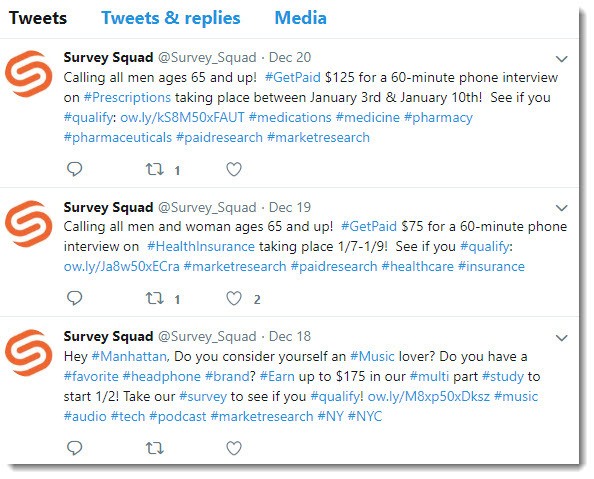 I advise you to apply quickly because high-paying studies fill up fast.

You don't want to miss any opportunity just because the quota is already full.
Screening Process
Before you take part in a study, you must complete a 5-part screening process and qualify.
Each marketing research study has different profile requirements, and thus, will ask you different questions to find the most qualified participant.
After reading many reviews on the internet, I concluded that it can be very hard to qualify for a survey with this company.
A woman said she never qualified despite answering many emails for almost a year!

This reward platform is going viral! Cash out via PayPal, Visa, Gift Cards, and in-game currencies - Click here to find out how to generate an extra $10+ per day! 
Unfortunately, you will get disqualified many times and you will waste a lot of time!
The good news is that whenever you complete a screening questionnaire, you will get one entry into the monthly sweepstake for a chance to win up to 250,000 points ($250).

How Much Money Can You Make?
---
The amount of money that you will earn varies from survey to survey.
Most online and mobile surveys take only 15 minutes to complete, and typically pay $1 – $3 per study.
Phone and in-person interviews (focus groups) can take anywhere between 30 minutes to 1 hour and the pay rate is much higher. You can make $100 – $300 per study!
There are also multi-session online surveys that last for a few days. These types of surveys can pay you more than $100.
Sweepstakes
---
Whenever you complete a screening questionnaire or a marketing research study you will get entries to enter the monthly sweepstake.
Every month, Survey Squad selects 7 participants to win up to 250.000 points ($250)
Payments
---
When you reach 20,000 points ($20), you can request a payment via check, cash, or gift cards.
Conclusion
---
Survey Squad is a legit company if you want to participate in high-paying marketing research studies.
However, this company seems very picky when it comes to selecting the right candidate.
Depending on your profile, it's very difficult to qualify, especially for focus groups and phone interviews.
Some people didn't have the chance to complete a single survey after trying to qualify for one year!
When you participate in Focus Groups, you get paid 5 or 10 times more compared to online simple online surveys.
Unfortunately, opportunities are scarce, and there are many participants applying at the same time.
That's why you will never earn a steady income by sharing your opinions with marketing research companies.
Verdict: Legit
How To Make a Full-Time Income Online
---
You can give Survey Squad a try, but if you are serious about making money online, I highly recommend building an internet business.
I used to join many survey sites in search of quick and easy money online.
But when I discovered affiliate marketing in 2015, everything changed!
Thanks to this online business program, I discovered how to set up a WordPress site, attract lots of visitors and earn affiliate commissions.
In this program, I met many affiliates who were making $1000s and even $10,000s with their websites.

All of them followed the same step by step program, took massive action to build highly profitable affiliate sites.
So, I put in the work too and followed the exact steps to create my online business.
After about 2.5 – 3 years, I was making enough money to pay for all my living costs in London.
If you have the patience and determination to apply all the strategies in this program, you can reach the same or even better results!
Imagine…
How would your life be like if you earned a full-time income from your laptop?
Let me know in the comments below!
Final Words
Thanks for taking the time to read my Survey Squad review. If you have any questions, just let me know in the comment section below!
I wish you all the best!
Stefan