Welcome to my PrivaDroid app review!
I was browsing Instagram a few days ago when I saw an advertisement about this app called PrivaDroid.
The app developers promised to pay you $10 for installing their mobile application and keeping it for 30 days!
In this brief review, I will explain how PrivaDroid works and give you my honest opinion about it.
Is it a scam or a legit app? Will you get paid?
You may also want to check out my #1 recommendation, which is the same program that helped me build a profitable online business and reach $1,600 per month from home. 
PrivaDroid App Review
---
Name: PrivaDroid
Developers: UofT Android Privacy Team
Earning Potential: $10 USD
Payment methods: PayPal
Price: Free
LEGITIMATE
Overall Rating:

4/5

Recommended? Yes
What is PrivaDroid?
---
PrivaDroid is an android application developed by the Android Privacy Team from the University of Toronto (UofT).
The team created Privadroid to study the decisions people make when installing and uninstalling mobile applications.
They are also interested in learning about people's behavior when answering permission requests.
If you want to participate in the study, they encourage you to install the app and answer quick surveys for 30 days.

This reward platform is going viral! Cash out via PayPal, Visa, Gift Cards, and in-game currencies - Click here to find out how to generate an extra $10+ per day! 
At the end of the experiment, you will receive $10 via PayPal.
Who is PrivaDroid App For?
---
The opportunity is available for participants over 18 years old and residents of the following countries:
The United States, Canada, United Kingdom, Spain, France, India, South Korea, Hong Kong, Argentina, South Africa, and Singapore.
You can also join even if you are not from one of these countries, but you will not get paid.
If you try to use PrivaDroid from another country, you will get a message saying that you are not eligible for the reward.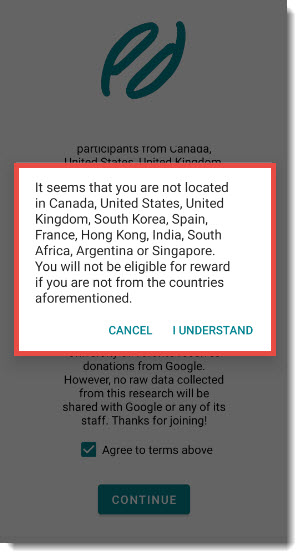 Is PrivaDroid a Scam?
---
No, it isn't. PrivaDroid is a legitimate app run by a reputable institution.
After reading lots of reviews on Google Play, I noticed that lots of people get paid with no issues.


The problem is that I also found some participants complaining about missing payments.

I suspect some of them have joined from an ineligible country.
But in most cases, I think the payment was simply delayed or missed by mistake.
So, before installing the Privadroid app, make sure your country is on the list.
If your country is eligible for the reward, and you are still waiting for over 1 week, email the team at [email protected]
How Does PrivaDroid App Work?
---
How to Participate
After installing Privadroid, the first step is to allow app usage and accessibility services.
The app usage access allows Privadroid to track what other apps you are using and how often.
As for the accessibility service, it's required when the Privadroid needs to read the permission name and whether you deny or grant permission from an app.
Next, you must answer a few demographic questions (age, gender, country, income level, and job industry).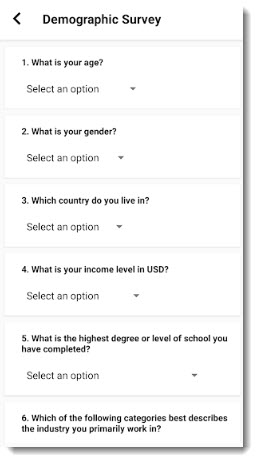 They will only collect anonymous data from you except for your Google Advertising ID.

Besides, the research team promise they will not share your answer with any third-party.
What is Required from You?
You must keep the Privadroid app running in the background for 30 days.
Then, it may trigger a short survey right before installing or uninstalling an application.
For example, they may ask why you are installing a specific app and which factors influenced your decision.
Here is one survey example: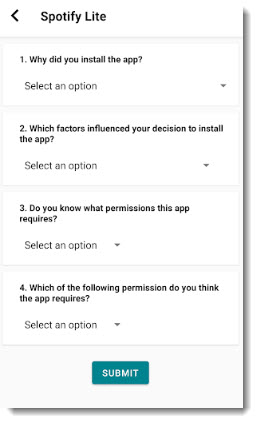 Sometimes, questions will also show up during a permission request.
If you keep PrivaDroid app installed and complete all the surveys during the entire period, you will receive 10 USD.
Unfortunately, your participation will end after 30 days, and you will not get paid after this period.

How Will You Get Paid?
After the 30-day experiment, you will receive the 10 USD reward via PayPal.
There is no other payment method available.
Usually, the money will be transferred within 2 or 3 business days, but some people had to wait for a few weeks.
What do Participants Think About PrivaDroid App?
---
Most people rate PrivaDroid 5 stars and report receiving the payment as promised.
But as I said, there are people complaining about payments, so I don't think there is any guarantee that you will cash out.
The main problem with this app is that it drains your battery very quickly.
Someone claimed that the app was consuming one-third of the battery.
I hope the developers improve this inconvenient aspect
Conclusion
---
Privadroid is a legit opportunity to earn an extra 10 USD from your phone.
Just keep in mind that the app in its current form is consuming a lot of battery. So, I recommend using it on an old device if you have one.
You cannot make more than 10 USD and
If you would like to install other legitimate reward applications, I suggest checking out McMoney, PhonePaycheck, MobileExpression, and  InCompass.
Each app pays for a different reason, and each one has its pros and cons.
How To Make a Full-Time Income Online?
---
Reward apps and websites are great for pocket money, but sometimes, you can waste a lot of time for very little return.
There are better ways to make money online!
If you have 2 – 4 hours of spare time per day, you could start an online business and grow a steady income from home.
As most affiliate marketers earn in dollars, you could quit your job and maybe live somewhere where the dollar has great power.
It's up to you!
After all, you'd have the freedom to work whenever and wherever you want!
There are many business models that you can use, but personally, I've chosen affiliate marketing.
In my opinion, it's the best business model for beginners and even experienced marketers!
If you want to build an affiliate site from scratch and make it highly profitable, I advise getting proper training from those who have already walked the way.

>> Check out my #1 recommendation HERE and get started for free!
Final Words
Thank you for taking the time to read my PrivaDroid app review. I hope it was a helpful and enjoyable read.
If you have any questions, feel free to ask me in the comment box below.
All the best
Stefan