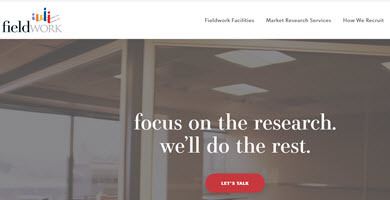 Welcome to my Fieldwork review!
If you live in the US, you might have found Fieldwork and the opportunity to participate in research groups.
Some websites promoting Fieldwork claim you can earn over $75 by sharing your opinions!
Now, you're probably wondering if Fieldwork is a trustworthy company or a website to avoid.
After thorough research, I decided to put up this review and answer all your questions regarding Fieldwork.
In the end, I will also give you my honest opinion and show you another strategy that can help you reach a full-time income from home.
If you are serious about making money online, you can skip this review and go straight to my #1 recommendation.
Fieldwork Review
---
Name: Fieldwork
Payment methods: gift cards.
Membership Eligibility: US
LEGITIMATE
Overall Rating:

4/5
What is Fieldwork?
---
Fieldwork is a US-based marketing research firm that allows you to participate in paid focus groups and other market research activities.
As a result, it partners with businesses and organizations to obtain information and insights about its products, services, and target audiences.
Focus groups are the most common type of study at Fieldwork. This data collection method involves bringing together a small, varied group of individuals to debate and offer feedback on specific products or topics.

This reward platform is going viral! Cash out via PayPal, Visa, Gift Cards, and in-game currencies - Click here to find out how to generate an extra $10+ per day! 
As a member, you may also participate in other types of research, such as online surveys, phone interviews, shop-along interviews, product trials, and taste tests.
What is a Focus Group?
---
A focus group is a group discussion moderated by a marketing research professional.
When you join such groups, you will be asked questions about the products and services that you are familiar with.
Your job is to contribute to the round-table discussion by sharing your honest opinions.
Focus Group Locations
---
Fieldwork has world-class facilities in the following cities:
West Coast: San Francisco, Seattle, LA-Orange County.
South: Denver, Dallas, Phoenix.
Midwest: Minneapolis, Chicago
East: New York, Atlanta, Boston, NJ-Fort Lee
How Does it Work?
---
Registration
If you want to join Fieldwork to participate in focus groups, the first step is to register for free.
You should click the red button "Join a Focus Group" and select a city close to you.

If you don't live close to any of the cities listed above, you should register for the national database.
As a member of the national database, you won't be invited to participate in focus groups.
Instead, you may participate in a phone interview, online research, and product testing.
Now, complete the registration form by filling up some information about yourself.
Invitations
You will receive an email invitation whenever a marketing research study matches your profile.
Next, Fieldwork will ask you additional questions to see if you qualify for the study.
If your answers match the clients' ideal candidate, the company will contact you to arrange a visit to their office.
Be truthful when answering these questions and arrive at your appointment on time.
Interviews
Most focus group sessions are led by a trained facilitator in a conference room and usually last between 1 and 2 hours.
The topics are diverse, and the interviews are carried out in a relaxed manner.
There are no right or wrong answers since participants are encouraged to express their honest opinions, and feelings on a topic.

How Much Money Can You Make?
---
It all comes down to the length and type of study you're invited to.
Focus groups tend to offer the highest payouts, with a minimum of $75 per session.
However, some focus groups currently dish out over $100 per study. That's something to get excited about!
How Do You Get Paid?
At the end of your interview, you will get paid via Visa gift cards, which you can use to make purchases online.
Unfortunately, Fieldwork doesn't process payments via PayPal.
Conclusion
---
Fieldwork is a legit US company to participate in focus groups and other marketing studies.
It offers an excellent pay rate compared to online surveys and simple online tasks.
However, it can be hard to qualify for a study, so you can't rely on Fieldwork to earn a steady income from home.

If you want to join other companies where you can participate in focus groups, check out  Engage in Depth,  Respondent.io and Survey Squad.
Verdict: Legit
How to Make a Full-Time Income from Home
---
Joining Fieldwork and earn over 100 bucks per study is great, but unfortunately, you won't get invitations every week!
What if I told you that could make a steady $100 PER DAY from your laptop?
It's possible to earn a steady and more substantial income from home by leveraging a business model called affiliate marketing.
Thanks to affiliate marketing, I am making a steady $1,300 per month, which allowed me to quit my job and travel SE Asia!
If you want to create a highly profitable affiliate site, check out my #1 recommendation and start your 10 free lessons today!
How would your life be like if you had a website generating money for you around the clock?
Let me know in the comments below! 😉
Final Words
Thanks for taking the time to read my Fieldwork review. If you have any questions, just let me know in the comment section below!
I wish you all the best!
Stefan