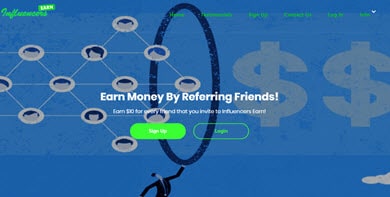 Welcome to my InfluencersEarn review!
I have recently found another website promising to pay $10 for inviting friends and $25 just for signing up.
When I scrolled down the page, I also discovered that it pays $30 per survey and $50 per YouTube or Instagram post.
It quickly reminded me of  Viral Bucks, Kids Earn Cash and RainMoney.
All of these sites are scams and should be avoided at all costs.
But is InsfluencersEarn the real deal? Can you make a lot of money with this site?
Read my unbiased review below before you create your account!
If you are searching for a real way to earn a full-time income from home, to check out my #1 recommendation. This is the same program that helped me build a profitable online business and reach $1,300 per month from home. 
InfluencersEarn Review
---
Name: InfluencersEarn
Website: https://influencersearn.com/
Owners: ?
Income Potential: $0
Membership Eligibility: Worldwide
Overall Rating:

0/5
What is InfluencersEarn?
---
InfluencersEarn is a website that claims you can make thousands of dollars per week using the power of social media.
The owners promise to pay $10 for every friend that you invite through your referral link.
Not only that, but they also encourage you to complete surveys worth $30, as well as create YouTube videos for $50.
If you are familiar with reward sites, you know that this opportunity seems too good to be true.
After all, which company would pay $10 just for inviting others to sign up for a website?
How Does InfluencersEarn Work?
---
After you sign up for free, they will give you a referral link that you should copy and share with your friends on social media.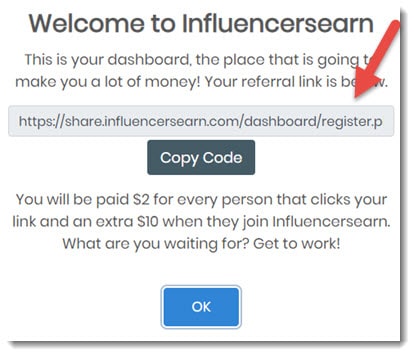 The site claims that whenever someone clicks on your link, you will earn $2, and if the same person signs up, you will get $10.
But there is more!
You will also see a purple button that says "$30 survey and apps".
When you click on this button, you will see a bunch of offers from different companies instead of surveys.
These are similar offers provided by legit GPT sites like Prizerebel, Swagbucks and Offernation.
However, instead of earning $1 – $2 per offer, InfluencersEarn promise to pay you $30, which is insane!
You are also encouraged you to post a Youtube video or a tweet promoting InfluencersEarn. They promise to pay you $50 for your promotional posts.

According to the site owners, you earn money because when you promote your link, you build exposure to the website, increasing ad revenue.
I agree! Many people make money by referring friends to GPT sites, including myself.
But earning $10 per referral doesn't look realistic to me!
In order to make over $10 commission as an affiliate, you'd have to promote products or services that sell for $20 or more.
The problem with InfluencersEarn is that they are not selling any product or service.
enuine GpT sites usually pay a percentage of your referral's earnings, which is usually 10 or 20%.
So, if your referral makes $10 completing surveys and offers, you make $1 or $2.
That's not the case with InflyencersEarn. Their business model doesn't make any sense.
Cashout
---
If you try to cash out, you will discover that you must have a minimum of $250 in your balance account.
Now, because referring 25 friends is not so easy, you may be tempted to complete those $30 tasks to reach your minimum payout requirement.
Don't do that!
Does InfluencersEarn Pay?
---
The answer is no, it doesn't.

I have been an internet marketer for 4 years, and I can tell you that no company can afford to pay so much money to affiliates.
Also, they will never pay $30 for people who complete their offers!
You see, whenever you complete those offers, the owner of InfluencersEarn will earn an affiliate commission.
However, they will never pay back the members who helped promote the platform and complete offers from their partners.
It's a shame that these sites can operate without any consequences.
They are just using people to make money dor thenselves. Don's fall for it because it's a useless site. Othwersise, you will waste your tome and even money if you decide to complete certain offers.

This reward platform is going viral! Cash out via PayPal, Visa, Gift Cards, and in-game currencies - Click here to find out how to generate an extra $10+ per day! 
Conclusion – Is InfluencersEarn a Scam?
---
InfluencersEarn is a scam just like the other sites that I mentioned in the beginning of my review.

If you join it in hopes to earn some honest income from home, I am sorry to disappoint you, but you won't get paid.
Avoid InfluencersEarn at all costs!
A Real Strategy to Earn $1000s Per Month!
---
Are you searching for a real strategy to earn a full-time income from your laptop?
Well, after following this excellent step by step program, I've built a profitable affiliate site that earns me over $1,300 per month.
Join now and start your 10 free lessons today!
Final Words
Thanks for taking the time to read my InflencersEarn review. If you have any questions, just let me know in the comment section below!
Stay safe and peace out!