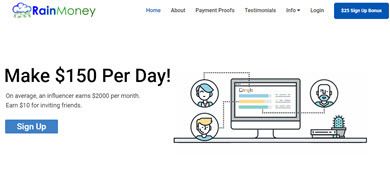 Welcome to my RainMoney review!
You landed here because you are probably looking for an unbiased opinion on a website called RainMoney.
The owner(s) of this website claims you can earn $150 per day just for referring friends. Plus, they will give you $25 just for signing up!
Heck, they go as far as saying the average user earns $2000 per month!
It seems like another get rich quick scheme, very similar to countless sites that I reviewed in the last 4 years.
So, is this a real website? Can you really withdraw your money or is it another scam?
I this review, I am going to explain exactly how RainMoney works and answer these questions.
You may also want to check out my #1 recommendation, which is the same program that helped me build a profitable online business and reach $1,300 per month from home. 
RainMoney Review
---
Name: RainMoney
Website: rainmoney.co
Membership availability: Worldwide
Recommended?

No

SCAM! 
Overall Rating: 0/5
What is RainMoney?
---
RainMoney is a website where you can supposedly earn a lot of money just by referring friends and doing simple tasks.

This reward platform is going viral! Cash out via PayPal, Visa, Gift Cards, and in-game currencies - Click here to find out how to generate an extra $10+ per day! 
The site is advertised as an influencer network, where members can use social media to refer friends and earn $150 per day.
However, this is far from as a real influencer network, as the business model is entirely different!
Usually, these networks are made of influencer marketers who have a significant number of followers.
Companies pay these guys to advertise their products to their audience.
Well, that's not how RainMoney works!
How Does RainMoney Actually Work?
---
RainMoney promises to pay you a ridiculous amount of money just by sharing your referral link on social media.
There are many clone sites currently in operation such as Viral Bucks, Eazy Dollars, and Kids Earn Cash.
They all have similar layouts and use the same tactic to mislead people.
After signing up, they will give you a referral link that you can promote.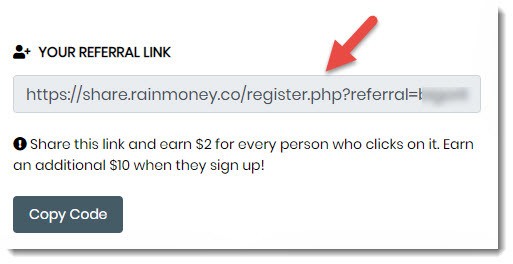 Whenever someone clicks on that link, they say you will earn $2, which is insane!
Not only that, but they promise to pay you $10 if the same person signs up through your link.
The crazy thing about this business model is that your referral doesn't need to take any action on the platform.
They don' need to buy any product nor complete any tasks!
In the dashboard, you will notice there is a task wall where RainMoney promises to pay you $30 for each offer that you complete.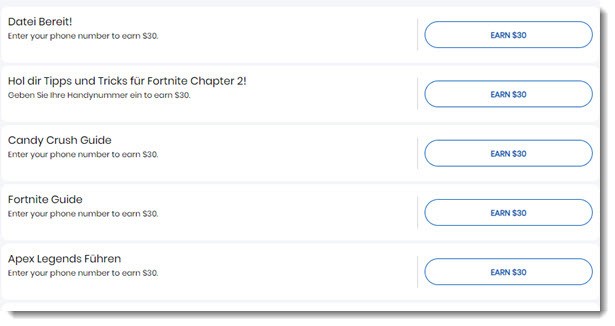 After testing hundreds of GPT (get paid to) sites, I can tell you that this is BS!
No company can afford to pay so much money just for people to sign up to trial offers.
These offers usually involve subscribing to free trials as well as providing your contact to participate in prize draws.
In other words, companies want your email and phone number to promote products to you.
Whenever you complete one of these offers, the owner of RainMoney will make a commission!
But the question is, will YOU get paid?

Can You Withdraw Your Money?
---
RainMoney claims that you can withdraw your cash balance via PayPal, cheque, or Bitcoin once you meet the following requirements:
20 Clicks.
5 referrals.
5 completed task wall offers.
In other words, you will have to not only promote RainMoney but also complete at least 5 offers (tasks).
As you refer people and complete tasks, the money will build up in your account.
However, when you achieve the minimum requirements, RainMoney will come up with an excuse to block your account.
They may tell you that you are using fake clicks and referrals, among other things.
In the end, you won't receive your payment. 
Conclusion – Is RainMoney a Scam? 
Yes, it is!
It's clear to me that RainMoney is a deceitful website that is only taking advantage of people who dream of making money from home.
If you Join RainMoney, you will give them your contact details that will probably be sold to other businesses.
What's worse, you will promote the platform for free and waste your time completing useless offers.

At the end of the day, you won't make any money, and the owner will get richer by exploiting your time and personal data.
I advise you to avoid RainMoney and any other site that promises such unrealistic payouts.
As I mentioned earlier, I have reviewed tons of legitimate GPT sites here on my blog.
You check out my list of 100+ GPT sites here. But if you are looking for the best one, look no further than Prizerebel.
Now, if you are tired of spending your time for little reward, keep reading!
How to Earn a Full-Time Income from Home
---
It's possible to earn over $100 per day as an affiliate, but that will require a lot of upfront work.
Using other people website will get you nowhere. You need to build your own and take full control over your earnings!
I've been making a consistent $1,300 per month by promoting products and money-making platforms through my website.
You can create an income-generating website by providing quality content and using the right strategies to get traffic (visitors).
If you want to learn step by step how to set up this business and grow a successful internet business, check out my #1 recommendation.
It's the best platform for those who want to work remotely and live the laptop lifestyle.
Final Words
Thanks for taking the time to read my RainMoney review. I hope it helps you understand how this website works.
If you have any questions about RainMOney or a real opportunity to make money from home, feel free to ask in the commend box below.
All the best
Stefan