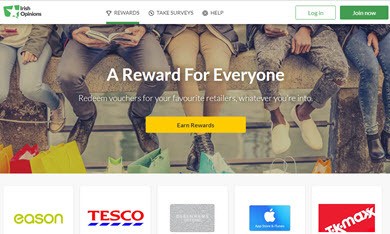 Welcome to my Irish Opinions review!
If you live in Ireland, you may have heard about a survey panel called Irish Opinions.
This website claims you can earn cash rewards for sharing your opinions with companies across the world.
All you have to do is join for free and start taking online surveys about different products and services
Although there are many legit sites where you complete paid surveys from home, you have to be careful!
There are lots of complaints about survey panels on the internet, so depending on the site, you may have different problems.
So, is Irish Opinions legit and worth joining?
In this review, I am going to explain everything you need to know and give you my honest opinion.
You may also want to check out my #1 recommendation, which is the same program that helped me build a profitable online business and reach $1,300 per month from home.
Irish Opinions Review
---
Name: Irish Opinions
Website: https://www.irishopinions.com/
Company: Dynata Global UK Limited  (formerly SSI)
Price: Free
Type: Online Surveys
Overall Rating: 3/5
What is Irish Opinions?
---
Irish Opinions is a survey panel operated by a leading market research agency called Dynata.
If you live in Ireland, you can become a member and get paid to complete simple online surveys from the comfort of your home.
You can also log in from your smartphone and take surveys on the go! Many people take surveys while commuting or waiting on a queue.
Once you reach the minimum payout threshold, you can withdraw your cash balance for a variety of gift cards.
Dynata also operates many other well-known survey panels such as Valued Opinions, iPoll, Opinion Outpost, and Quick Thoughts.
As a resident in Ireland, you can also join some of these other panels and receive more survey invitations.
Is Irish Opinions a Scam?
---
No. Irish Opinion is a legitimate panel.
However, just like most survey panels, there are positive and negative opinions about this company on the internet.
Most people seem to have a great experience as a panellist for many years, and always cash out without any issues.
But, if you look at some reviews on Trustpilot, you will discover that some people have their accounts suspended.
We will never know what really happened, so I can't judge who is right or wrong.
What's important to understand is that when you become a member and start taking surveys, things can go wrong even if you are playing by the rules.
For example, you can make a mistake by giving a different answer to the same question.

As a result, the automated system will identify that you are not consistent, and will flag your account.
This can happen multiple times, and at some point, you can get banned.
What baffles me is that when survey panels ban someone, they don't usually tell the specific reason.
How Does Irish Opinions Work?
---
Registration
If you want to become a member of Irish Opinions, you should create a free account first.
Just sign up with your name, email, date of birth, and home address.
Complete your Profile
You should complete profile surveys in order for Irish Opinions to offer you highly relevant surveys.
There are many categories of profiling questions such as leisure, children, travel, shopping, investing, among others.
The more information you provide, the higher your chances of getting survey invitations.
So, if you want to earn as much as possible, you must keep your profile updated.
Take Surveys
Irish Opinions will send you an email invitation whenever a marketing study matches your profile.

You can also check for new survey opportunities through the dashboard and apply from there.
After signing up and completing your profile, you should receive your first survey within 1 or 2 days.
When you apply to fill out a survey, you will first answer a few qualification questions that usually take less than 5 minutes.
Depending on your answers, you won't qualify, and you won't get paid for your opinions.
If you qualify, you will get access to the paid survey and get credited at the end.
Most surveys take 10 – 20 minutes and will cover a wide range of topics.

This reward platform is going viral! Cash out via PayPal, Visa, Gift Cards, and in-game currencies - Click here to find out how to generate an extra $10+ per day! 
Be aware that Irish Opinions run quality checks that can identify if you are consistent with your answers. In other words, they want to know if you are not lying.
So, I highly recommend sticking with the truth, even though you think some answers will disqualify you.

Irish Opinions also invite members to participate in focus groups and product testing.
How Much Money Can You Make?
---
Irish Opinions claim that members can earn up to €5 every time they take an online survey.
However, probably 99% of them will pay you less than €2
The pay rate of multiple-choice surveys is always low, regardless of the survey panel you choose.
The only way to earn more is by participating in focus groups, but they are rare and more difficult to qualify for.
Also, there is more competition and spots fill up faster.
So, at the end of the month, you probably won't make more than €80 per month with Irish Opinions. 
You can make more money with surveys if you join a GPT site like Prizerebel, but still, it won't change your life!
Besides, you will waste a significant amount of time with frequent disqualifications.
Badges
As you complete surveys and unlock achievements, you will gain new badges and level up.
You will start at the Bronze level, and if you reach the diamond, the company promises to invite you for more tailored surveys.
How Will You Get Paid?
---
When you reach a balance of €10, you can request a payment via gift cards from participating stores such as:
Tesco, Debenhams, iTunes, TK Maxx, Homesense and Penneys.
In order to cash out €10 via Amazon gift cards, you must have reached a minimum of €12.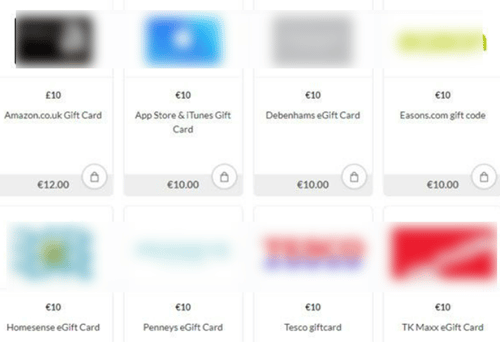 You can also donate your €10 to Unicef.
Unfortunately, Irish Opinions doesn't process payments via PayPal, which is bad news for those who prefer to get paid in cash.
Conclusion
---
Irish Opinions is a legit survey panel operated by a reputable marketing research company.
Although it's legit, the company has a track record of banning people's account.
We will never know if a suspension was fair or not. But I am just warning that things can go wrong and you can lose your balance account.
In other words, you spend time, but you have no guarantee that you will get paid at the end.

Verdict: Legit
How To Make a Full-Time Income Online
---
There are many ways you can go about earning a job-replacing income from the internet.
You can work as a freelancer or create your own online business!
Both paths can help you reach thousands of dollars per month and live the laptop lifestyle!
Personally, I decided to create my own website and promote products as an affiliate marketer.
Why? Because I believe it gives me more freedom and peace of mind than any other method!
Growing a profitable website allowed me to quit my job and make enough money to cover all my living expenses.
The best part is that I can now work whenever and wherever I want!
There are lots of misinformation on the internet, so you may waste a lot of time and money if you follow bad advice.
That's why I recommend following a structured training that will help you focus your energy on what really works.
If you want to create a profitable affiliate site, check out my #1 recommendation and start your first 10 lessons for free!
Final Words
Thanks for taking the time to read my Irish Opinions review. I hope it was helpful!
If you have any questions or opinions about this survey panel, feel free to send me your question or review in the commend box below.
All the best
Stefan