Welcome to my Bitcoin Food Fight app review!
You may have stumbled across Bitcoin Food Fight while searching for ways to earn free Bitcoins from your phone.
In this rather peculiar game, you need to throw knives and forks at spinning burgers, cakes, and other delicious food.
The app description claims that you will earn Bling points you can exchange for real Bitcoins via your Coinbase account.
You are probably wondering if you can really get paid by Bitcoin Food Fight. Is it a legit or a scam app? Keep reading to find out!
Before you leave this page, discover the step-by-step program that helped me reach $1,600+ per month from my laptop and quit my job. No special skills required! 
Bitcoin Food Fight App Review
Name: Bitcoin Food Fight
Website: https://www.blingfi.com/
Company: Bling Financial, Inc.
Eligibility: Worldwide
Price: Free (no in-app purchases)
Overall Rating:

4

/5
What is Bitcoin Food Fight?
Bitcoin Food Fight is a fun knife-throwing game that allows you to earn real Bitcoin just for playing!
The game was created by Bling, an American company that also operates two other popular games called Bitcoin Blast and Sweet Bitcoin. Check out my Sweet Bitcoin review here! 
As the name suggests, these apps reward users in BTC as the team thinks the cryptocurrency is the best form of money.
What is unique about the Bitcoin Food Fight app is that the company is very honest regarding the earning potential.
They warn users it takes a long time to earn a decent amount of Bitcoin and that most players only make fractions of a cent.
That's such a remarkable and honourable business practice in this industry. However, it doesn't change the fact that you won't earn more than 2 cents per day, which probably won't make any difference in your life.
Bitcoin Food Fight has 2 million users worldwide and has paid out 5 billion Bling points worth 5 BTC. At the current Bitcoin price, 5 BTC is worth 5,700 USD.
That means the average amount of money earned by each user is 0.002 USD.
Is Bitcoin Food Fight Legit? Does it Pay?
I am delighted to inform you that yes, Bitcoin Food Fight is a legitimate app!
In fact, this is one of the few "money-making" apps that actually process payments with no issues!
I have tested hundreds of apps, so I know how difficult one that you can really trust.
Most games will cheat you by giving you less and less money so you can never reach the minimum cashout amount. If you have already played one of those scratchcard apps you know what I am talking about.
Pros and Cons

Pros
It's a fun and challenging game.
100% free.
You can withdraw any amount of BTC to your Coinbase account. There is no minimum!
There are not many ads.
Earn points whether you win or lose.
Instant payments.
Cons
The rate of pay is extremely low.
You cannot play after you reach the maximum number of points.
You won't be able to cash out if you live in a country where Coinbase doesn't operate.
How Does Bitcoin Food Fight Work? 
Installation and registration 
Bitcoin Food Fight is only available on Android devices, so you can install it for free on Google Play.
Before you start playing, you just need to accept the Terms & privacy and sign up using an email, Facebook, or Google account.
How to Play the Game?
Simply tap anywhere to throw the knife or fork on the food that will keep spinning.
The goal is to hit all the objects on the food and avoid hitting another knife or fork. If you do, the game is over unless you watch an ad and continue from where you stopped.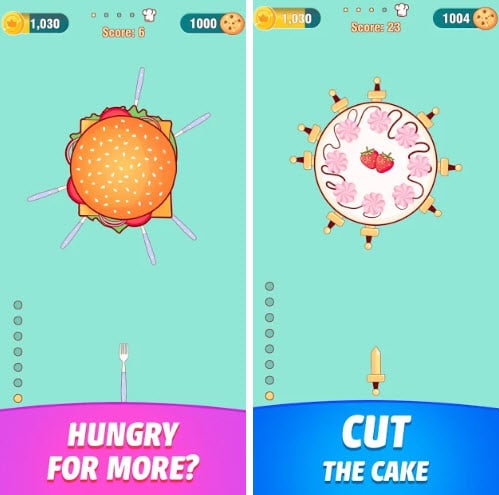 It gets more difficult at higher levels because the food will spin faster and change direction unexpectedly.
As you play the game, you will earn Bling points which you can convert to Bitcoin. You can expect to earn 103 points per round.
The conversion rate is pretty straightforward, and when you click on "Cash out", they will always show you the equivalent amount in Bitcoin.
1000 Bling Points = 0.000001 BTC
You can also collect cookies, which you can only use to "buy" other stuff to through on the food.

How Do You Get Paid? 
To request your Bitcoin payment, you must have a Coinbase account. If you don't have one, visit coinbase.com and create your account for free. Then, tap on cash out and enter your Coinbase email.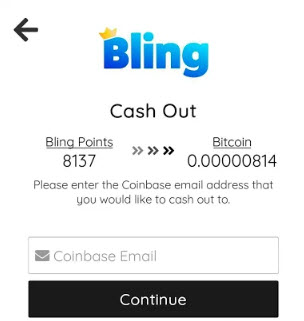 The great thing about Bitcoin Food Fight is that there is no minimum payout threshold. Therefore, you can cash out anytime you want!
How Much Money Can You Make? 
Bitcoin Food Fight pays very little, but at least they pay!

This reward platform is going viral! Cash out via PayPal, Visa, Gift Cards, and in-game currencies - Click here to find out how to generate an extra $10+ per day! 
I started playing the game and when I reached 2,575 points, they said I had to wait about 6 hours to continue earning.
It was evening, so I played again on the next day and earned another 1,575, Then they said I had to wait another 12 hours to continue playing.

After reading some user reviews, I discovered most people were making 1545 points (15 x 103) per day. That's 0.00000155 BTC = 0.014 USD.
So, so, if you played Bitcoin Food Fight for one year, you'd expect to earn 5.11 USD worth of Bitcoins.
It's important to understand that you will earn points whether you win or lose. And unlike other "money-making" apps, points are not based on luck or performance.  
The company explains that the reason for such a small amount of Bitcoin is that game was designed mainly for entertainment.
When I was playing, I didn't get as many ads as in other games. So, in my opinion, they could increase the ad frequency to offer better pay. What do you think?
Conclusion 
Bitcoin Food Fight is one of the few games that are processing payments without misleading players. It's 100% legit!
The earning potential is very low, but least you can cash out anytime you want!
Unfortunately, there is a limit to the number of points you can earn. After you reach the limit, they block the game and you have to wait for the timer.
You can expect to earn $5 worth of Bitcoins per year if you play every single day. If the price of Bitcoin goes up, you can make more money!
Is There an Alternative to Bitcoin Food Fight? 
Another very popular knife-throwing game is called Knife Bounty, but unfortunately, it gets many negative comments on Google Play. Knife Bounty makes you think you will make a lot of money, but in the end, they won't let you cash out a dime.
As I said, it's better to earn much less with Bitcoin Food Fight because at least you know you will receive the reward.
This is another Bitcoin earning app that actually pays. You just have to spin the roulette and watch ads to collect points. Unfortunately, the rate of pay is also appalling!
If you want to earn more money with little effort, join this excellent GPT site and complete simple tasks such as surveys and offers.
Earn a Full-Time Income Online!
If you want to earn a substantial amount of money online, I suggest building your own internet business! It takes time and a lot of upfront work to grow this type of business, but it has the potential to transform your life!
How would your life be like if you could make a full-time income working from home and at your own pace?
You can make thousands of dollars per month by setting up a website, creating helpful content, and promoting other people's products. But first, you need to learn how to put all the puzzles pieces together in order to get traffic.
The more visitors you get to your site, the more money you will make!
Thanks to this excellent step-by-step program, I created a profitable affiliate site even though I had no marketing or web design skills. The business is now covering all my living expenses while travelling around SE Asia!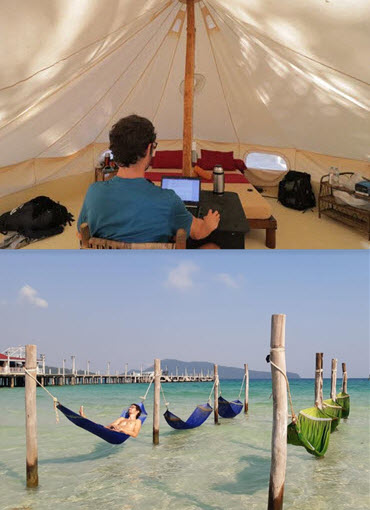 Remember, success doesn't happen overnight, but with solid training and expert support, you can overcome challenges and avoid trial and error. 
Final Words
Thanks for visiting my blog and reading my Bitcoin Food Fight app review. I hope it was helpful!
If you have any questions regarding this game, let me know in the comment section below. Also, feel free to share your results and experience with us. How long have you been playing and how much BTC have you made so far?
Stay safe and peace out!