Welcome to my Bowling Idle app review!
I have been testing lots of "money-making" games lately with the aim of finding one that actually pays.
Today I would like to review another app called Bowling Idle, which has been installed over 5 million times on Google Play.
It seems to offer a great gaming experience, excellent graphics, and animations. On top of that, players have the chance to convert their virtual cash to PayPal if they meet certain requirements.
So, can you really make real money with Bowling Idle? Is it worth playing is it another time-wasting game?
Before you leave this page, discover the step-by-step program that helped me reach $1,600+ per month from my laptop and quit my job. No special skills required! 
Bowling Idle App Review
Name: Bowling Idle
Company: Hung Lik International Company Limited
Eligibility: Worldwide
Earning Potential: Very low
Price: Free (no in-app purchases)
Overall Rating: 2.2

stars 
What is Bowling Idle?
Bowling Idle is a simple and addictive game where you have to manage a bowling park in order to accumulate virtual wealth.
The app was created by Hung Lik International Company Limited and is available for Android and iOS devices.
All you have to do is slide the ball across the screen, upgrade your equipment to earn more, and buy new bowling alleys.
As you play the game, you will earn PayPal card rewards of varying amounts. However, you can only cash out if you meet certain requirements that will cover in more detail later.
Pros and Cons
Pros
Extremely addictive.
You can supposedly get paid via PayPal within 72 hours.
Cons
It's very hard to cash out because there are lots of requirements.
Extremely low earning potential.
Some people report that the app is freezing, making it impossible to fulfill the cash out requirements.
There are too many ads!
Some players complain that the app won't let them collect props.
Some people get stuck at a specific amount of cash for a long time!
There are nether FAQ nor Terms and Conditions.
It gets boring after a while.
How Does Bowling Idle Work? 
Installation 
Bowling Idle is available for free on Google Play and App Store. After you install the game, you can play straight away with no need for signing up.
How to Play?
Bowling Idle is a simple game, but it can take a few minutes to understand what's really going on.
You will start with just one bowling alley, and you are advised to swipe fast to make a strong hit.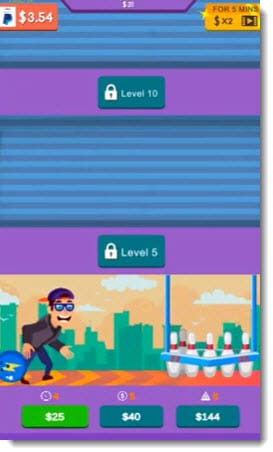 When you hit the pins or another object, you will earn virtual dollars that you can use to upgrade.
Below each bowling alley, you will see 3 different upgrades and the price of each one of them. You can increase the speed at which the character rolls the ball, boost earnings per pin, and acquire more pins.

Every time you have enough money to buy an upgrade, the button will turn green.  You should also buy another bowling area and level up once you have earned enough money.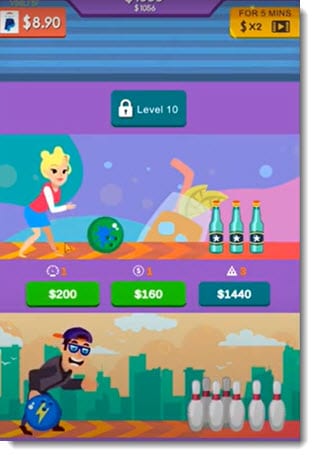 You can always swipe the ball with your finger to make it roll faster. However, once you reach the maximum speed, you can concentrate on swiping at higher levels.
When you level up, you will earn PayPal card rewards of varying amounts. You will also have to watch a video ad after passing each level.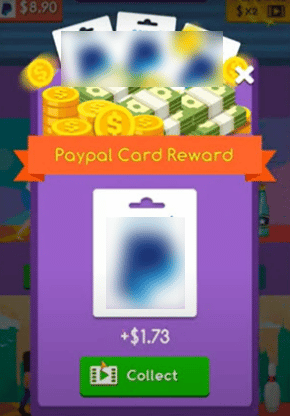 After you reach a specific level, you can unlock and purchase the other bowling areas. There are hundreds of levels above!
How do You Get Paid?
If you click on the PayPal icon on the left side of your screen, you will see a list of payment options.
Depending on your country, you may not see the PayPal button, which means you won't be able to cash out.
The minimum payout threshold is $2, which you achieve very quickly. Unfortunately, when you tap to cash out, you will discover you need to meet these three unrealistic requirements.
Active for 3 days.
Reach level 80.
430 times of prop effects used.
If you want to cash out $50, you'd have to play for 60 days, reach level 500 and collect 6000 props. As you will see in the next section, that is unrealistic! 
The problem with Bowling Idle is that they don't explain how to get these prop effects. There is no FAQ inside the app.
After some research, I found that those props will appear occasionally in balloons from time to time. You just have to tap and collect them!

Is Bowling Idle Legit? Does it Pay?
If you check the reviews on Google Play, you will find hundreds of disappointed users who are unable to cash out.
People spend a long time passing the levels and watching videos, but they struggle to meet all the cashout requirements.
The main culprit is the prop effects, which don't pop up very often.
One user said she has been playing Bowling Idle for 2 weeks and amassed over $100. However, she can not even cash out $2 because props only appear around 15 times a week. At this rate, she expects to cash out in 7 months!
To make matters worse, there is no guarantee that you will keep getting the same number of props. Besides, you can lose all your earnings if the app crashes, as happened with this user:

This reward platform is going viral! Cash out via PayPal, Visa, Gift Cards, and in-game currencies - Click here to find out how to generate an extra $10+ per day! 

After reading lots of reviews, I found one player who managed to receive the money.  So, there is still some hope! 

In my opinion, the Bowling app is a legitimate app, but I don't think it's worth playing for the money. It takes months to earn a measly $2, and there is a risk of not getting paid.
Conclusion
From what I can see, Bowling Idle is causing more disappointment than joy. The reason is that it takes a very long to collect all the props required to cash out.
If you are playing Bowling Idle just to make money, I think it's not a wise investment of your time.
You will be forced to watch a ton of videos only to make $2. If you are aiming for $5 and above, then be prepared to play the game for years!
Is There an Alternative to Bowling Idle?
If you are looking for an addictive game that pays, your options are very limited I am afraid. For example, this knife-throwing game by Bling will pay you around $5 per year. That's nothing!
So, instead of recommending those apps, I suggest you join this reputable reward platform.
With this site, it's possible to make $100+ per month by answering surveys and completing offers from your phone or laptop. Still, it's important to be aware that you will earn less than the minimum wage.
Now, if you are a patient person who is prepared to put in the effort, the next option is a lot more attractive!
Earn a Full-Time Income Working 100% Remotely! 
If you crave freedom, I suggest building your own internet business so you can earn money on your own terms.
You can make thousands of dollars by creating helpful content for your own website, and attracting lots of visitors from around the world.
It takes time and a lot of work to grow this type of business, but if it was so easy, most people would be working from their couch. 🙂
Thanks to this excellent step-by-step program, I created an income-generating affiliate site with no marketing or tech skills. The business allows me to make a living online and work remotely whenever and wherever I want.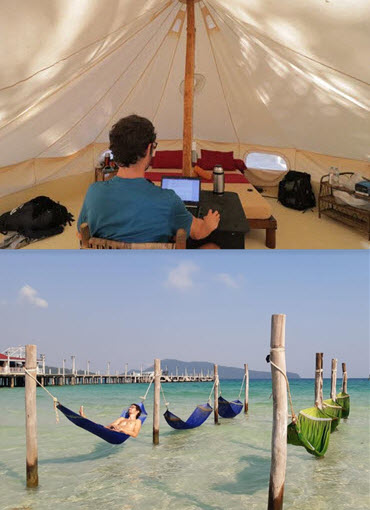 Anyone can reach remarkable results, but with solid training and expert support, you can avoid trial and error and stay ahead of the curve!  
Final Words
Thanks for visiting my blog and reading my Bowling Idle app review. I hope it was helpful!
If you have any questions regarding this game, let me know in the comment section below. Did you manage to cash out? What are your thoughts on this game?
Stay safe and peace out!