Welcome to my Sweet Bitcoin app review!
I've recently installed a game that claims to transfer real Bitcoin to the player's Coinbase account.
Sweet Bitcoin is very similar to the popular Candy-Crush! I'm sure you know this game in which players must match at least three candies to eliminate them.
The difference is that the company supposedly shares part of the advertising revenue with players in cryptocurrency.
I have always received the payment for playing other Bling games. Therefore, I was confident that Sweet Bitcoin wouldn't let me down.
But things may have changed since I last reviewed one of their apps called Bitcoin Blocks 1 year ago! So, I decided to test this application before jumping to conclusions.
Can you earn free BTC with Sweet Bitcoin? Is it legit or fake? Let's find out!
Top recommendation: This step-by-step program helped me work from my laptop and reach 2,000 US Dollars per month. Free membership is only available here!
Sweet Bitcoin App Review
Name: Sweet Bitcoin
Company: Bling Financial, Inc.
Eligibility: Worldwide
Price: Free (no in-app purchases)
LEGITIMATE
Overall Rating: 4/5
What Is Sweet Bitcoin?

This reward platform is going viral! Cash out via PayPal, Visa, Gift Cards, and in-game currencies - Click here to find out how to generate an extra $10+ per day! 
Sweet Bitcoin is another casual and addictive game operated by the American company called Bling Financial Inc.
The gameplay is inspired by Candy-Crush, the legendary puzzle game millions of people play worldwide.
The cool thing about Sweet Bitcoin is that Bling points are worth real Bitcoin, which you can cash out to your Coinbase account at any time.
Another benefit of playing Bling games is that you can use the same account to play other excellent games and accumulate more points.
Sweet Bitcoin has been installed by over half a million Android users and rated 4.6 stars.
How Does Sweet Bitcoin Work?  
Installation and Registration 
Sweet Bitcoin can be installed for free on Google Play for your Android device.
After installation, you must accept the Terms of Service and Privacy Policy. Next, sign in using a Facebook or Google account to store your Bitcoin safely.
If you install another Bling game, use the same account to accumulate the points.

How to Play Sweet Bitcoin? 
Just swipe to combine at least three candies of the same color and eliminate them. You can only destroy the candies if you align them horizontally or vertically.
Sweet Bitcoin will only give you points after you complete each level.
To pass the level, you have to reach the goal, which usually consists of eliminating a specific number of candies or other items.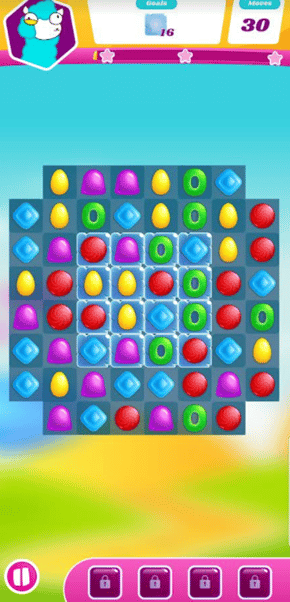 The game is challenging because you can only use a few moves. If you don't think carefully, you can quickly fail, as I have done many times!
If you run out of moves before achieving the goal, the game is over, and you must watch a video to restart the level.
Remember that Sweet Bitcoin doesn't give you points if you don't complete the level.
Earning Bitcoin
Now you are probably wondering how much BTC you can earn by playing Sweet Bitcoin.
In the beginning, you can expect 30000 points or 0.0000003 BTC per level. As the current price of Bitcoin is $43,890, you will be making approximately 1 cent per level.
Some levels pay more, but the problem is that rewards decrease drastically over time. For example, some people reported that it went from thousands to just hundreds per level, which adds up very slowly.
How do You Get Paid? 
Just tap the "Cash out" button at the top and enter your email linked to Coinbase.

What I like about Sweet Bitcoin and other Bling games is that you can withdraw with at least 10k points. So, you can request the payment as soon as you complete the first or second level.
However, you can only cash out once every seven days.
The cool thing about Bitcoin Blocks is that you can request your payment even if you only have 10K points. The downside is that you cannot cash out more than once every six days.
Unfortunately, many people find out they need to wait for another seven days only when they try to cash out for the second time.
The Bitcoin will arrive in your Coinbase account in 24 – 48 hours.
Is Sweet Bitcoin Legit? Does it Pay? 
Yes, Sweet Bitcoin is not only legit, but the company that operates it is sincere regarding payments.
They say the amount you will receive will be minimal, which is true because most levels pay only fractions of a cent.
The app description also advises that most players only make a fraction of a cent worth of BTC.
Sweet Bitcoin stands out from other money games because they won't make you jump through hoops and take you for a fool. Here is a similar game that will do just that! 

If you enjoy playing casual games on your phone, it's worth installing other Bling games like Bitcoin Food Fight, Bitcoin Blast, and a few others.
Conclusion 
Bling stands out from other game developers because the company is one of the few that actually pay.
They don't mislead players into watching videos in exchange for unrealistic payouts. For example, this ball shooting game went viral recently with the false claim of paying $600 per day.
It's an honest company that transfers Bitcoin to players' accounts, but you should not expect to make a lot of money.
The disadvantage of Sweet Bitcoin and other Bling games is that points diminish dramatically as you complete higher levels. 
It's frustrating because it requires you to watch a lot more videos than before to earn the same amount.
It's great for people who already play casual games because at least they are earning BTC, whose price is going up!
Those who do not usually play and are only interested in making money online should go elsewhere. A great option is to join a platform like Prizerebel and complete simple tasks!
Final Words
Thank you for visiting my blog and reading my Sweet Bitcoin app review.
Have you played this game? How much BTC have you made so far? Kindly share your experience with the app in the comment box below.
Also, I am here to help if you have questions!
Peace!