Welcome to my Bitcoin Blocks app review!
Millions of people are being cheated by game developers who claim to pay real money but never do. Most of them manipulate your earnings and stop giving rewards once you are near the payout threshold.
It's a terrible business practice that is causing too much frustration with players all over the world. The number of fake money apps out there is staggering, but for some reason, they thrive with no restrictions!
In today's review, I am going to show you a match puzzle game that supposedly converts your points to Bitcoin and lets you cash out via Coinbase.
Is Bitcoin Blocks a fake or legit application? Does it pay or not? Keep reading to discover the truth!
Before you leave this post, don't forget to check out my recommended gpt site. Members make $300+ per month by completing simple tasks and inviting friends. Quickly cash out via PayPal and gift cards. 100% Legit!
What is Bitcoin Blocks? 
Bitcoin Blocks is a match puzzle game developed by Bling, a Canadian company that owns three other crypto-earning games: Bitcoin Blast, Bitcoin Pop, and Bitcoin Food Fight.
As you play any of these four games, you will collect Bling points that can be exchanged for BTC rewards. Keep in mind you must have a Coinbase account to receive the payment.

This reward platform is going viral! Cash out via PayPal, Visa, Gift Cards, and in-game currencies - Click here to find out how to generate an extra $10+ per day! 
How Does Bitcoin Blocks Work? 
Installation 
Bitcoin Blocks is available for free on Google Playstore. Once you launch the application, tap on the "Get Started" button and create your Bling account using your Google Facebook or Email account. Then, if you play another Bling game, you can use that same account to collect points. Keep in mind that users are limited to only one Bling Account.
How to Play Bitcoin Blocks?
It's pretty simple! Just tap on two or more blocks of the same color and complete the goal before you run out of moves.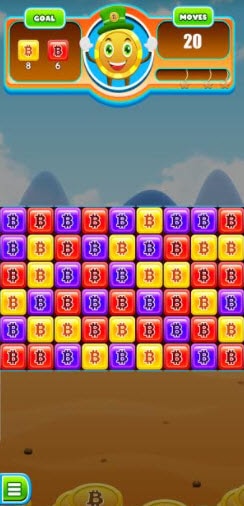 For example, on the first level, you need to destroy eight yellow and six red blocks. When you reach the goal, you will pass the level and earn Bling points according to your performance. It's easy in the beginning, but after the 6th level, you must think carefully before making any move.
Keep in mind that Bitcoin Blocks doesn't give you any points if you fail. Not only that, but you must view many promotional videos, which consume a lot of internet data.
BTC Rewards
Now you are probably wondering how much money worth of BTC you can earn by playing Bitcoin Blocks. They will give you, on average, 2000 points per level, which is 0.00000002 BTC. I know, there are so many zeros!
As the current price of 1 BTC is 46255 USD, that means you are earning a measly USD 0.001 per level, which is just a fraction of a cent. At this rate, you may have to pass 100 levels to make 1 USD. 

One person said he cashed out 150K points after playing Bitcoin Blocks for an entire week. That's roughly 0.10 USD! But it can get worse! Unfortunately, many players reported their earnings dropped to 20 – 30 points per level, which is practically nothing! I believe you can earn a little more by playing this match puzzle from WINR Games. 
How do You Get Paid? 
Just tap the "Cash out" button at the top and enter your email links to Coinbase. The cool thing about Bitcoin Blocks is that you can request your payment even if you only have 10K points. The downside is that you cannot cash out more than once every six days.
Is Bitcoin Blocks Legit? Does it Pay? 
Yes, Bitcoin Blocks is 100% legitimate! Bling is very honest and upfront with players by showing this warning in the app description:
It takes a long time to earn enough Bling Points to cash out for a meaningful amount of Bitcoin. Most users earn an amount that is only worth a fraction of one cent (USD).*
This kind of transparency is unusual in the industry. I played Bitcoin Blast and Bitcoin Food Fight for a while, and they processed my payment within 24 hours.
Recommended read: 10 Best Apps that Pay You Instantly – No Minimum Payout!
If you check the Google Playstore, you will find lots of testimonials from users who attest to their legitimacy. So, rest assured, Bling is a reliable company!
Despite the low pay rate, most people are pleased because at least they are making some Bitcoin while having fun. How much do you earn while playing Candy Crush? Nothing…
Besides, Bitcoin's price can go up in the future, meaning you can make more money! Still, I think it's not worth playing Bitcoin Blast just because of the reward. The reason is that the exchange rate is too low compared to the amount of mobile data it consumes by watching videos.
Pros and Cons

Pros
It's fun and very challenging.
Fast payments (24 – 48 hours).
You can play other Bling games to collect more points.
BTC's price can go up.
They are honest regarding your income potential.
Cons
The earning potential is incredibly low.
There are lots of ads.
There is a limit of one payout every six days.
It can be very addictive. 
Conclusion 
Bitcoin Blocks is one of the few games that pay users. It's a rare find in this industry. Besides, it's a fantastic game that helps to pass the time!
The problem is that the amount they are giving you is insignificant. You may have to play Bling games for one year only to make around $2 – $3. The earning potential is so low that I wouldn't even bother converting points to BTC.
You should only play Bitcoin Blocks for fun because any other online activity pays you more than that! Not to mention that you will waste a lot of internet data, which may cost you more than what they pay you.
Final Words
Thanks for reading my Bitcoin Blocks app review. If you have questions or thoughts about this game, leave us a comment below.
Peace!