Welcome to my Lucky Fruit app review!
The creators of Lucky Fruit claim that players can earn cash just by growing fruits in the game. Thousand of people are playing this game because they believe this can be an opportunity to win actual money. Not only that, but they also encourage people to invite friends to earn more rewards.
You are reading this review because you suspect this is another fake application that doesn't make any payments. Can you really trust Lucky Fruit? Does it pay for all the time you have to spend playing and watching videos? Is it a scam?
Keep reading to find out!
RECOMMENDED: Check out the step-by-step program that helped me reach $1,600 per month working from my laptop. No special skills required!
Lucky Fruit App Review
Name: Lucky Fruit
Price: Free (no in-app purchases)
Eligibility: Worldwide
Payout threshold: $15
Overall Rating: 1/5
What is Lucky Fruit?
Lucky Fruit is an idle game where you must plant fruit trees and collect coins you can use to buy more seeds. Whenever you unlock a new fruit, you will earn virtual dollars, which adds up in your account. Then, you can supposedly withdraw your cash balance via PayPal once you reach $15.
How Does Luck Fruit Work? 
Installation
Lucky Fruit is available on the Play Store for Android devices. After installing the app, you must sign up using your Google or Facebook account. They will also ask two types of permissions:
Access to photos, media and files on your device.
Make and manage phone calls.
Why does a game like Lucky Fruit is interested in your personal data and phone calls? I have no idea, but it doesn't smell good. I highly advise you to select "deny" and stay on the safe side!
Are you struggling to earn money online? Here is my top recommendation! 
How to Play Lucky Fruit?
It's not too complicated. Here is a simple guide: Tap the shop icon and buy seeds to grow fruit. Each plant has a specific price, yield and time to harvest.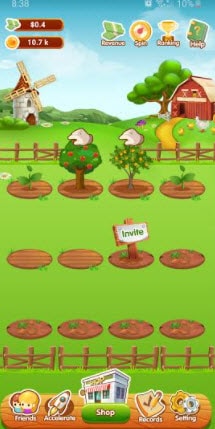 For example, you will first grow an apple tree, which costs 750 coins and award 1K coins after 20 seconds. When you harvest the highest level fruit, you will unlock a new fruit and earn $0.20 – $0.10. You will also have the chance to earn a Money Tree to speed up your earnings.
If you don't have enough coins to buy the most expensive seed, you can either get a low level tree or watch a sponsored video. New fruits yield more coins, but it takes longer to collect the reward. This is designed on purpose so that you watch videos in return for instant coins.
Here is another money tree game that use the same strategy to maximize profits!
Invite Your Friends
Lucky Fruit encourages users to invite friends in order to maximize earnings. The person must bind with your code manually at "My Homepage – Bind Invitation code".
As a result, your friend will get 10,000 coins and you will earn a percentage of your friends' revenue. But only that but you will also unlock new land to plant fruits.

How do You Get Paid? 
As I mentioned earlier, you can only cash out once your account reaches $15. When you finally accumulate this amount, select "Settings" and then tap on the "Withdraw" button. Next, type your name of Payee or your PayPal email and tap "Apply for withdrawal".
According to Lucky Fruit, your payment request will be reviewed and processed within 3 business days. There is no fee for your first withdrawal, but they will charge a service fee of 3% for the following payments requests.
Does Lucky Fruit Pay Real Money?
As Lucky Fruit is not very popular, there are very few reviews, and I couldn't find anyone who received the payment. One player said he spent two months and harvesting fruits and didn't get paid.
It's important to know that games like Lucky Fruit are not obliged to convert virtual dollars to real money. They can control how much you earn and can simply turn off the tap anytime they want.
I reviewed hundreds of games that make it impossible for players to cash out because they refuse to give more digital currency. They claim you can withdraw the money if you reach the cashout limit, but they "forget" to mention that you may never get there.
With Lucky Fruit, you may reach $15, but your chances of getting the money are bleak! It's not a realistic cash reward just for playing a game and watching videos.
Conclusion
You should not play Lucky Fruit with the expectation to make actual money. I'm not making any accusations because I have no proof. However, I don't think they are processing payments to everyone who reaches $15.
Otherwise, there would be many positive testimonials on Google play, and people would spread the word. If you want to get paid for playing mobile games, check out Mistplay or Givvy. Both are 100% legit apps that pay!
Another great option is to join Prizerebel and complete offers. It pays a lot more and you can cash out much faster than any other reward app.
Final Words
Thanks for reading my Lucky Fruit app review. If you have questions or thoughts about this game, leave us a comment below.

Stay safe!