Welcome to my Tree for Money app review!
The developer of Tree for Money is trying to convince you that money does grow on trees. Well, at least inside his game!
I discovered this app after watching an advert showing players earning lots of money just by tapping on their phone screen.
The ad also had people in front of big checks worth thousands of dollars. Here is a screenshot of the advertising: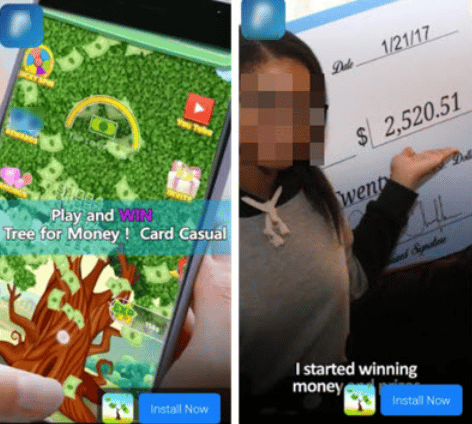 Tree for Money is currently blocking reviews on Google Play as it's still in "Early Access". Therefore, it prevents people from discovering if users are getting paid. Whether this is a tactic to avoid critics, we will never know.
So, can we use Tree for Money to make real money online? Is it a scam or a legit application? Keep reading to find out!
Sick of apps that don't pay? This step-by-step program helped me build my own online business and generate $1,600+ per month. It's free to join!
Tree For Money App Review
Developer: lilytyrellgo
Eligibility: Worldwide
Minimum Payout: $200
Price: Free (no in-app purchases)
Overall Rating: 

1/5
What Is Tree For Money?
Tree For Money is an Android game that claims you can get rewards by growing your money tree. Apparently, the developer is not operating the app under a company name.
The game is all about tapping your virtual money tree to collect virtual cash. It says that you need to earn more than $200 to access the redemption store and cash out via PayPal.
It's very similar to the popular Money Tree app, but the difference is that this one doesn't promote the games as an opportunity to win real money.
How Does Tree For Money Work?
Installation 
The Tree for Money app is available on Google Play for Android users worldwide. You don't need to create an account or give any app permission before you can launch the game.
So, if you uninstall the app, you may lose all your progress, and you will have to start from $0.
How to Play Tree For Money
Tap vigorously on your money tree to collect "green" cash until you can upgrade your tree. Check the loading bar at the top.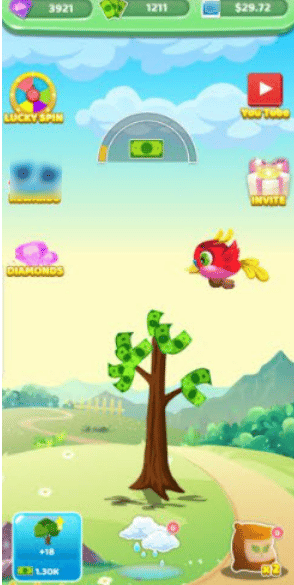 Keep in mind that this type of virtual cash cannot be converted into real money.
Once you hit the target, you can upgrade your tree and receive a specific amount of "PayPal" cash. However, you can only collect the cash and upgrade after you watch a short video until the end!
Note that the app developer is generating revenue whenever you watch those videos. So, he is making profits while you are trading your time for virtual currency.
By clicking on the small tree icon in the bottom-left corner, you can make your tree generate more "green" cash.

Use the rain and the fertilizer props to make your plant grows faster. But first, you must watch the clip as usual. Also, spin the Lucky Wheel for a chance to win "PayPal" cash, "green" cash, and props.
As you upgrade your tree and watch videos, your tree will grow, and you get closer to the minimum payout threshold of $200.
Recommended read: MoneyTree Rewards App Review – Is it Legit? Does it Pay?
Invite Friends
Another way to earn more "PayPal" cash with Tree for Money is by sharing your invitation link or code with your friends. The amount of money you will earn depends on the number of friends who install the application. For example, if you refer 100 people, you will get $5.
Is Tree For Money Legit? Does it Pay? 
Tree For Money works just like most "money" games out there. In the beginning, you will get $5 – $13 every time you upgrade the tree, but your earnings will decrease gradually as you get closer to $200.
At some point, you will have to tap hundreds of times to earn just a penny or two. Many players give up when they suspect that Tree for Money is paying less and less and that they may never reach $200. 
The game is not even fun, so why bother? 
There is a small chance of reaching the $200 mark and requesting the payment, but unfortunately, I don't think the money will be transferred to your Paypal account. 
It's important to note that Tree for Money doesn't provide the "terms of service", meaning there is no legal agreement between you and the developer. Therefore, he can simply ignore payment requests with no risk to his business.
I wouldn't necessarily call it a scam despite how Tree for Money works because the developer doesn't guarantee any winning. Remember, there is no legal agreement, so he is not obligated to pay you.  
It's a shame how they advertise these games, which are causing more frustration than joy.

Conclusion
Tree For Money is not a money-making app, so don't expect to withdraw your virtual $200. I wouldn't even play it for fun because it's extremely boring.
In my opinion, Tree for Money is a complete waste of time because you will just end up watching hundreds of videos.
The app developer has built a real money tree for himself, and users are growing it at the expense of their time.
Verdict: Not Recommended
Earn a Full-Time Income Online
Don't waste your time growing someone else's tree! If you are serious about making money online, I recommend that you build and nurture your own money tree. 

This reward platform is going viral! Cash out via PayPal, Visa, Gift Cards, and in-game currencies - Click here to find out how to generate an extra $10+ per day! 
You can create a website, write helpful content, and promote products as an affiliate. The more content you create, the more money you will make. 
I use this exact business model to generate over $1,600/mo in commissions. You can do the same and start working work from home by learning the proper strategies and taking massive action. Anyone can do this! 

If you want to start this type of business on the right foot, check out my #1 recommendation. 
Final Words
Thanks for taking the time to read my Tree for Money app review. If you want to leave a review, feel free to use the comment section below.
Peace out!