Welcome to my Pops Connect app review!
You are probably reading this review because you are wondering if you can make real money with Pops Connect. Is it a scam or a legit app? 
Keep reading to find out before you waste your time!
Sick of apps that don't pay? This step-by-step program helped me build my own online business and generate $1,600+ per month. It's free to join!
Pops Connect App review
Name: Pops Connect
Developer: TopStar Games
Eligibility: Worldwide
Price: Free (no in-app purchases)
Overall Rating: 1/5
How I Discovered Pops Connect 
It's very likely that you discovered Pops Connect the same way I did! 
I was playing one of those "money" games when I came across this video advert saying I could make $100 per day. 
Next, they showed a game simulation with the player connecting balls that had specific cash amounts and a PayPal icon inside them.
Whenever the balls were connected, cash would accumulate in the PayPal balance at the top. Just have a look at these screenshots.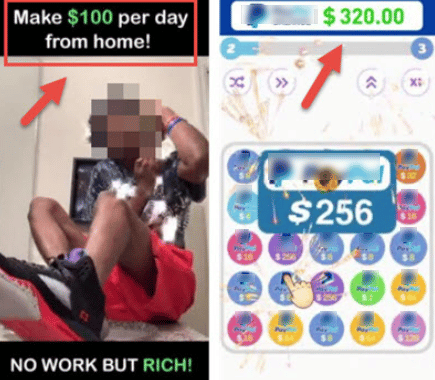 Just like most "money" games, the video tries to convince you you can get rich quick just by playing their game!
At the end of the advertising, they showed me a fictitious PayPal account and a payment of $440 received from 2048 Connect. In the end, they showed me an install button, a logo, and the name "2048 Connect".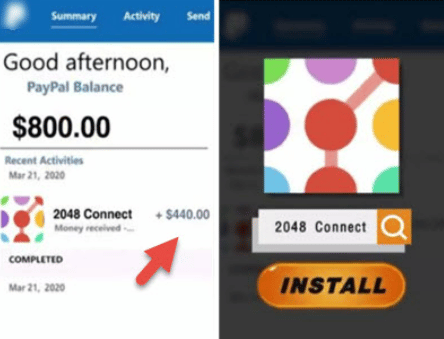 However, when I tapped the ad, it directed me to Pops Connect's page on Google Play instead of 2048 Connect's!
In fact, 2048 Connect doesn't even exist, and the logo they were using is from the original game called Connect the Pops!

Why are these guys using another app's logo and a fictional app name to promote their game? Maybe you already know the answer!
Can You Really Make Money With Pops Connect?
No, you can't! I launched the game but didn't see any PayPal balance. Besides, the colored balls had just numbers instead of cash amounts. 
Some games don't display the cash balance right away, so I decided to play Pops Connect for a while just to make sure. Unfortunately, there was no cash in sight! 

So, the way they are promoting this app doesn't reflect the real gameplay which will not give you virtual cash. Therefore, you cannot make real money from Pops Connect. 
How Does Pops Connect Work? 
The game is a reprint of the popular Connect the Pops!, which is very similar to the 2048 game. It's a very addictive game even without the cash reward.
All you have to do is link at least two equal numbers through a line to form higher numbers.
For example, when you link 3 numbers 2, it will form 1 number 4. Then, if you link 2 numbers 4, you will get one number 8.
Whenever you connect the numbers, the resulting number will always be double the previous one. The game continues until you cannot connect any number, and it doesn't finish at 2048.
Here is a screenshot of the gameplay, and as you can see, there is no cash balance!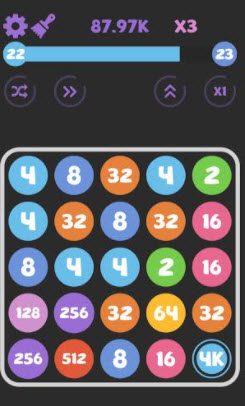 Conclusion – Is Pops Connect a Scam? 
Pops Connect is advertised as an opportunity to earn $100 per day, but there is no way to convert points to real cash rewards. So, you cannot make real money! 
The game nice, but the developer just copied the original game, rebranded it, and promoted it as a get-rich-quick opportunity. That's not nice! 
To make matters worse, the app is still in Early Access, which means that players cannot leave a review! 
I wouldn't call Pops Connect a scam, but the way they promote the game is intolerable! 

Earn a Full-Time Income Online
Earning thousands of dollars per month takes more than playing games on your phone. With proper training and mindset, you can start small and grow a full-time income from home. 
In order to achieve this goal, I suggest that you build your own online business as I did. It's not too complicated, but you must be prepared to create helpful content and treat it as a proper business. 
This excellent step-by-step training will help you grow a lucrative website from scratch and generate affiliate commissions. I joining this exact same program back in 2015, and I don't regret it! 

This reward platform is going viral! Cash out via PayPal, Visa, Gift Cards, and in-game currencies - Click here to find out how to generate an extra $10+ per day! 
Final Words
Thanks for reading my Pops Connect review. If you have questions, just let me know in the comment section below.
Related posts: