Welcome to my 1010! Block Fun app review!
1010! Block Fun is a new block puzzle game that claims you can earn huge rewards from your mobile device. 
There are many app developers out there showing unrealistic images of their games dishing out hundreds of dollars. The PayPal logo is constantly used on these games to make players feel like they are making real money. 
You are reading this review because you are not willing to play 1010! Block Fun in return for nothing. So, can you make real money? Is 1010! Block Fun Legit or not? 
Keep reading to discover what is likely to happen if you decide to take the plunge. 
Sick of apps that don't pay? This step-by-step program helped me build my own online business and generate $1,600+ per month. It's free to join!
1010! Block Fun App Review
Name: 1010! Block Fun – Fun to Block Blast and Puzzle
Developer: ericrobinlp
Eligibility: Worldwide
Minimum Payout: ?
Price: Free (no in-app purchases)
Overall Rating: 

1/5
How Does 1010! Block Fun Work? 
Installation 
1010! Block Fun is available for free on Google Play, and it doesn't require registration.
I don't recommend any person to use a website or an app without first reading the Terms of Service.
The link to the app's TOS is available via the cash balance page, but unfortunately, they removed the website to a legal action related to its content.
How to Play 
Right of the bat, you get a daily sign-in bonus of 20 coins, and an extra 20 coins by watching a 30-second video. 
1010! Block Fun is similar to Color Block, which is another cube puzzle game that I reviewed a few days ago.
Simply drag the blocks somewhere on the grid, aiming to fill a row or column. Whenever you fill the line, you will destroy all the blocks and open more space so that you can continue playing.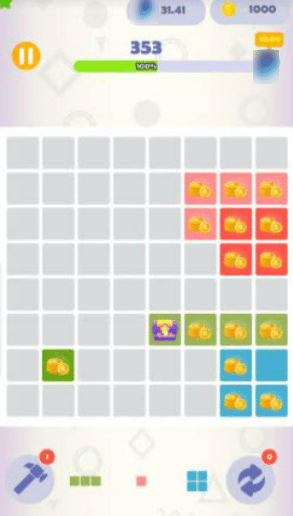 As you eliminate blocks, 1010! Block Fun will give you either coins or chests that usually contain virtual cash. However, you must always watch a video before opening the chest and collecting your reward.
Also, every time you place a block on the grid, you will get a score, which equals the number of cubes of that block. Note there is a green loading bar at the top, showing the percentage of scores that you have already earned.
When you reach 100%, it means that you have earned enough scores to claim virtual cash. Tap on the Paypal icon, and watch the clip to earn cash.
The game is over when none of the three blocks available fit the grid. When you feel in danger, you can use the hammer and the replacement. If you have none, you can buy props using your coins.
The hammer will eliminate a large square of 6 cubes, whereas the replacement tool will replace the three blocks.

Payments
If you enter your cash balance, it says you must get more cash to win the PayPal gift card. However, it doesn't mention the minimum payout threshold, which is a bummer!
Most games will let you cash out once you reach $100, $150, and $200. So, I suppose that is also the case with 1010! Block Fun.
Aso, the game gives you the chance to convert coins to cash via PayPal, Gift Cards. For example, you can redeem 190,000 coins to £5 via PayPal or Amazon Gift cards.
Is 1010! Block Fun Legit? Does it Pay? 
I played 1010! Block Fun for some time and noticed that it works just like many other games. It pays you well in the beginning, but the more you play, the less you will earn. 
I cannot say that they will stop giving you cash rewards because I didn't play 1010! Block Fun for long enough. However, I am sure it will take a very long time to cash out.
Even if you request the payment, they will probably ignore or cancel it, just like most games do. The virtual cash and tokens have no real-world value and the company is not obligated to pay. 
Unfortunately, 1010! Block Fun is still in Early Access, and therefore, users cannot publish their reviews on Google Play. 
That being said, I wouldn't call 1010! Block Fun a scam, but it's not a "money-making" app. Therefore, don't trade your time for useless virtual cash unless you just want to have fun. 
Conclusion 
I enjoyed 1010! Block Fun, but it gets boring after some time. Most people continue playing and watching a ton of videos with the sole purpose of earning cash rewards.
Don't waste your time as there is no evidence that the company is processing payments. The ads you see while playing these "money" games are very misleading and don't reflect the reality.

It's important to understand that app developers don't need to share their revenue with players as they never provide a binding contract that guarantees payments. That's why over 99.9% of them never pay!
Is There an Alternative to 1010! Block Fun? 
Unfortunately, none of these games that claim you can cash out $100 and $200 via Paypal are processing payments. Therefore, there is no similar alternative to 1010! Block Fun I'm afraid.
However, there are different types of apps and sites that allow you to make easy money. Here are some trusted options:
Keep in mind they will just help you earn a little extra cash.

This reward platform is going viral! Cash out via PayPal, Visa, Gift Cards, and in-game currencies - Click here to find out how to generate an extra $10+ per day! 
How about growing your own online business so that you can make a full-time income? Keep reading for more details!

Earn a Full-Time Income Online
If you are serious about making money online, I suggest that you grow your own online business as I do. 
You can rack up thousands of dollars per month and work from home by helping solve people's problems. 
If you want to put in the time and work required to succeed, join this excellent step-by-step program, and follow the first 10 free lessons.
It will help you avoid trial and error and achieve your online goals regardless of your background. 
Final Words
Thanks for taking the time to read my 1010! Block Fun app review. Use the comment section below to write your own review and share your results.
Peace out!