Color Block is another block puzzle game developed by V Long Technology, Inc, which also operates the popular Lucky Wood Puzzle. Both games have been advertised as if players could win hundreds of dollars within a very short period.
Here is a screenshot of one of their ads: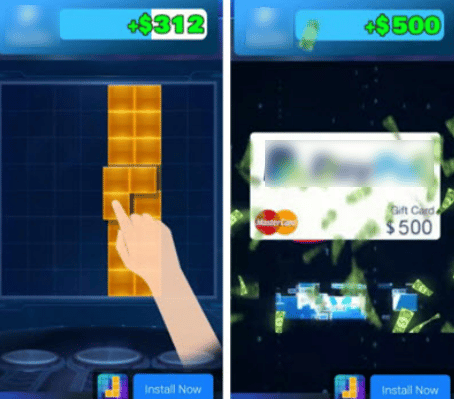 As you probably know, Google Play is jam-packed with games that are giving virtual dollars. They claim you can cash out via PayPal or Amazon gift cards once you collect a specific amount of money.
What they forget to mention is that they manipulate your earnings, make it hard or even impossible to cash out.
You are reading this review because you are wondering if you can really make money with Color Block. Is it a scam or a legit app? Keep reading to find out!
Sick of apps that don't pay? This step-by-step program helped me build my own online business and generate $1,600+ per month. It's free to join!
Color Block App Review
Company: V Long Technology, Inc
Eligibility: Worldwide
Minimum Payout: $150
Price: Free (no in-app purchases)
Overall Rating: 

1/5
How Does Color Block Work? 
Installation 
Color Block is only available for Android devices and doesn't require registration. After launching the game, you just need to accept the "Terms and Conditions" and "Privacy Policy".
How to Play Color Block
Unlike the classic block game, they will give you 3 blocks that can be placed anywhere on the board.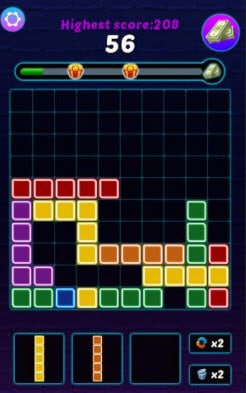 You should eliminate blocks by creating full horizontal or vertical lines on the grid. The game is over when none of the three blocks fit the board.
However, you can revive with block shuffle if you watch a video ad. You can also bin blocks or change all three blocks after watching an ad.
Whenever you place the blocks on the board or clear the line, you will earn scores that will get you closer to the cash reward. A loading bar at the top will show you how close you are to the next reward.
How to Cash Out
If you click on the cash icon at the top, you will open the cash balance where you can withdraw the money via PayPal or Amazon Gift card.
Keep in mind that the minimum payout requirement is $150, and as you will see in the next section, you may never get there!
Is Color Block Legit? Does it Pay? 
There is no evidence that Color Block pays!
Color Block behaves just like hundreds of other Android games. It starts great, but your earnings decrease as you get closer to cashing out.

Once you reach over $140, you will collect $0.01 at a time, and you will likely get stuck at some point. Most people give up as they believe they will never be able to reach $150 and cash out.
I read lots of reviews in search of a success story, but couldn't find anyone who actually made real money.
Nevertheless, Color Block is not a fraud as they asked you to agree with the "Terms of Service" before you could play. The document states the following:
"According to the laws and regulations, users shall fully agree that we have the right to limit the number of wins per game, daily game coins, and game credits."
As you can see, V Long can limit your earnings and prevent you from reaching $150 without breaking any laws.
The main problem is that the advertising doesn't reflect precisely how Color Block works regarding cash rewards. So, it's not a surprise that many people will have wrong expectations about the game.
Pros and Cons 
Pros
It's a challenging and fun game to play.
Excellent graphics.
There are not many ads.
Cons
Cash rewards drop over time and you may never reach $150.
There is no evidence of payouts.
There are lots of negative reviews on Google Play.
You cannot rotate the blocks.
Conclusion 
Color Blocks is a nice and challenging game, but I still prefer the classic block puzzle game that I used to play on my mini-game device around 25 years ago. It was a lot more fun, and the best part? There were no annoying ads!
Forget about the cash reward because even if you reach $150, the company is not obligated to pay anyone. So, I would be surprised if you receive the money into your PayPal account. The chances are slim, but if Color Block pays you, please leave us a comment below.
Earn Real Money By Playing Mobile Games
The best option is to join a reliable GPT site like Prizerebel and complete app offers. After installing the game and reaching a specific level/score, you will earn points that you can redeem for real money via PayPal or Gift Cards.

Some game developers pay a decent amount of money to members who meet the requirements. besides, you can collect points by answering surveys, watching videos, and completing other types of offers.
Earn a Full-Time Income Online
If you want to make a substantial amount of money online, I recommend investing your time and energy into creating valuable content on the internet. Once you build the foundation and grow an online audience, you can make money by promoting products as an affiliate.
It takes time and effort, but this is a business model that can put hundreds and even thousands of dollars per month in your pocket.
If you are willing to put in the work as I did, follow this excellent step-by-step training and start your online business today!

This reward platform is going viral! Cash out via PayPal, Visa, Gift Cards, and in-game currencies - Click here to find out how to generate an extra $10+ per day! 
Final Words
Thank you for reading my Color Block app review! If you want to share your opinions about this game, let us know in the comment box below.

Peace out!