Welcome to my Lucky Spade app review!
Thousands of people are playing Lucky Spade to earn digital currency and eventually withdraw real money to PayPal.
At first glance, it seems like the easiest and most convenient way to make money online.
The problem is that the majority of games stop giving cash rewards after some time and don't pay anyone. Therefore, players just waste their precious time watching deceitful videos.
So, is Lucky Spade a scam or a legit app? Does it pay or not? Check out my review below before you waste your time.
If you need real money, check out my #1 recommendation. This is the same program that helped me reach $1,600 per month and quit my job in 2019. 
Lucky Spade App Review
Company: Shape Keeper Ltd
Eligibility: Worldwide
Minimum Payout: $100
Price: Free (no in-app purchases)
Overall Rating: 

1/5
What is Lucky Spade? 
Lucky Spade is a poker game developed by Shape Keeper Ltd., a technology company based in Hong Kong. They also operate many other "money" games such as this popular coin pusher. 
The game is funded by advertisers, who apparently want to solve your financial problems!
How Does Lucky Spade Work? 
Installation 
Lucky Spade is available for Android devices and doesn't require registration. After launching the app, you can start the game straight away.
How to Play
The first step is to play the daily spin for a chance to win virtual cash rewards. I won $90 in my first attempt.
The game starts by automatically selecting the goal from the PayTable, which is refreshed daily or once all the card types are done.
Press start to get the cards. Then, select those you want to keep, and press "Swap".
Depending on the sequence of cards that appear on your screen, you will hit the goal and earn a specific amount of virtual cash or coins.
For example, this sequence of cards meets the requirement for "10 or better".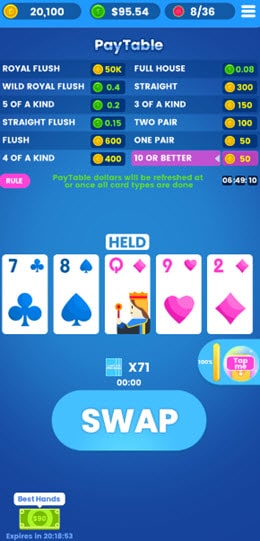 The royal flush will always give you the highest cash or coin reward.
Lucky Spade is a dull game because it does all the hard work of selecting the cards for you. So, you can simply tap the buttons non-stop and you will certainly win all the time!

How do You Get Paid? 
Once your cash balance reaches $100, you can supposedly cash out this amount to PayPal. Also, there is an option to cash out $2 once you have 500,000 coins.
Is Lucky Spade Legit? Does it Pay?
In the beginning, Lucky Spade will select card types that pay cash more frequently.
As you get closer to $100, though, the game will give fewer and fewer cash options, and you will get stuck. 
If you tap on the "Tap Me" button and watch a video ad, you can get specific card types in the next round. This will help you get more cash options for a while, but your earnings will soon get to a halt.
I was reading lots of reviews on Google Play and couldn't find anyone who got to $100 or 500,000 coins. Most people report getting stuck somewhere between $97 – $99.99.
Yep! There are some players who have been denied the last 1 cent, so they will likely never reach $100.
To make matters worse, some people reported that Lucky Spade deleted all their cash earnings.
I cannot call Lucky Spade a scam without proof. However, players are getting stuck before they are able to cash out. So, no. It doesn't pay!
If you are searching for mobile games that are more likely to pay, check out my game selection here. 
Pros and Cons
Pros
Cons
Players cannot reach $100.
There is no evidence that it pays out.
Google Play is jam-packed with negative reviews.
The game is tedious for my liking.

Conclusion 
Hordes of people are disappointed with Lucky Spade and regret playing it. The reason is that they spend a lot of time to reach $100, but the app simply won't let them collect the last few cents.
It doesn't matter how many ads you watch, you will probably never earn a penny from this company. It's just like hundreds of other games!
As you play Lucky Spade, you will watch lots of ads that are generating revenue for the app developer.
These ads will try to convince you that you can make hundreds or even thousands of dollars by playing other games.
Never fall for any of them because most game developers are not willing to pay anyone.

This reward platform is going viral! Cash out via PayPal, Visa, Gift Cards, and in-game currencies - Click here to find out how to generate an extra $10+ per day! 
Verdict: Not Recommended

How to Make Real Money Playing Games? 
The best way is to use GPT sites and reward apps that will pay you to complete offers. Prizerebel is one of the best options as you can earn over $100 per month not only by playing games but also by completing other simple tasks. 
Earn a Full-Time Income Online
If you dream of making thousands of dollars while working independently from home, I suggest that you build your own online business. In my opinion, affiliate marketing is always a viable opportunity for most people!
The business consists of creating content and promoting other people's products and services.
If you want to start your online business and start making affiliate commissions, join this excellent step-by-step program. I have reached my financial goals by following the same training, and I can help you achieve your online goals.
Final Words
Thanks for taking the time to read my Lucky Spade app review. I hope it was helpful!
Now it's your turn! If you played this game, leave us your review in the comment section below.
Peace!
Other Games From Shape Keeper