Welcome to my Golden Dot Connect review!
Thousands of people are playing Golden Dot Connect with the expectation of receiving real money via PayPal.
This is another addictive puzzle where you have to connect dots of the same color without crossing the lines.
Every time you connect all the dots and pass the level, you may earn some virtual cash rewards that will accumulate in your account. Then, you can supposedly cash out once you reach $110.
In this review, I will show you exactly how Golden Dot Works and give you my honest opinion. Does it pay, or is it just another fake application?
Before you leave my blog, discover the step-by-step program that helped me reach $1,600+ per month from my laptop, and escape the 9-5. No special skills required!
Golden Dot Connect App Review
Name: Golden Dot Connect
Company: Mini Joy Info Tech Private Limited
Type: Puzzle
Eligibility: Worldwide
Price: Free
Overall Rating:

2/5
What is Golden Dot Connect
Golden Dot Connect is another addictive puzzle game about connecting dots (balls) of the same color.
The goal is to connect all the dots in the grid without crossing other connections. It's a very interesting and challenging game with over 1500 levels from beginner to "Impossible".
Nevertheless, the main attractive of this game is the opportunity to earn real money. That is because the app developer is promoting the game as if players could win hundreds of dollars in a short period.
In fact, the ad suggested players could cash out instantly, which cannot be further from the truth!
By opening the cash balance on the top, you will discover you need at least $110 to cash out via PayPal. Another way you can supposedly make $110 is by completing 500 levels.
Golden Dot Connect is owned and operated by Mini Joy, which also has this trendy bubble sorting game that I reviewed a while ago. Lots of people have left a comment on that post complaining that they could not cash out.
Is Golden Dot Connect Legit? Does it Pay?
As I expected, there is an insane number of negative reviews about Golden Dot Connect on the Google Play Store.
Many people still believe the game will behave just like in the advertising and that they will cash out once they reach $110 or 500 levels. So, they install it and start playing with the wrong expectations.
Unfortunately, there is no evidence that Golden Dot Connect is processing payments to users who meet the requirements. I didn't find a single person who received money from this company!
For example, this woman said she couldn't cash out despite reaching $110 and level 950!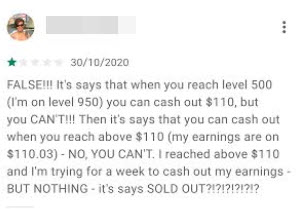 When she clicks on the cash out button, it says "SOLD OUT" as if there was a limit to the number of withdrawals per day.
The truth is that Golden Dot Connect could never pay $110 even if they wanted to. Although they are probably making a lot of money from millions of players, they would probably go bankrupt

It will take you a very long time to reach the minimum payout and once you finally do, they won't let you cash out. Some people also complain that they cannot open treasure chests since videos are not available.
I cannot say Golden Dot Connect is a scam without solid proof to back my claim, but there is no hope in making money out of it.
How Does Golden Dot Connect Work?
Installation
You can install Golden Dot Connect on Google Play and register using your Facebook or Google account. You can also log in as a guest, but in that case, you will not collect rewards. When you launch the game, you will earn a welcome gift of $1.
How to Play Golden Dot Connect
To get started, select the first level of the Beginner section. You will see a pair of balls of different colors in a 5 x 5 grid.
Your job is to swipe your finger and connect all the balls of the same color. It looks very easy at first, but you cannot cross two lines when connecting the balls.
If you cross another line, it will be automatically disconnected and you will have to find another way. There is an unlimited number of moves, at least at the beginner level.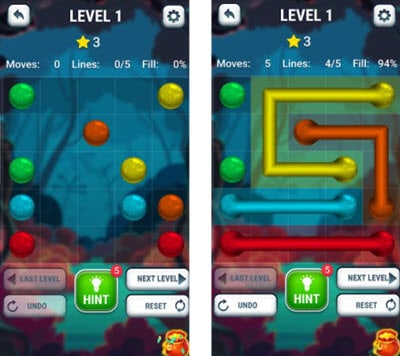 After you complete a specific number of levels, you have the chance to open the chest and collect virtual dollars. First, you must watch a short commercial, which is how the developers are making profits.
You can struggle to earn cash because video are not always available in your location. Not only that, but the closer you get to $110, the fewer cash rewards you will earn.
Therefore, you may get stuck and give up before reaching $110.
Golden Dot Connect will also give you coins called "joy" which cannot be converted to cash. Instead, you can use "Joy" to spin the wheel for a chance to win prizes.

Other Ways to Earn "Cash"
The Golden Dot Connect app provides several ways to earn cash rewards. Click on your profile at the top and you will find the following options:
Joy Spin: Each spin costs 1000 Joy. By spinning the lucky wheel, you will have the chance to win $0.01, $0.03, $0.05, $0.25, and $1 and other prizes.
Earn More: Complete offers from advertisers. For instance, you will get cash rewards by downloading apps, playing games, and answering surveys.
Scratchcard: Scratch and match 3 symbols to get cash rewards. You must always watch a video to unlock more cards.
Confusing Referral Program
You can also earn affiliate commissions by inviting your friends to play Golden Dot Connect. Click on the invitation icon at the top, and then use the share button to send your invite code to anyone on Whatsapp, Facebook, etc.
According to Mini Joy, you will get $1.55 – $1.95 if your friend plays the game every day. However, if you click on the rules, they state that you will earn 10% of your referral's earnings up to 200 Joy per day. So, it's a confusing affiliate program!
I wouldn't waste my time promoting Golden Dot Connect for anyone!

This reward platform is going viral! Cash out via PayPal, Visa, Gift Cards, and in-game currencies - Click here to find out how to generate an extra $10+ per day! 
How do You Get Paid?
Once you finally reach $110, you have to enter your cash balance at the top and click on withdraw. They tell you that you will receive the payment within 1 business day, but of course, there are no guarantees!

If you tap on the treasure chest, it says you must reach level 500 to win the $110 prize. However, it's very likely that nothing will happen once you reach the goal.
Pros and Cons
Pros
It's a challenging, and addictive game.
There are over 1500 levels.
Cons
Users don't win any prize once they complete 500 levels.
It takes a long time and you may never reach $110 due to diminishing rewards.
Videos are not always available.
Confusing and unrealistic affiliate program.
Conclusion
The Golden Dot Connect app should only be used for entertainment, not for making real money.
Unfortunately, the company is not obligated to pay anyone despite giving the option to cash out inside the app.
Your virtual cash balance has no monetary value and can only be converted to real cash as a goodwill gesture. However, they don't seem very eager to pay.
Is There an Alternative to Golden Dot Connect? 
If you don't want to waste time, run away from any mobile game that gives virtual cash rewards. The PayPal balance doesn't reflect real currency and you won't get paid.
There are some legit reward apps that pay you to discover and try new games such as Mistaplay and appKarma.
Even though they are the best apps of its kind, they don't always credit your offers. Besides, the earning potential is incredibly low!
Well, the good news is that many reviewers reported they received the payment with no issues.
Earn a Full-Time Income Online
Why play games for little to no money when you can generate thousands of dollars per month?
Yes. Anyone can do it!
I 2015, I decided to create my own online business by following a proven step-by-step program. Click here to learn more about it! 
This program helped me grow a lucrative site even though I had no skills in web design or marketing.
In short, I create helpful articles like the one you are reading now, and earn revenue from advertising and affiliate marketing.
If you can follow simple instructions and write reviews, I am sure you can build this type of business too!
>> Check out my #1 recommendation and start for free! <<
Final Words
Thanks for taking the time to read my Golden Dot Connect app review. If you want to share your thoughts about this game or ask any question, feel free to use the comment section below.
Take care