Welcome to my Lucky Diamond app review!
In today's post, we are having a close look at another addictive money-making game called Lucky Diamond. I discovered this game after watching one of their ludicrous ads that imply players can make a lot of money.
The ad depicted cash being added to the PayPal balance every time the player matched diamonds, giving the impressions that we could get rich in a short period of time. Just have a look!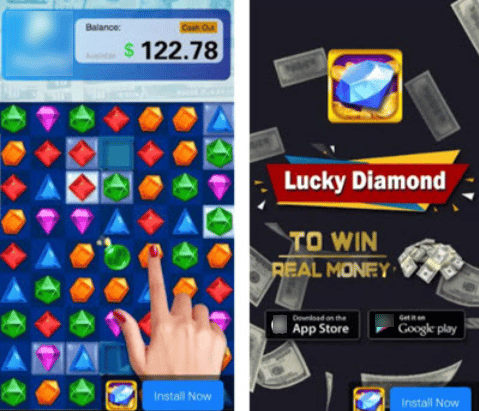 They go as far as to claim you can become a millionaire! Do you believe them?
Lucky Diamonds was created by Tuyoo, a Hong Kong-based company that also operates 3 very similar games called Panda Cube Smash, Fish Blast, and Lucky Home.
I know how frustrating most of these games are, which is why I decided to write this review and warn as many people as possible. So, can you really make money with the Lucky Diamond app? Is it a scam or a legit app?
Before you leave, discover the step-by-step program that helped me reach $1,600+ per month from my laptop and quit my job. No special skills required!
Lucky Diamond App Review
Name: Lucky Diamond
Company: Tuyoo
Type: Puzzle
Eligibility: Worldwide
Price: Free
Overall Rating:

2/5
What is Lucky Diamond?
Lucky Diamond is an android puzzle game that gives you virtual cash rewards after completing specific levels. According to the company, you can withdraw the money to your PayPal account once your balance reaches $150.
It seems like an easy way to earn cash, which explains why the app has already been installed over 100,000 times.
Yep! They know millions of people struggling to pay the bills and will do whatever it takes to reach the target.
Pros and Cons
Pros
The game is challenging and helps to pass the time.
There are over 1200 levels.
There are not as many ads as some games.
Nice graphics.
Cons
The closer you get to $150, your cash rewards become rarer.
Lots of people give up before having the chance to cash out.
There is no evidence that the company pays.
How Does Lucky Diamond Work?
Installation
As with all Tuyoo games, Lucky Diamond is only available for Android devices. After installing the game on Google Play, you must agree with the Terms of Service and Privacy Policy.
How to Play Lucky Diamond?
It's not complicated. Simply tap on two or more similar colored cubes to crush them. Then, finish the level by blasting the rest of the target cubes.
If you blast 5 or more cubes, you can activate boosters such as spinning tops, fireworks, TNTs, and more. They will help you blast more cubes at once and reach the goal faster.
The game is over if you run out of moves before blasting the minimum number of cubes required to pass the level.
I took a screenshot from the game, and as you can see, it looks very different from the ad!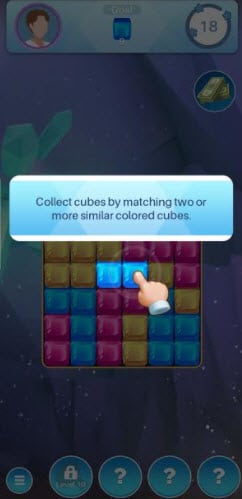 Cash Rewards
Here is what will likely happen if you play Lucky Diamond for long enough:
In the beginning, they will give you a decent amount of cash every 2 or 3 levels. So, you will accumulate cash fast and be more than happy to watch ads in return for a few dollars.
My first cash reward was 15.01 USD!
After collecting $100ish, you will earn just a few pennies after passing a couple of levels. One player said that at level 281, he was making a measly 10 cents every 10 levels. It gets as low as $0.01 every 10 levels!
How Do You Cash Out?
You can request a payment via PayPal or Amazon Gift card only if you reach $150. Just lap on the cash icon at the top and click on Cash out (PayPal) or Exchange (Amazon).
Is Lucky Diamond Legit? Does it Pay?
I don't think you will receive any money from this company! The virtual cash reward has no monetary value and you don't own it.
As expected, most people get stuck and give up before reaching $150. Maybe you finally reach $150 after months of playing Lucky Diamond, but there is no evidence that it pays out.
Even though the advertising is completely out of touch with reality, Lucky Diamond is not technically a scam, and I will explain why.
Before starting the game, it asks you to agree with the "Terms of Service", which states that the company can delete your points and virtual currency.

Even if you reach $150, Tuyoo can ignore or cancel your payment request. Unfortunately, most people are not aware of this, don't do proper research, and will learn the hard way.
Conclusion
I enjoy playing Lucky Diamonds, but it's similar to lots of other match-3 games out there, including the ones owned by the same company. They only changed the branding and a few things, but the game itself is identical!
Unfortunately, Lucky Diamond behaves just like most other games that I reviewed on my blog. They make it almost impossible to reach $150 and cash out. But even if you persist and reach the goal, the company will likely cancel your payment request.
Bitcoin Blast and Bitcoin Blocks are two similar games that process instant payments via Coinbase (no-minimum payout). The problem is that even if you play every day for an entire year, you may not even reach $5. If you need money for yesterday, avoid these apps because they are a complete waste of time!

This reward platform is going viral! Cash out via PayPal, Visa, Gift Cards, and in-game currencies - Click here to find out how to generate an extra $10+ per day! 
Earn a Full-Time Income Online!

Who doesn't like easy money?
The thing is, without creating value to the internet, you will just become easy prey of advertisers and unscrupulous marketers. I encourage you to change your mindset and focus on strategies that have the potential to transform your life!
People all over the world are generating thousands of dollars per month by operating their own online businesses. I started my online entrepreneurial journey back in 2015, and I was able to reach a full-time income working from home.
It's not complicated, but you must be willing to put in consistent work and be patient. If you want to start your own online business, check out my top recommendation. It's completely free to get started!
Final Words
Thanks for reading my Lucky Diamond app review. I hope it was helpful!
Now it's your turn! If you played this game, feel free to leave your honest review in the comment section below. Did you get paid?
Peace!