Welcome to my Golden Bubble Sort App Review!
The creators of Golden Bubble Sort are claiming you can withdraw money instantly after playing their addictive puzzle game.
They advertise the app as an opportunity to win real money while having fun! How doesn't like the opportunity to earn free money!
I installed the game and do some digging to discover whether this a scam or a legit application.
As you probably know, there are lots of fake money-making apps that are not willing to pay anyone.
So, can you really trust Golden Bubble Sort? Does it pay or not?
Before you leave my blog, discover the step-by-step program that helped me reach $1,600+ per month from my laptop and escape the 9-5 trap. No special skills required! 
Golden Bubble Sort App Review
Name: Golden Bubble Sort
Company: Mini Joy Info Tech Private Limited
Type: Puzzle
Eligibility: Worldwide
Price: Free
Overall Rating: 2.2/5
What is Golden Bubble Sort
Golden Bubble Sort is an addictive puzzle game where you have to sort bubbles of the same colour inside the glass jars.
Its has been installed over 500,000 times so far and getting very popular, especially because of the "aggressive marketing" strategy.
Their strategy consists of suggesting people can earn cash rewards and withdraw instantly – no withdrawal limit via PayPal. Here is the screenshot that I took from one of their video ads.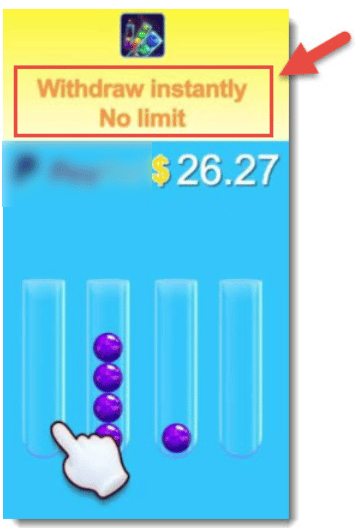 However, when you open the game and click on the chest, it says you must reach level 400 to cash out $110.
Besides, the minimum payout is set at $110 in the withdraw section. Therefore, you cannot withdraw instantly, as the ad suggests.
Is Golden Bubble Sort Legit? Does it Pay? 
I wasn't disappointed when I found lots of os complaints about the Golden Bubble Sort app on Google Play.
The reason is that I already know how this type of app works, so I knew what to expect.
Unfortunately, many people still believe they can make good money by playing such games, which explains why these apps get so many installs.
The reality is that app developers don't earn enough ad revenue to pay $110 for every user that meets the requirements.
But even if they did, they would only pay if there was a law to enforce the payments.
Well, that's not the case as the company is free to decide whether they will get paid out not.

If you check the reviews on Google Play, you see that lots of users felt mislead by the advertising saying they could cash out anytime.
When you start playing, you will discover you must reach level 400 or $110.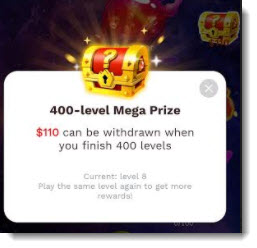 However, I found many reviews by players who, despite completing all the levels, were unable to cash out. 
So, from what I can see, making real money with Golden Bubble Sort is just a pipe dream!
How Does Golden Bubble Sort Work? 
Installation 
You can install the game on Google Play and register using your Google or Facebook account. You can also log in as a guest.
When you open the game, you will earn a newcomer gift of $1.
How to Play
It's a very simple puzzle game!
Get started by selecting the beginner level, which is represented by the red planet.
You will see bubbles of different colours all mixed inside the 4 glass jars.
Simply tap the jar to remove the bubble and transfer it to another jar. You will pass the level when once you sort all the bubbles of the same colour in the same jar.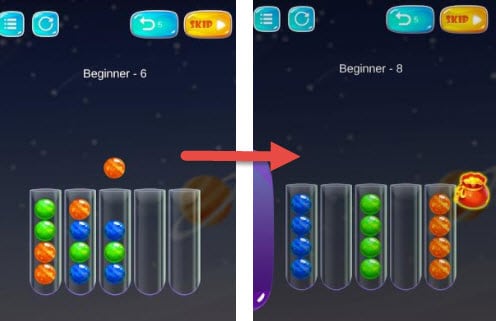 After you pass a few levels, you will have the opportunity to open the chest to win cash rewards. However, you can only open a chest after watching the video.
The problem is that they are not always available, and you will struggle to accumulate cash.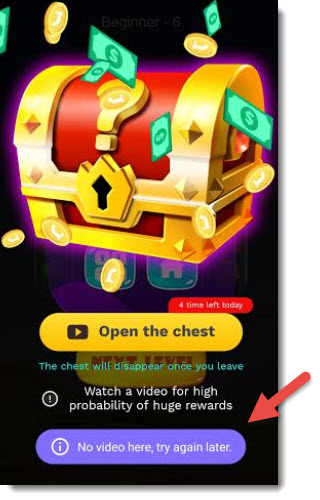 Don't be surprised if they force a clip down your throat after they told you there were no videos available.
In the beginning, you will earn a generous amount of cash, but the closer you get to $110, the less you will make.

This reward platform is going viral! Cash out via PayPal, Visa, Gift Cards, and in-game currencies - Click here to find out how to generate an extra $10+ per day! 
One user reported that she was making just 1 penny every 30 – 40 levels, which is very disappointing!

How do You Get Paid? 
If you tap on the right side chest, it says you must pass 400 levels to cash out $110.
The app also implies that you can withdraw your bonus cash to PayPal once you reach $110 or $190.
They say you will get paid within 1 business day once you submit your payment request.
Pros and Cons
Pros
Great game for killing time.
Nice graphics.
Cons
Users are not able to cash out once they finish all the levels.
Users are struggling to reach $110.
You cannot withdraw instantly, as their ad suggests.
Ads don't always open when you win the chest. Is it just a coincidence?
The app is glitchy.
Some people think it's a boring game.
Conclusion 
In my opinion, Golden Bubble Sort is a decent mobile game for those who just want to pass the time.
Perhaps you installed the app with the expectation of making quick and easy money paid immediately via Paypal.
Unfortunately, that's not going to happen!
You will be enticed to play for many hours in order to reach level 400, but it's very unlikely that you will receive $110.
It's a shame the way these companies promote their apps that almost never live up to the hype.
Like the old saying goes: "If it seems too good to be true, then it probably is."
Final Words
Thanks for taking the time to read my Golden Bubble Sort app review. Use the comment section below to leave us your own review or ask any question about the app.
Stay safe and peace out!