Welcome to my Trivia Dunk app review!
I was testing another reward app to write a review on my blog when I came across an advert about Trivia Dunk.
The Trivia Dunk app was advertised as an opportunity to win real money by playing a trivia game on your phone.
The developer went as far as to hire a popular YouTuber to do the promotional video saying players could cash out over $70 via PayPal.
You are here because you are sick and tired of wasting your time with apps that don't pay. So, you can really make money with Trivia Dunk app? Is it a scam or a legit app?
You may also want to check out the step-by-step program that helped me reach $1,600+ per month working from my laptop (no special skills required). 
Trivia Dunk! App Review
Name: Trivia Dunk!
Developer: Xiao Faria daCunha
Type: Trivia
Price: Free
Overall Rating:

2/5
What is Trivia Dunk? 
Trivia Dunk is a trivia basketball game where users challenge each other and earn coins for each correct answer.
As of writing this review, the game is available on Android and iOS devices, but it's still in development. That means it may not have all the features yet.

This reward platform is going viral! Cash out via PayPal, Visa, Gift Cards, and in-game currencies - Click here to find out how to generate an extra $10+ per day! 
Is Trivia Dunk Legit? Does it Pay?
Trivia Dunk on Android
I was very disappointed with the Trivia Dunk app when I installed the app and couldn't find the cash out option. When I tap on the coin balance, nothing happens!
The developer promotes the app as another "money-making" opportunity, which is the main reason why thousands of people are downloading the app.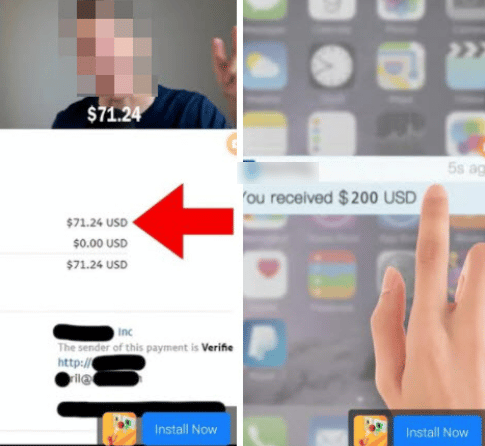 However, you still cannot convert coins for cash rewards. All you can do with your coins is buy skin and dance customization for your avatar.
Perhaps the reason why you cannot convert coins for cash is that Trivia Dunk is still in Early Access. There is a chance they will add the cash out option in the future, but I am not very optimistic.
I don't recommend playing the game in hopes to make money because that may never happen. Besides, even if the company starts converting coins to cash, that doesn't mean you will get paid. 
That being said, Trivia Dunk is not a scam, but the advertising doesn't reflect the truth about the app.

Trivia Dunk on iOS
On iOS, Trivia Dunk is giving cash rewards and they say you can withdraw the money via PayPal once you reach $100.
However, as you get closer to $100 you will earn less and less money to the points where you will feel stuck.
It's impossible to know whether the company will let you reach $100 or not. But even if you reach the minimum payout threshold and cash out, there is no payment guarantee.
How Does Trivia Dunk Work? 
The game is very simple. Read the question and swipe your finger right or left according to your answer.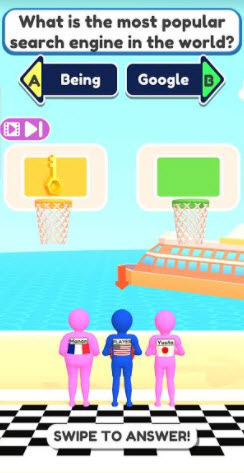 Then, your avatar will shoot the ball towards the basket below the answer.
If your answer is correct, you will score and earn coins, which you can use to customize your avatar.
In addition, you win trophies and the opportunity to spin the wheel to earn more coins.
Is There an Alternative to Trivia Dunk? 
There are lots of trivia games you can play on your smartphone such as HQ Trivia, Live Quiz, Quiz Rewards and Quizdom.
Unfortunately, all of these trivia games receive lots of complaints about payments and technical issues. I wouldn't play any of them with the expectation to make money.

After some research, I found that Live Quiz is the least worse option because at least I can see some people who got actually paid.
If you are searching for legit apps that pay, I recommend reading this recent post about the top secret shopping apps.
Conclusion 
Trivia Dunk is advertised as an app that allows you to earn money, but if you are playing on Android, you will just collect tokens with no currency value.
In my opinion, the developers should avoid this type of advertising for Android users until they start processing payments.
As for the iOS version, Trivia Dunk seems to work just like most "money-making" apps. They will give you a generous amount of virtual cash in the beginning, but you may never reach $100 due to diminishing rewards.
The trivia game itself is great because it lets you play against other players and test your knowledge. It has nice and 3D graphics and funny dancing avatars.
However, it's not an app for those who are serious about making money.
How to Earn Real Money Online

If you want to make real money online, I suggest creating your own internet business.
It seems like a daunting task, but with clear step-by-step instructions, you can create an affiliate site on the same day and start working for yourself. Check out my #1 recommendation here! 
The business consists of creating helpful content and promoting related products as an affiliate.
As more and more people are buying products through the internet, there is a huge demand for helpful reviews and information online.
That's one of the best strategies to supplement your income or even replace your 9-5 salary while working from home.
Final Word
Thanks for reading my brief Trivia Dunk app review. I hope it was helpful!
If you have any questions or thoughts about this game, let me know in the comment section below.
Stay safe and peace out!