Welcome to my Hyper Plinko app review!
I have been bombarded by Hyper Plinko advertisements during the last week while testing other money-making games.
The advert was trying to convince me that I could earn money fast and cash out over $1,000 via PayPal. Just have a look: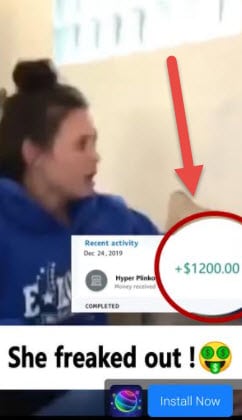 Apps like Hyper Plinko are highly addictive because, in addition to tokens, they provide virtual cash that could potentially turn into real money.
Unfortunately, they usually make it impossible to cash out by preventing you from reaching the minimum payout amount or causing an error.
In this review, I will cover the full details about Hyper Plinko and give you my honest opinion about it. Is it a scam or a legit app? Will you get paid after dropping so many balls and watching hundreds of ads?
Keep reading to find out!
If you are serious about making money online, get rid of apps and discover the step-by-step program that helped me reach $1,600+ per month. No special skills required! 
Hyper Plinko Review
Name: Hyper Plinko
Developer: Shape Keeper Ltd
Eligibility: The US (+17)
Minimum Payout Threshold: $1 (Amazon), $100 (PayPal)
Price: Free (no in-app purchases)
Overall Rating: 

1/5

Recommended? No
What is Hyper Plinko? 
Hyper Plinko is another Plinko-style game that gives you virtual coins and cash when the balls hit the pegs on their way down.
Simply drop the balls from the top of the board by tapping on your screen. You will get 5 tokens when the balls hit the yellow star pegs and $0.01 when they hit the green cash pegs.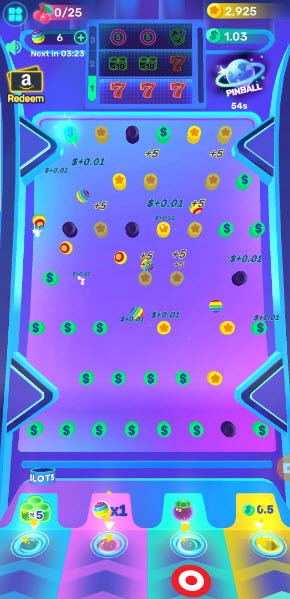 Hyper Plinko also has a slot machine that will help you accumulate rewards faster.
As with most of these "money-making" games, the developer won't let you withdraw the money until you reach the minimum payout. This match-3 game is one of the few ones that pay instantly.
There are lots of similar games on Google Play, and for millions of people who wish to make real money, this is not good news. 
The app is operated by Shape Keeper Ltd, a Hong Kong-based company that has many other popular games such as Lucky Egg, Lucky Money and this very similar Plinko game.
Almost all of them offer virtual dollars to attract as many people as possible. But are players making real money?
Who Can Play Hyper Plinko? 
According to the Terms and Conditions, only residents of the United States over 17 years old are eligible to play.
They also mention that only eligible persons have the chance to exchange tokens and coins for gift cards and other goods.
If only residents in the US can use the app and cash out, then why not restrict the installation in other countries? Most people don't read the TOS, so they keep playing and watching lots of ads with no chance to cash out. 
Is Hyper Plinko Legit? Does it Pay?

Hyper Plinko gives you the expectation to withdraw real money via Amazon Gift cards and PayPal. However, you can only request your payment once you reach the minimum payout threshold.
In order to request a $2 gift card, you must collect 4 million coins, and if you want to withdraw your cash balance via PayPal, you must reach $100.
The problem is that the game's algorithm is designed to give you less and less money as you get closer to payout.
So, when you think you are almost reaching the goal, they start giving fewer cash rewards, making you feel like chasing the carrot.
It's a very frustrating experience because the number of ads remains the same, but you never know if the goal is achievable. That's when the penny drops, and lots of people start searching for reviews.
If you check the reviews on Google Play, you will find an incredible number of users claiming they didn't make any money despite playing daily for months!
You can scroll down the review page indefinitely and the issue is always the same. People get stuck before reaching $100 and can never cash out!
This user has been playing Hyper Plinko for 2 weeks without earning any penny because there are no more green coins. Therefore, he is stuck at $90.48 forever.

So, based on hundreds of reviews, I can say that you are unlikely to receive the payment.
Nevertheless, I cannot say Hyper Plinko is a scam because the "Terms And Conditions" gives them the freedom to deny your payment.
Coins and Tokens Are Not Real Money
If you read the Terms and Condition, you will find why users are not getting paid. It says:
"By playing the Hyper Plinko games, Eligible persons have the opportunity to win virtual tokens and coins, which can be used to, in Hyper Plinko's sole discretion, exchange with other virtual goods, including discounts, offers, gift cards and other services. "

In other words, the company can choose to pay you or not. Also, note that they don't mention anything about PayPal payments.
It's important to know that the app developers are making money every time you watch those overhyped ads.
In my opinion, if they are promoting the app as an opportunity to make real money, they should at least share a small percentage of the ad revenue with players.
How Does Hyper Plinko Work?
Installation 
Hyper Plinko is available for Android and iOS devices. After installing and loading the game, you can start playing right away.
There is no need for registration, but there is an option to link your Facebook account in order to keep your account.

This reward platform is going viral! Cash out via PayPal, Visa, Gift Cards, and in-game currencies - Click here to find out how to generate an extra $10+ per day! 
How to Play Hyper Plinko
You will start with 30 balls. Simply tap anywhere on the board to drop the balls so they hit green and yellow blocks. As I mentioned, you will get 5 tokens if you hit the yellow block and $0.01 if you hit the green blocks.

Note there is a slot hole moving right and left at the bottom. If the ball falls into the hole, it will trigger the slot machine and you will have the chance to win any of these rewards: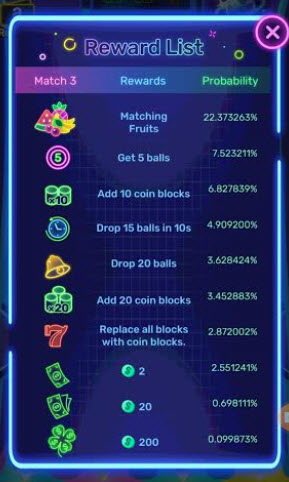 If the ball falls into any of the other holes at the bottom, you will also earn rewards such as fruits, extra coin blocks, and extra balls.
When you run out of balls, they will encourage you to watch a video so you can earn an extra 30 balls.
Rewards
As you are playing Hyper Plinko, you will accumulate tokens and coins (virtual cash). If you click on "Redeem", you will discover two payment methods available:
Amazon gift cards
$1 – Collect 4 million tokens.
$2 – Collect 9 million tokens.
$3 – Collect 15 million tokens.
PayPal
$3 – Collect 15 million tokens.
$100 – Get 100 coins to cash out.
Hyper Plinko also gives you the opportunity to win $1000 if you collect 25 kinds of fruits. As with the cash situation, it's very unlikely that you will collect all the fruits in your lifetime.
Hyper Plinko Alternative 
As far as I know, there is no Plinko-style game that is processing payments. My Advice?
Avoid any mobile game that claims you can withdraw cash through PayPal. Any "lucky this" or "Lucky that" apps are a complete waste of your time and internet data.
If you want to try your luck, I recommend this sweepstakes app that allows you to enter raffle tickets for a chance to win over $100. The odds of winning are very low, but at least you can be sure that tickets are selected at random.
If you still prefer making money while playing games, this post will show you most of the options available.
Conclusion 
Hyper Plinko has been advertised as an opportunity to make over $1000, but I think they they are not willing to share a penny.
The game will let you accumulate coins and tokens very quickly in the beginning but after $80, they reduce the number of cash pegs significantly. Therefore, you will probably get stuck sooner or later.
I am sure you wouldn't play Hyper Plinko for hours and watch hundreds of ads only to earn worthless tokens. The game is not too bad, but it's very boring if played without a cash incentive.
Unfortunately, lots of users don't take the time to read reviews and end up wasting a lot of time.
I think Google Play and the App Store should do a better job in preventing these type of apps to operate. A sweepstakes app should have clear instruction and show proof that users are getting rewarded.
Verdict: Not Recommended 
Earn a Full-Time Income Online

If you don't want to rely on luck to earn money, I suggest building your own online business. There are several strategies, but I always recommend creating a website and promoting products as an affiliate.
You don't need any web design or marketing skills to create a website and turn it into a money-making machine. However, there are many things you need to learn before you can make it work for you.
Thanks to this excellent step-by-step program, I created a thriving online business without any previous experience. Today, it allows me to work for myself whenever and wherever I want.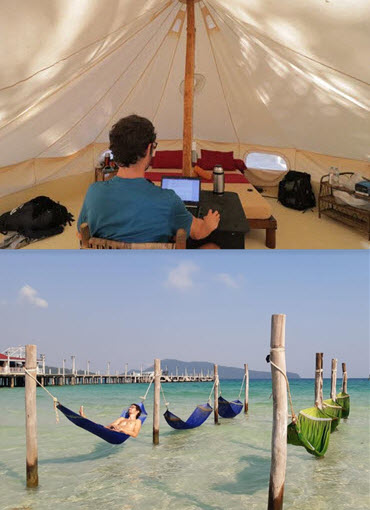 Growing an online audience takes time and a lot of work, but with a clear plan of action and the right mindset, you can go far!
If you wish to start earning affiliate commissions, you can sign up for free and start building your website site today with no strings attached.  >> Click here to learn more!
Final Words
Thanks for your time to read my Hyper Plinko review. I hope it was helpful!
So, did you managed to reach $100 or not? How was your experience with this game? Use the comment section below to write your own review.
Stay safe and peace out!