Welcome to my SagaPoll app review!
I have recently discovered SagaPoll, an African survey app that allows you to earn rewards by voicing your opinions.
As a member of the online community, you will complete simple online surveys that will contribute to marketing research, which is paramount to companies across Africa.
You are probably wondering – Is SagaPoll is a legit and trusted platform? Does it pay or not?
In this review, I will cover all the details about SagaPoll, and give you my frank opinion based on personal experience and other member's reviews.
→ If you want to work remotely and earn a full-time income online, check out my #1 recommendation. This is the same program that helped me reach $1,600 per month and quit my job in 2019. 
SagaPoll App Review
Name: SagaPoll
Company: Sagaci Research
Type: Survey app
Minimum Payout: $20
Membership eligibility: African countries
Price: Free
LEGITIMATE
Overall Rating: 

2.3

/5
What is SagaPoll All About? 
SagaPoll is a survey panel dedicated to residents in the African continent. As a member, you can share your opinions about different topics and get paid for your contribution. 
Although you can sign up from anywhere, you may find very few or no survey opportunities. The reason is that SagaPoll is still in launch phase in some countries.
The app is operated by a marketing research firm called Sagaci Research and has been installed over 100,000 times on Google Play.
Is SagaPoll Legit? Does it Pay? 
Yes, SagaPoll is a legit and safe panel to use on your phone. However, people are struggling to save enough points to cash out because the minimum requirement is too high.
Lots of panellists are complaining that they only get a few questions per day worth just 5 points each. The problem is that you need 5,000 points to cash ou $20 or the equivalent currency in your country.
So, at this rate, it may take a very long time to reach the payout requirement and withdraw the money.
The company replied some panellists saying they will be adding more surveys with different points in the future when the panel launches fully. 
So, will you get paid? Well, if SagaPoll continues to reward 5 points per survey, it will take "ages" to cash out. That's the reason I couldn't find anyone who received the payment yet.
While you wait, you can answer some personal questions and earn 5 points each.
I suggest giving SagaPoll some time to see if they will provide surveys worth at least 100 points within a few months. Otherwise, it's not worth it!
Pros and Cons
Pros 
Quick surveys.
It's available in many African countries.
Earn 100 points after filling out your profile.
Cons
Minimum payout threshold is too high ($20)
There are not many surveys.
Currently, all surveys are worth just 5 points ($0.02).
No PayPal payments.

How Does SagaPoll Work? 
Installation and Registration
SagaPoll is only available on Android devices. After you install the application, you must sign up using your Google account. There is no other signup method, so you must create a Google account if you don't already have one.
If you insert a referral code, you will get a signup bonus of 5 points. You can use my code if you want: T9GQ
App Permissions
During the signup process, you will have to grant SagaPoll permission to access your location (GPS), camera, and files.
The surveys you receive are based on your location, so it's understandable why they need access to your phone's GPS. However, it's not clear why they would want to access the camera and files.
Unfortunately, you cannot use the app if you don't allow all of these permissions.
Fill Out Your Profile
The first step is to complete your profile, which consists of basic personal questions such as your name, date of birth, gender, education, etc.
The information you provide will be used to assign new survey according to your profile. The company claims that all your data will be processed anonymously.
SurveySaga app will also ask your contact number to pay you through your mobile phone.
Once you finish completing your profile, you will earn 100 points.
Complete Surveys 
On the dashboard, you can find a list of surveys with their name, description, and points. I wish the company would also provide the average completion time or at least the number of questions.

As of writing, the only surveys available are about personal habits, and they are all worth 5 points.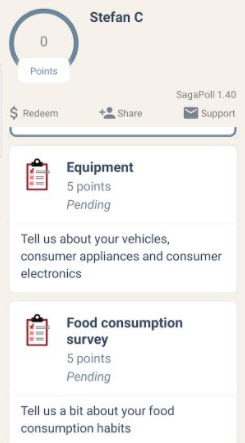 When the company starts providing surveys worth more points, they will probably cover opinions about products and services. In that case, you may have to answer qualification questions as their clients will be looking for a specific group of people.
If you are not a good match based on their questions, you will get disqualified. The 1Q is one of the few apps that don't disqualify panellists. Unfortunately, it's still not available in Africa, but they have plans to expand.
According to the SagaPoll app, you can earn up to 500 points per survey, but from my experience, you should expect to earn less than 100 points once the client's surveys start to pick up.

This reward platform is going viral! Cash out via PayPal, Visa, Gift Cards, and in-game currencies - Click here to find out how to generate an extra $10+ per day! 
Invite and Earn
Another way to collect points with SagaPoll is by sharing your referral code with friends or anyone on the internet.
For each person who installs SagaPoll on their phone, they will give you and your referral 5 points. There is a limit to 100 invitations, so it's not very profitable for Bloggers and influencers.

How Do You Get Paid? 
You can redeem your points for mobile money as soon as you accumulate 5,000 points in your account.
5,000 points are equivalent to 20 USD in your currency.
Once you request your payment, the funds will be available in your account within a few days.
Is There an Alternative to SagaPoll? 
It's difficult to find a decent survey panel for African countries due to low demand for marketing research.
There are very few marketing research studies compared to Wealthy Counties in Europe and North America.
It's possible to combine lots of sites that work worldwide and still earn a little extra income every month.
However,  I think the best way to find surveys is by joining a reputable GPT platform like Prizerebel. This site has partnered with lots of marketing research companies from all over the world. So, with just one account, you will have access to multiple sources.
You can also check out the best survey apps to earn money via PayPal in this post.
Conclusion 
SagaPoll is a promising survey panel targeted to the African continent. At the moment, it's very difficult to accumulate points, so it's practically impossible to cash out with just 5 points per survey.
Let's hope they start inviting panellists for better survey opportunities in the near future.
Earn a Full-Time Income Online
Completing paid surveys can be a frustrating experience!
Luckily, I discovered how to build an online business that allows me to work 100% remotely and earn a full-time income. All I need is my computer and internet connection.
One of the best benefits of this type of business, especially if you live in a developing country, is that you can earn $10 – $100+ on a single sale.
You can scale your business indefinitely, and reach thousands of dollars per month as I did.
With this newbie-friendly online business training , you can set up your WordPress site website on the same day and kickstart your own affiliate site. 
The first 10 lessons are free, and you can get my personal support for free during the first 7 days.
>> Click here to learn more about the program and my success story. 

Final Words
Thanks for reading my SagaPoll app review!
Did you use this survey app? What is your opinion about it? Let us know in the comment section if you recommend it or not.
Stay safe and peace out!