Welcome to my Lucky Pusher app review!
I have always refrained from playing pusher games as I didn't want to lose my hard-earned money!
Nowadays, we can try our luck by installing a virtual pusher machine app on our phones. The best part is that we can download and play these games completely for free!
One of the most popular options for Android devices is the Lucky Pusher app, which gives you the chance to win up to $10,000 in cash rewards.
With Lucky Pusher, you will collect coins and virtual dollars that you can redeem for Amazon gift cards and PayPal.
After testing tons of money games, I can tell you from hard-earned experience that very few of them let you cash out!
In this review, I will share with you everything I discovered about the Lucky Pusher app and give you my honest opinion. Is it Legit? Will they pay you? Don't install this app before you know what to expect!
Before you leave my blog, you may want to discover the step-by-step program that helped me reach $1,600+ per month from my laptop and escape the rat race. No special skills required! 
Lucky Pusher App Review 
Name: Lucky Pusher
Website: http://www.luckypusher.vip/
Company: Shape Keeper
Membership Eligibility: US (+18)
Price: Free
Similar apps: Coin Dozer, Lucky Dozer, Coin Pusher+
Overall Rating:

2/5
What is Lucky Pusher? 
Lucky Pusher is an extremely popular and addictive coin pusher game available on Android devices.
The game lets you drop free nickles so you can push the green and yellow coins off the board. The green coins represent virtual currency ($0.01, $0.05), whereas the yellow coins represent tokens.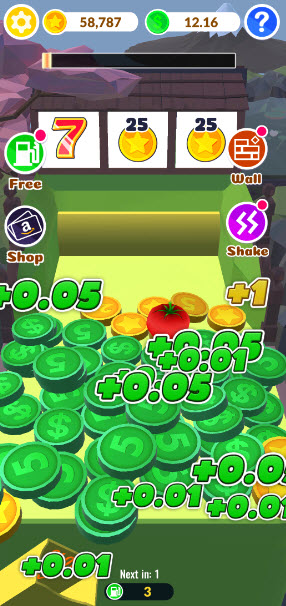 You must accumulate $100 worth of green coins to cash out $100 via PayPal and 1 million tokens to redeem for a $2 Amazon gift card.
In addition, you can win the jackpot of 10,000 USD if you collect all the 36 fruits and 777 USD if you match three green sevens in the slot machine.
It's insane to see piles of coins dropping, making your cash balance grow really fast in the beginning. It makes you think you will get rich quickly! But as you will see, the possibility of making easy money with this app is just a pipe dream.
The Lucky Pusher app has been installed over 1 million times on Google Play, and despite being rated 4.1 out of 5, there are lots of negative reviews. In the next section, you will understand why!
Is Lucky Pusher Legit? Does it Pay? 
Lucky Pusher gives the impression that anyone will make real money as long as they keep playing and accumulating coins.
Unfortunately, that is not the case. If you check the Terms and Condition, it says that winners will be selected at random while they are playing. Their other game called Plinko Master is the same!
The main problem is that Lucky Pusher developers don't state the number of winners at any given time.
Your cash and token balance will add up quickly in the beginning as the slot machine will give you lots of coins.

However, once you get to $95 mark, Lucky Pusher will stop giving you green coins, and you will get stuck. As you need $100 to cash out, the company will never pay you unless you are one of the lucky ones. How frustrating!
As for the fruit situation, you need 36 of them to cash out $10,000. However, lots of people complain they will never find the last one remaining.
Take a look at the review section on Google Play and you will see the same story being told by hundreds of users.


Those who don't read the Terms of Use will fall into the "trap" of playing this game for hours until they realize they can never go past the $95+ mark.
Despite all that, I cannot claim Lucky Pusher a scam based on the business model and user reviews.
Pros and Cons
Pros
Free to play – No risk of losing money.
Realistic physics and beautiful graphics.
You just have to watch ads if you wish to use the tools.
There are over 1000 levels.
There are too many ads!
Cons
You will probably get stuck before reaching $100.

Your chances of making real money are extremely low. 
How Does Lucky Pusher Work?
Installation and registration 
You can download the app and start playing straight away with no registration nor in-app purchases required.
Keep in mind that Lucky Pusher is only allowed for users over 18 years old.
How to Play
Every 9 minutes, Lucky Pusher will give you 40 free nickels to play with. You can get lots of free nickels by completing offers from TapJoy.
To play Lucky Pusher, all you have to do is tap on the top of the screen next to the slots to drop the nickels.

The goal is to push the coins off the edge to collect tokens and green coins.
Every green coin that falls off the board will give you 1 – 5 cents. As for tokens, they have different values such as 1, 5, 25, 100, and 500.
Notice there is a yellow box moving left and right at the bottom. Whenever a nickel falls into the box, it will trigger the slot machine, which will trow coins and fruits on the board if you match 3 symbols.
If you match three $777, you can earn $777 and when you collect all 36 fruits, you will win 10,000 USD. I am skeptical that someone will ever win those generous prizes!
In the "Rules & Tips", you can see the probability of slots.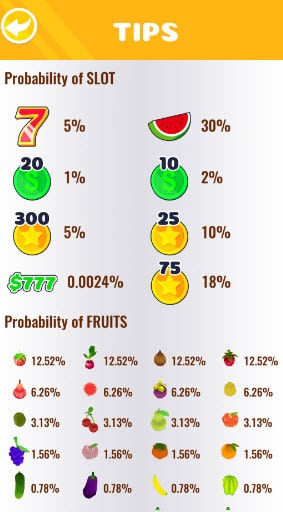 This reward platform is going viral! Cash out via PayPal, Visa, Gift Cards, and in-game currencies - Click here to find out how to generate an extra $10+ per day! 
It's unclear to me whether this is the probability of matching 3 symbols or the probability of getting just 1 symbol. If the second option is true, then you must multiply the percentage by 3 to discover the odds of winning.
For example, the chance of getting $777 is 0.0024%, which is extremely low!

As you can see above, the app shows you the probability of getting fruits. However, lots of people are claiming they get stuck at 35 out of 36 fruits. So, does the last fruit really exist? I doubt it!
If you are serious about making money online, discover my #1 online business recommendation.
Tools
There are 2 different tools that will help you collect more coins:
You can use the "big shake" to push coins faster. It will also drop one big nickel and play 1 slot.
Use the wall to prevent coins from slipping off to the sides.
Every time you want to use the tool, you will have to watch a video ad first.
How Do You Get Paid? 
Users are led to believe they will earn a $2 Amazon voucher or $100 paid through PayPal once they collect 1,000,0000 tokens or 100 green coins respectively.
However, if the algorithm doesn't select you as the winner, you will never reach the target regardless of how long you play. That's why many people get upset with this app and for a good reason!
If you are lucky to reach the minimum cashout requirement, you may receive the money or gift card within seven business days (weekends not included).
Is There an Alternative to Lucky Pusher? 
I was surprised to see so many coin pusher apps on Google Play. Unfortunately, none of them seems to convert virtual coins to real money. I have just reviewed another coins pusher game that will let you win.
It's a shame people end up watching hours of videos only to be denied payment.
If they cannot afford to pay everyone, they could at least operate a genuine sustem to reward a few lucky players. Besides, they should warn people that winnings are not guaranteed.
If you want to try your luck for free, this is probably the best sweepstakes app on Google Play.
If you want to make a little extra money without relying on luck, the best option for most people is to complete surveys. If you are prepared to put in more time and effort, you could make a full-time income as an affiliate marketer. This is the best step-by-step training.
Conclusion
The Lucky Pusher app is an excellent time killer, which is not good if you need money. I assume you are playing because you expect to receive the reward.
If that's the case, then avoid this app at all costs because you will just waste your time.
It's very strange the fact that this app was rated 4.1 stars out of 5 on Google Play.
Lots of users regret playing Lucky Pusher because the company won't let them reach the minimum payout threshold.
When you open the app, it doesn't ask you to agree with the terms of service, so very few people know winners are selected at random.
I searched online and couldn't find any user who cashed out. All I can see are negative reviews from people who get stuck somewhere between $90 – $96.
Most of the simulated apps I reviewed on my blog has the same pattern. You will earn quickly in the beginning, but you will eventually hit a wall.

That's why I don't recommend these apps because you are just
Verdict: Not Recommended 
Earn a Full-Time Income Online
From what I can see, people are getting sick of apps that don't work in their best interests!
If you are serious about making money online, cut off all the distractions asap because your time is so valuable when you have a clear plan of action.
One of the best ways to make money online is to create an online business so you can make money on your own terms.
In my opinion, there is nothing better than having your own website that works for you 24/7.
The business model consists of providing helpful content, which ranks high on Google and attracts a large audience. You will make money whenever someone clicks on your links and purchases what you are promoting through your site.
If you want to create a substantial source of income from home, I advise learning from expert marketers to avoid trial and error. 
This excellent training program will show you the way. These guys helped me build my own website, which is now covering all my living expenses while travelling.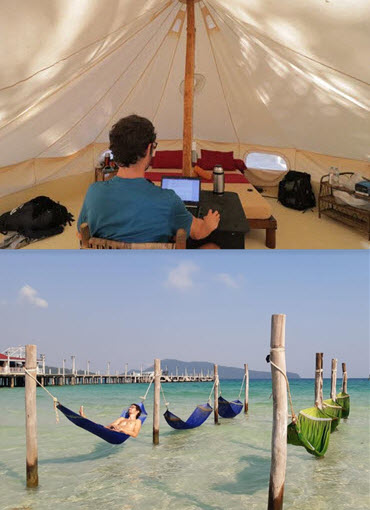 It requires time and perseverance to succeed with this type of business, but it's worth it in the end.
If you would like to give your first steps, you can start building your affiliate site for free with no strings attached.  >> Click here to learn more!
Final Words
Thanks for taking the time to read my Lucky Pusher app review.  If you have any questions or would like to share your opinions about this game, let me know in the comment box below! 😉
Stay safe and peace out!