Welcome to my Plinko Master app review!
I was testing a reward app on my phone when I saw a commercial about this "money-making" game called Plinko Master.
The ad was showing a game sample in which small balls were falling and generating lots of money.
At the end of the video, there was a PayPal balance account of $1057.40, suggesting that anyone can replicate the results easily.
Who wouldn't like to make thousands of dollars just by tapping on a phone's screen?
I have reviewed many Android games that use misleading tactics to catch people's attention.
Unfortunately, many people will only realize they have been duped after weeks or even months!
In this review, I am going to explain exactly how Plinko Master works and give you my honest opinion. Is it a scam or a legit app? Will they let you cash out?
Also, don't forget to check out this step-by-step program that helped me build my own internet business, earn $1,600 per month, and quit my job in 2019.
Plinko Master Review
Name: Plinko Master
Company:

Plinko

 Master Studio Limited

Website: http://www.plinko.vip/
Membership Eligibility: Worldwide
Minimum Payout: $100 (PayPal) £5 (Amazon)
Price: Free
Similar Apps: Lucky Plinko, Lucky Plinko 2
Overall Rating:

1

/5
What is Plinko Master?
Plinko Master is a simple game where players must drop the balls to make them collide with obstacles in the form of coins and tokens.
As you hit the obstacles, you will accumulate coins and tokens that you can supposedly redeem for real money and gift cards.
The company claims that you need 5 million tokens to redeem for an Amazon Gift card and 100 coins to cash out $100 via PayPal.
Not only that, but you can redeem $1000 if you collect 25 types of fruits. It just seems too good to be true!
Let's not forget that while you are playing Plinko Master, you will be encouraged to watch lots of advertising, which is how the company makes guaranteed profits.
The Android version of Lucky Plinko is owned and operated by Plinko Master Studio Ltd, a company headquartered in Hong Kong. The company also operates Lucky Money, Lucky Plinko, Lucky Pusher, among other addictive games.
Plinko Master is also available in the App Store under a UK-based company called Good Luck Studio.
Is Plinko Master Legit? Does it Pay?
Plinko Master makes you think you will cash out once you reach the required number of tokens and coins.
What the game doesn't mention is that it will probably stop giving coins when you reach $80 – $90, making it impossible to reach the $100 mark.

There are probably hundreds of users telling the same story. Here are two testimonials that I took from Google Play:


In the beginning, your cash balance grows quickly to keep you motivated, but the more you play, the less you earn!
That is a smart tactic designed to hook people and make them play for a long time. In doing so, players end up watching hundreds of sponsored videos before the penny drops.
I have reviewed many apps that use the same "business model".
Your tokens, cash, and fruits can also disappear mysteriously.

If you take the time to visit the official website and read the Terms and Conditions, you will discover that winners are selected at random by a computer algorithm. From what I understand, only a secret number of people will receive real money.
As they don't even mention the number of winners per day, week, or month, how can we believe that someone is getting paid?
The main problem is that when you open the game for the first time, the company doesn't tell you that this is a kind of sweepstakes. You have to read the Terms of Service in the Settings tab to find out!
So, does it mean Plinko Master is a scam? Not really, but it's causing a lot of misunderstanding and frustration.
How Does Plinko Master Work?

You can download and install Plinko Master on your Android or iOS device. There is no need for registration and the game will start immediately.
Simply tap on your screen to drop the balls from the top of your screen and make them hit the obstacles. The green obstacles will give you $0.01+ and the yellow ones will give you 5+ tokens.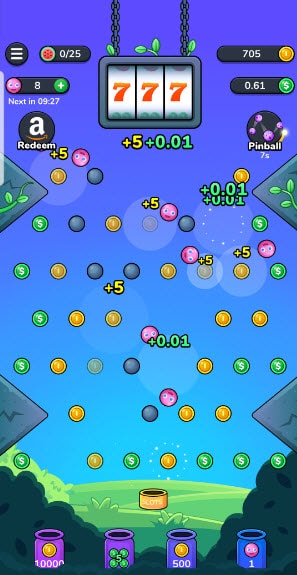 If the balls fall into one of the jars at the bottom you will get a bonus rewards such as fruit, coins, or tokens.
Besides, if the ball falls into the yellow slots ring, it will trigger the slot machine for a chance to win different prizes. You can always watch an ad in order to give it another try.
The odds of winning each prize on the slots are as follows:

This reward platform is going viral! Cash out via PayPal, Visa, Gift Cards, and in-game currencies - Click here to find out how to generate an extra $10+ per day!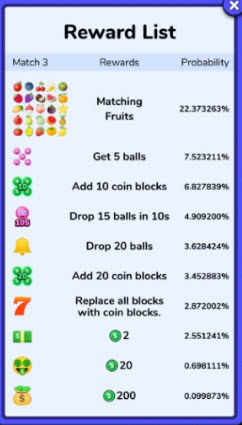 Every day, Plinko Master will give you 30 free balls to play with. However, you can get another 30 free balls by watching one video ad.

You will earn lots of cash at the beginning, which will keep you motivated for the first 1 hour or so. But eventually, green obstacles will become scarce and your coin balance will grow extremely slowly.
At some point, many people will have no option but stop playing!
I have recently reviewed another "Plinko" style game which also makes it hard or even impossible to reach the minimum payout threshold.
How Do You Get Paid? 
If you tap on the "Redeem" button, you will discover that you need 5 million tokens to request a $5 Amazon gift card or 100 Coins to cash out $100 via PayPal.
After playing the game for months, one user claimed that once you reach $80, you will get $0.01 per day. Then, after you reach over $95 you will never see a green obstacle again. As for fruits, he said he never finds all the 25 required to earn $1,000.
I also think the company will never pay you $1000 unless you are lucky enough to be the random winner among millions of players.
Is Plinko Master Safe?
It's unlikely that Plinko Master will harm to your device, otherwise, it would have been banned from Google Play a long time ago.
It's important to understand that Google Play Protect is periodically scanning your device to safeguard you from apps that might cause you trouble. However, there is always a tiny risk involved when installing any application.
Regarding your personal data, Plinko Master Studio Limited claims that it has security measures in place. They explain why they use each data they collect from you in the Privacy Policy. 
Is There a Better Alternative to Lucky Plinko?
As far as I know, there is no mobile game that is processing payments for everyone. There is always a lot of people complaining that they cannot cash out!
In the past, I used to recommend this loyalty app for gamers as it was rewarding lots of users, but it's gone downhill.
If you want to make easy money from your mobile, I recommend joining this top-rated reward site where you can earn points for taking surveys and completing offers.
With this platform, you can reach over $100 in less than 1 month, depending on how many surveys you qualify for.
Conclusion
Plinko Master is another app that will probably make you watch a ton of ads in exchange for nothing.
There are too many people who played it for a long time only to get stuck before reaching $100.
It can be very frustrating because despite earning less and less money over time, there is always a hint of hope that one day, you will reach the target.
If Plinko Master is a kind of sweepstake where winners are selected at random, then how many prizes they are giving away each month or year? No one knows yet!
Maybe Plinko Master rewards a few lucky players, but we will never know. What we know is that complaint keep pilling up as more and more people cannot cash out.

Earn a Full-Time Income Online
If you are sick and tired of tapping on your phone screen with no money to show for it, I suggest building your own affiliate site.
You don't need any tech skills to create a site, reach a worldwide audience, and start making commissions.
Thanks to this excellent step-by-step program, I created a successful online business from scratch, which allows me to work from my laptop whenever and wherever I want.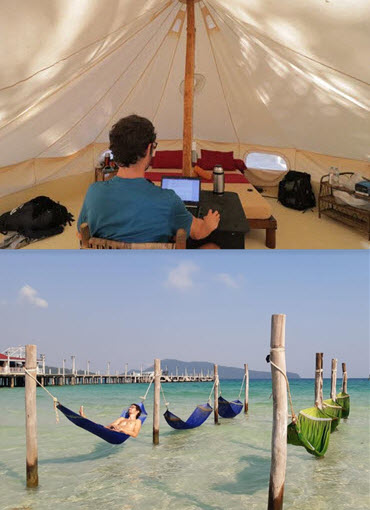 Growing this type of business takes time and a lot of work, but with a clear plan of action and the right mindset, you can achieve your goals too!
If you would like to give it a try, you can sign up for free and start building your affiliate site today with no strings attached.  >> Click here to learn more!
Final Words
Thanks for your time reading my Plinko Master review. I hope it was helpful! If you have any questions or would like to share your opinions about this game, let me know in the comment box below!
Stay safe and peace out!