Welcome to my Coin Pusher+ app review!
Thousands of people are playing Coin Pusher+ with the expectation of earning money or gifts such as an iPhone or Airpods.
All you have to do is tap on the screen so that coins get pushed out of the platform.
It seems like the easiest way to make money. Unfortunately, most games are an advertising trap that won't let you cash out regardless of how long you play!
You are here because you don't want to waste your time and energy only to make app developers richer.
So, before playing Coin Pusher+, check out my review below where I explain how it works and whether it's a scam or a legit application.
Wasting too much time with fake money games? Check out my #1 recommendation. This step-by-step program helped me generate over $2K+ per month. Join the free starter membership here and start now! 
Coin Pusher+ App Review 
Name: Coin Pusher+ (Coin Pusher Plus)
Website: http://www.mycoinpusherplus.com/
Developer: Lucky Coins
Membership Eligibility: Worldwide
Price: Free
Similar apps: Lucky Dozer, Lucky Pusher, Coin Dozer
Overall Rating:

1 star
What is Coin Pusher+?
Coin Pusher+ is another coin pusher game that you can play on your Android device. In the UK, the real pusher machines are called penny falls.
This is a virtual coin dozer machine that will give you tokens, virtual cash, and even puzzle pieces so you can supposedly win an iPhone or iPods.
Coin Pusher+ has been installed over 1 million times on Google Play and rated 3.7 out of 5.
Is Coin Pusher+ Legit? Does it Pay?
The game makes you think you can eventually transfer your virtual dollars to PayPal or get an iPhone.
In the app description Coin Pusher+ states that it does not offer a real opportunity to make real money or prizes, and that it should only be used for entertainment!

However, if you tap on the question mark inside the Lucky Wheel, it says you can redeem Puzzle for the rewards:
10 iPhone XS Puzzles for an iPhone XS.
20 Air Pods Puzzles for an Apple Air Pod.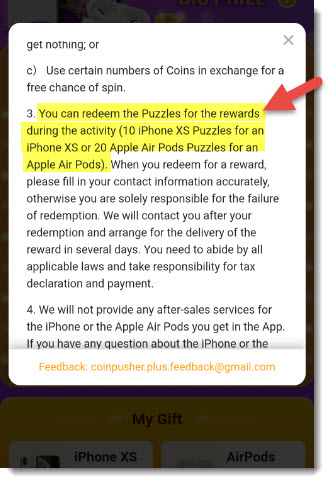 Therefore, the instructions induce players to believe they can earn real rewards, which is not the case.
You will need to collect 10 puzzle pieces to supposedly get an iPhone, but the game will lever let you win all the Puzzles. The same for the AirPods.
As for the virtual cash, you will probably get stuck before reaching $100.
Here are a few reviews from disappointed users who were excited to win the prize, but never did!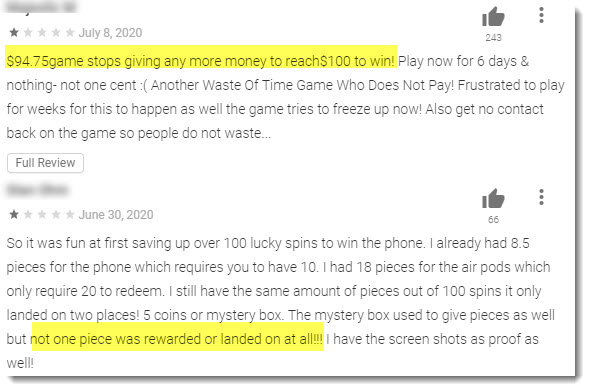 Some people said that Coins Pusher+ will no longer open after you play it for a while. I had this problem as well. When I made around $11, the game crashed, and I couldn't load it anymore.
I had to uninstall and install it again to keep playing, but when opened the game, all my earnings were gone!
So, does that mean Coin Pusher+ is a scam? I will let you decide…
How Does Coin Pusher+ Work?
Installation
Coin Pusher+ is available for free on Google Play. After installing the app, they will ask your permission to make phone calls as well as access your device's location.
Why would a game want to manage phone calls through my device? What are their intentions? They don't explain to us, so how can they expect we trust them?
Keep in mind that only users over 18 years old are eligible to play Coin Pusher+.
How to Play?
Simply tap on the pusher to drop coins on the platform and make them fall off the edge after a few pushes.
As the coins get pushed out of the platform, you will accumulate tokens, virtual cash, and Lucky Wheel spins.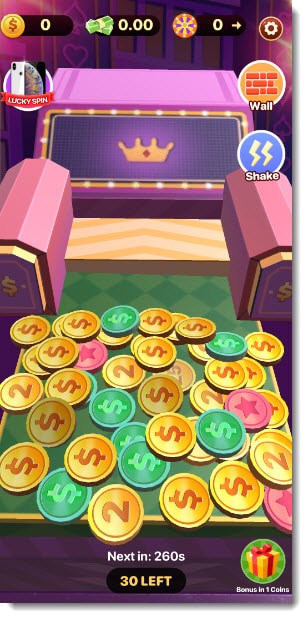 Coin Pusher+ will give you a specific amount of cash randomly throughout the gameplay. It's usually a few cents.

When you run out of the first coins, you can get an extra 40 coins by watching a video ad or spending $0.10.
By spinning the lucky wheel, you can win 5 tokens, a mystery box, Air Pods, and iPhone XS puzzles.
They say you can earn an iPhone if you collect 10 puzzle pieces or Air Pods when you collect 20 puzzle pieces.
Rewards
Coin Pusher+ doesn't have a redemption button, and when I clicked on the cash or coin balance, nothing happened.
In a Youtube video, the guy was able to open the reward page where it said you must have 10,000 coins to redeem for $5 Amazon Gift Card and $50 to cash out $50 via PayPal.

This reward platform is going viral! Cash out via PayPal, Visa, Gift Cards, and in-game currencies - Click here to find out how to generate an extra $10+ per day! 
Well, the payment section doesn't seem to exist anymore!

Is There an Alternative to Coin Pusher+? 
Unfortunately, all of the similar coin pusher game for Android and iOS devices don't have any obligation to pay you. I have recently reviewed this Coin Pusher game which doesn't let people reach the minimum cashout requirements.
The same can be said about most apps that supposedly let you cash out via PayPal and Amazon Gift cards. They give you a lot of "cash" in the beginning, but when you are close to cash out, something always goes wrong.
People get hooked by the possibility of making easy money and end up wasting a significant amount of time. Don't let it happen to you!
Conclusion
You can think of Coin Pusher+ as a Coin Dozer simulation that will never give you real money or gifts.
However, it's hard to believe someone is playing this game with no expectation of earning real rewards.
I don't like the way these apps are designed because they attract lots of people who wish to make money, but at the same time, they have no intention to pay.
Coin Pusher+ is providing contradictory information, so users never know whether they can win the prize or not.
After reading lots of reviews on Google Play, I couldn't find anyone who managed to collect all the Puzzles to claim the iPhone or Airpods.
Earn a Full-Time Income Online
More and more people are realizing that "money-making" games are a complete waste of time and energy.
If you dream about working independently from your laptop, I suggest building your own internet business.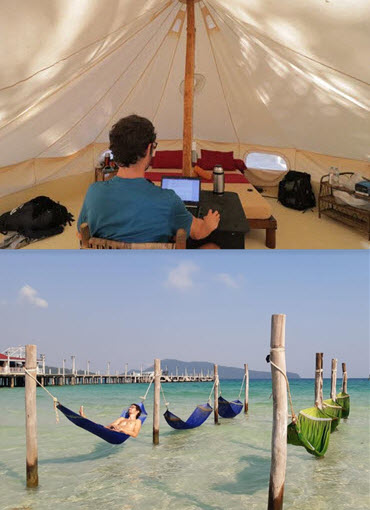 If you would like to take your first steps, you can start building the foundation for your online business for free. >> Click here to learn more!
Final Words
Thanks for taking the time to read my Coin Pusher+ app review.  If you have any questions about this game, let me know in the comment box below! 😉
Stay safe and peace out!