Welcome to my Puppy Town app review!
Millions of people have been playing Puppy Town in hopes to cash out $100, win an iPhone 11 and other awesome prizes.
The app description claims that you can win money by merging dogs and building your puppy town.
I have seen many YouTubers reviewing this app as an amazing opportunity to make money online. But are they lying to their audience?
You are reading my post because you don't want to waste your time merging puppies just for fun. So, you need some answers!
Does Puppy Town pay? Is it worth spending hours on this game? Is it legit or fake?
Keep reading to find out!
If you want to earn a full-time income working from home, don't forget to check out my #1 recommendation. This is the same program that helped me reach $1,600 per month and quit my job in 2019.
Puppy Town App Review
Name: Puppy Town – Merge & Win
Developer: MeetJoy Studio
Eligibility: Worldwide
Minimum Payout: $100
Price: Free
Overall Rating:

1.5 Stars
What is Puppy Town?
Puppy Town is an addictive merging game where players have to connect two puppies at the same level to unlock new dogs. The game was developed by MeetJoy Studio, and is available for Android and iOS devices.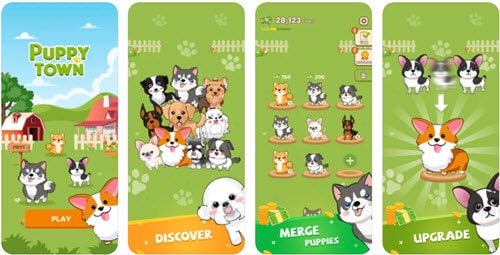 Whenever two dogs merge, they are replaced by another breed that is one level above. Higher level dogs generate more virtual cash that you can use to shop for more digs.
By unlocking a new level puppy you will also collect coins, which you can supposedly redeem for cash and gift cards.
As you play Puppy Town, it pushes lots of sponsored videos down your throat to generate revenue. Therefore, the longer you play the game, the more money they will make.
With over 10,000,000 installs, Puppy Town is currently the most popular merging game on Google Play.
In this blog, I have reviewed a couple of other similar apps, such as Dog Condo, and Doggy GO. They all give you this false expectation of making easy money, causing widespread frustration.
Does Puppy Town Pay Real Money?
It's very unlikely that Puppy Town will pay you. Maybe they reward a few lucky users just to legitimate the app, but there is no evidence of that.
Therefore, you should not expect to earn any money or iPhone 11 for using this app.
I had a look at many reviews on Google Play and was not impressed with the number of complaints.
After reviewing hundreds of apps, I got used to the tactics they use to maximize ad revenue and avoid payments.

This knife-throwing game is one of the rare ones that pay, but still, you must play it for 1 year to make a measly $5.
So, what should you expect from Puppy Town? Well, according to the game, players can redeem 10 coins for a US$10 Amazon gift card.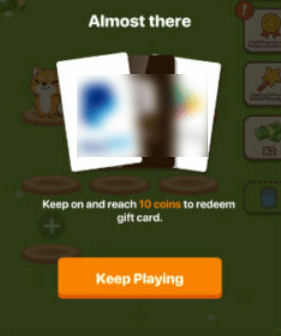 However, lots of people report that when they reach 9.5 – 9.7 coins, the app stops giving more coins. As a result, players get stuck and cannot cash out!
It breaks my heart every time I read this type of comments:

The same with puzzles!
You need 10 puzzles pieces to earn the iPhone, but you will never collect the last puzzle piece.
Some people claim that they cannot merge puppies at level 30, so they ca
n no longer collect more coins.
UPDATE (Nov 2020): Puppy Town has changed its reward system, which I will explain later in more detail. Users are told they need to collect $100 to cash out or unlock a Lucky Puppy to earn dividends.
However, users are experiencing the same issue with diminishing rewards. It's always the same pattern!
You will unlock puppy levels quickly and see your cash balance grows quickly in the beginning. But as you get closer to $100, they will no longer give you cash rewards, and you will get stuck somewhere around $98 – $99.

Is Puppy Town Legit?
The way they are promoting this app would probably be considered false advertising in many countries.
Now, the reason it may not be considered a fraud is the fact that Puppy Town's "Terms of Use " states the following:
"We reserve the absolute right, at any time, and at our sole discretion, to change, regulate, control modify, or eliminate virtual items as we deem fit, and we shall have no liability to you…"

You have no right, title or interest in or to any such Virtual items appearing in the services"
In other words, Puppy Town is not obligated to pay anyone.
Hundreds of other games also claim their rights to give you worthless virtual items such as tokens, virtual cash, coins, etc.
What blows my mind that there is no limit to what app developers can advertise about their games. They usually operate from Asian countries, thus bypassing strict advertising regulations abroad.

This reward platform is going viral! Cash out via PayPal, Visa, Gift Cards, and in-game currencies - Click here to find out how to generate an extra $10+ per day! 
Also, note that they always advertise in other "money-making" games, avoiding big tech platforms like Google, and Facebook.
That's the most important thing to know about the Puppy Town app. If you are curious about how it works, keep reading!

Now, if you are sick and tired of using apps that don't pay, I suggest building your own online business. You don't need any special skills to make it work.
If you can write reviews and follow simple step-by-step instructions, you can build your audience and generate a full-time income from home. Click here to get started now!
How Does Puppy Town Work?
Installation
You can install Puppy Town on Google Play or App Store and start playing for free.
No registration is required. However, they will ask permission to make phone calls and access your device's location. Well, the good news is that you can deny this permission and proceed.
I understand that certain apps need our location to show us targeted advertising. But why would they want to make phone calls? That's very strange!
How to Play Puppy Town 
Puppy Town has many features, but it's not very difficult to understand how it works.
Simply swipe to merge two puppies at the same level.
The puppies start at level 1, and after merging your first 2 puppies, you will jump to level 2.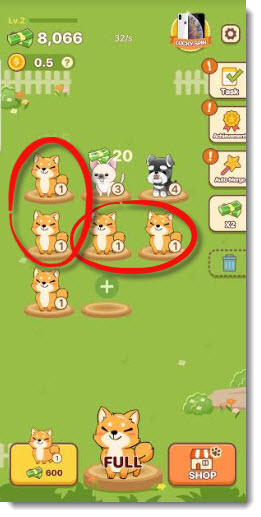 Each dog in the "town" generates virtual cash on autopilot, which you can use to buy more dogs in the shop. The higher their level, the more "cash" they will earn.
Keep in mind that virtual cash can only be used to buy dogs in the game and cannot be converted to real money.
Whenever you unlock a new puppy, you will earn a specific amount of coins. The main goal is to grow Puppy levels and collect 10 coins.
It gets harder and harder to unlock new levels, so you should always buy dogs at higher levels in the shop to save time.
You can also play the Lucky Spin by checking in the app, watching video ads, or unlocking specific levels.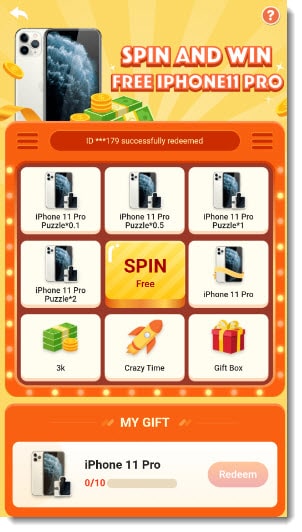 With the Lucky Spin, you can win iPhone 11 Pro Puzzles pieces. If you collect 10 of these puzzle pieces, you can supposedly redeem for an iPhone 11.
New Reward System
After 3 months since I published this review, Lucky Puppy has chanced the reward system.
I installed Puppy Town again and realized they removed the coin balance and the prize roulette. As a result, players can no longer redeem coins for gift cards or claim prizes.
Here is my updated Puppy Town review on YouTube:
As states in the "Terms of Use", they can modify virtual items at any time, and so they did!
Now, they added the concept of Lucky Puppy and Fortune Puppy, which works similarly to this dog merging app.
It says if you merge two LV.50 puppies, you will have the chance to get a Lucky Puppy and earn dividends of up to 200 USD for 7 consecutive days.
The problem is that you may only get Fortune Puppies, which doesn't pay any dividends.
Puppy Town claims that you will get a Lucky Puppy by unlocking 5 Fortune Puppies. However, you may never win the 5th one regardless of how many LV 50 puppies you have!
Now, keep in mind that Puppy Town will only award 100 Lucky Puppies per day.
Therefore, it's almost impossible to collect Lucky Puppies considering there are millions of players.
Still, there is no way to confirm whether these 100 Lucky Puppies exist or not.
If you are one of the lucky ones to receive the dividends, they say you can withdraw the money to your PayPal account after filling in your details.
I have seen lots of people complaining they got stuck before reaching the minimum payout of $100. Which is not a surprise to me!
Now that you know everything about Puppy Town, let's break down the pros and cons.
Pros and Cons
Pros
It's a fun and addictive game, at least in the beginning.
Excellent graphics.
It's available on Google and iOS.
Cons
Puppy Town doesn't let players reach $100, making it impossible to cash out.
They can change the reward system and requirements at any time.
The odds of winning a lucky puppy is incredibly low.
Ads will show other "money-making" apps that don't pay.
There are many ads.
The game drains your battery really fast.
Conclusion
Puppy Town is another merging game where you watch videos for fake dollars. In other words, it's a complete waste of time!
It's a shame how they give people this false idea of making easy money just by merging dogs.
If developers are not willing to pay everyone, they should be more transparent and inform people about the odds of winning.
If they don't want to operate a sweepstakes app, then they should not advertise these games as an opportunity to win money.
Apps like Puppy Town are growing in numbers by the day, and the most powerful tool against these advertising machines is knowledge.
That's why I keep publishing new content, warning people about the latest distractions.
Verdict: Not Recommended!
Earn a Full-Time Income Online
Have you ever dreamt about being your own boss? What about working from home or while traveling the world?

What about combining both benefits?
Well, it's actually possible to work remotely and make money on your own terms by operating your own internet business!
One of the best business models is called affiliate marketing. More specifically, a website will attract visitors to your site 24/7 and generate commissions even while you are sleeping.
Anyone can reach thousands of dollars per month by creating helpful content and promoting other people's products via affiliate links.
It takes time and effort to build an income-generating site, but it can transform your life!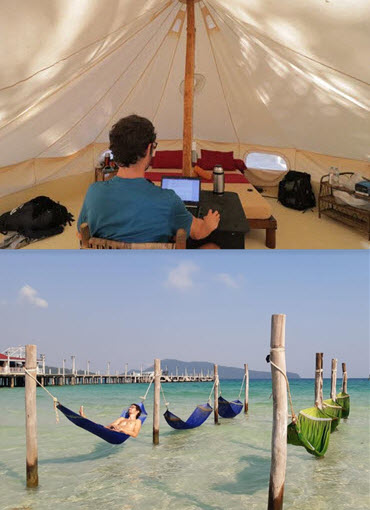 In 2015, I joined an excellent training program that helped me set up an affiliate site from scratch and reach my goals and dreams.
If you would like to try, you can start building the foundation of your business completely for free. >> Click here to learn more!
Final Word
Thanks for taking the time to visit my blog and read my Puppy Town review. I hope it was helpful!
If you have any questions about the game, feel free to leave us a comment below. Also, please share with us your results.
Did you reach $100 or received any dividends? If so, did the company pay you?
Peace!