MegaDog is a merge dog game that claims you can win real money once you reach $5. I have reviewed a couple of similar games on my blog such as My Cat, Dog Condo and Puppy Town. Unfortunately, thousands of players end up wasting a substantial amount of time with no money to show for it.
Right off the bat, I noticed MegaDog is a bit more confusing and difficult to earn compared to other merging games. Besides, watch more adverts to achieve progress.
Megadog is a very addictive and interesting game, but most people are playing it for the chance to make easy money. That's why you are here, right?
So, is Megadog a scam or a legit application? Does it pay or not? In this review, I will explain briefly how the app works and give you my honest opinion.
If you are serious about making money online, check out my #1 recommendation. It's the same program that helped me reach $1,600/mo working from home. No special skills required! 
MegaDog App Review
Name: MegaDog
Developer: Shining Stars Limited
Eligibility: Worldwide
Minimum Payout: $5 (PayPal)
Price: Free
Overall Rating:

1/5
How Does MegaDog Work? 
Installation and Registration
MegaDog is only available for Android devices. Before you can play the game, you must signup with your email, Google or Facebook account. Next, the game will show you a basic tutorial on how to play.
How to Play MegaDog
The first step is to select which city you would like to start your trip from.
Merge two dogs of the same breed (level) to form a high-level dog. The more advanced the dog, the more gold coins it will generate. You will always have to buy a new dog with coins and fill up the spaces.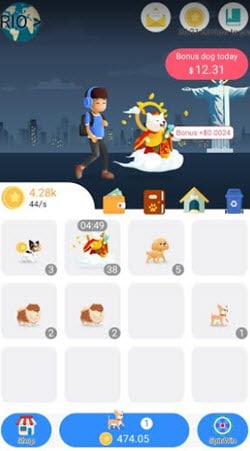 Every time that you run out of coins and you try to buy a dog, you will have to wait or watch a video ad to speed up earnings. You will win 1 hour and 20 minutes worth of gold coins after watching a video ad. That's how the game developer is making profits with MegaDog.
Regardless of the level you are at, you will always run out of coins quickly because the dogs become more and more expensive. So, there is always a need to watch more ads, or you will get stuck for a long time.
Unlike this popular dog merging app, MegaDog won't give you tokens once you unlock a new breed. Therefore, earning virtual cash rewards is not straightforward.
It's a bit complicated and the FAQ doesn't help much. They say users need to upgrade to level 38 to have the opportunity to win a global bonus dog. From what I can understand, you should have a bonus dog to earn a share of the advertising revenue.
How do You Get Paid? 
If you want to check your cash balance and request the payment, click on "My"> "My Wallet". Then, select your preferred payment method, which can be either PayPal or Google Play Gift Cards.
You must reach $5 to cash out to PayPal and $20 to cash out via Google Play.
Is MegaDog Legit? Will They Pay You? 
I don't see any evidence that people are making money with MegaDog. After reading lots of reviews, I discovered potential issues and no one seems to get paid. 
Lots of people are frustrated with MegaDog because their levels went back to a lower level. Therefore, they struggle to reach level 38 to get the bonus dog.

One person said that even though he merged two dogs level 37, he didn't get a bonus dog. He also said that he is stuck at $0.27 for 3 weeks!
From my experience and based on many reviews, I don't think MegaDog will let you reach $5 and cash out. But even if you reach $5, the company can simply ignore your payments.
The fact that the company doesn't provide a "Terms and Conditions" is a big red flag. Despite the insane number of negative testimonials, I cannot claim the app is scam without proof. What I can say is that your chances of making real money are very slim!
Conclusion 
MegaDog is a cool game to pass the time, but you have to watch too many ads to achieve a meager progress. Thousands of people are playing this game with the expectation of earning some cash, but in my opinion, it's just an illusion. Isn't it funny that the glitch only causes a drop and never an increase in levels?
Just like 99% of "money-making" games on Google Play, MegaDog will probably waste your time watching hundreds of videos in return for nothing.
Verdict: Not Recommended
Earn a Full-Time Income Online
If you dream of working from home, especially now with this "new normal" situation, here is my suggestion:
Get rid of all the distrations on your phone and build your own online business!
It looks complicated, but it's not! If you can follow simple instructions and you are prepared to put in the work, you can eventually make thousands of dollar per month!
This excellent step-by-step program gave me a clear plan of action to build a successful affiliate site from sctach. In 2019, I finally quit my job to work 100% on my business and while traveling to South East Asia!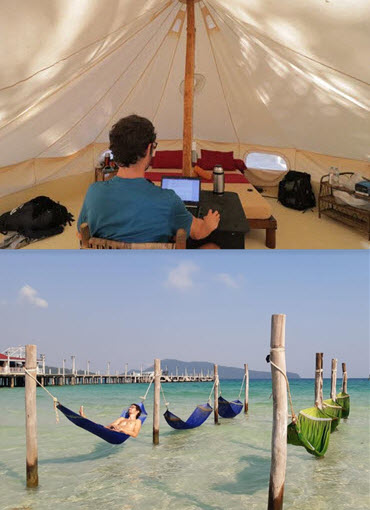 Final Words
Thank you for taking the time to visit my blog and reading my MegaDog app review. I hope it was helpful!
If you have any questions or want to share your experience using this app, feel free to leave us a comment below!
Take care!

This reward platform is going viral! Cash out via PayPal, Visa, Gift Cards, and in-game currencies - Click here to find out how to generate an extra $10+ per day!