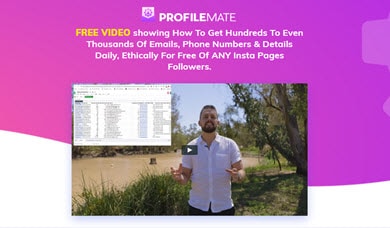 Welcome to my ProfileMate review!
ProfileMate is advertised as the word's most powerful lead generation and sales tool available in the market. Created by Luke Maguire, ProfileMate is a chrome extension that allows you to scan and collect hundreds and even thousands of email and other information from any Instagram page followers
Many people who are trying to make money online by building an email list may think this is the solution to their problems. After all, the money in on the list, right?
With ProfileMate, you can collect an unlimited number of emails and supposedly mass contact your list to promote your product or affiliate offers.
The question is: If it's so easy, why isn't everyone doing it and making a ton of money? In this review, I am going to explain briefly how ProfileMate works and give you my honest opinion.
If you are serious about making money online, check out my #1 recommendation. It's the same program that helped me reach $1,600/mo and quit my job in 2019. No special skills required! 
ProfileMate Review
Name: ProfileMate
Website: https://profilemate.com/
Creator: Luke Maguire
Price: $47
Overall Rating:

2.3/5
How Does ProfileMate Works? 
ProfileMate is a Chrome extension that you will install on your computer. The product also comes with training on how to set up and use the software to collect leads from Instagram.
After installing the extension, you will have to connect your Instagram account. Then, the process is divided into 2 steps:
1. Find Users
In this phase, you will use the extension to extract targeted users. You can search by Follower Following, specific posts, hashtags,  and locations. The last two options only work for the upgrade version of ProfileMate.
For example, if you choose the Follower Following, you will input the name of a popular Instagramer in your niche and click analyse.
2. Analyse and extract Users
In this phase, ProfileMate will analyse and show you the follower's data such as email, name, and phone number. Next, click on download to extract a cvs file with the data from all your leads.
It's important to note that ProfileMate is just extracting data that is made publicly available. So, you are not breaking any privacy regulations just for collecting the data. However, you need to be careful because you can easily break regulations if you send emails without people's content.
How to Make Money With ProfileMate? 
This is a big problem because the training doesn't show you how to make money after extracting the leads. The reason why internet marketers collect emails is to promote their own products or other people's products as an affiliate.
Now, some YouTubers who are reviewing ProfileMate are saying that you can start sending cold emails immediately. Usually, marketers use an autoresponder to send automated emails to a large number of people.
In order to make money with ProfileMate, first, you would have to get an autoresponder and import the list of leads in a cvs format. Then, you would have to send cold emails to everyone on your list and promote products based on the type of audience you have.
Be Careful! 

The main problem that no one who is promoting ProfileMate will tell you is that you may break privacy regulations.
Depending on your lead's country (mainly Europe) and their type of business, you just cannot send them marketing emails without their content. Otherwise, you can face severe fines!
So, now you may be wondering, – how can you get their content without sending an email and breaking the law from the get-go? Well, unfortunately, you simply can't!
You can only send emails if those individuals find your business's website and subscribe to your newsletter. That is only possible if you know how to attract an audience to your page/website.
Yes, you can still find people in countries with softer privacy regulations and do this type of business. But then, you will encounter another problem: Your autoresponder provider may ban your account.
You see, most autoresponders have their own rules to prevent spam, and one of these rules is that you can only import emails acquired from opt-in form or with people's concent. So, you can easily get banned if you don't do it properly.
Conclusion 
ProfileMate does exactly what it says it does. However, if you are thinking about building a huge email list and start making money immediately, you can get in trouble.
There are privacy regulations and autoresponder rules to be followed, which will make your life very hard. You simply cannot collect thousands of emails and start bombarding these people with marketing messages without their consent.
I think using ProfileMate is not a good strategy for your online business. Even if you bypass these rules and manage to operate freely, it may not even be profitable. The reason is that most people don't open emails if they don't know where it's coming from. Let alone buy products from them!
Verdict: Legit – Not Recommended
If you are serious about building an online business the proper way, check out my #1 recommendation. It takes time and effort, but that's why it works!

Final Words
Thank you for taking the time to read my ProfileMate review. I hope it was helpful. If you have any questions, let me know in the comment section below.
Peace!