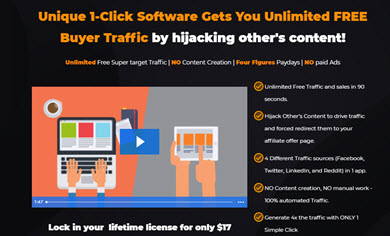 Welcome to my IM Holy Grail review!
IM Holy Grail has been advertised as a 1-click software that gets you unlimited traffic and sales in just 90 seconds. According to the owners, there is no need for manual work as you will hijack other people's content to drive traffic to your online business.
Lots of people dream of having an automated system where they can earn passive income. Who doesn't like free money, right?
You are probably reading this review because you don't trust those YouTubers trying to make money promoting the latest "shiny object". Well, you are in the right place!
In this review, I will explain how IM Holy Grail works and give you my honest opinion. Is IM Holy Grain a scam or a legit product? Does it really give you free traffic with no effort? Don't buy it before you understand the business model.
Before you leave, check out my #1 recommendation, which is the same program that helped me build a long-lasting online business and reach $1,600+ per month. No special skills required! 
IM Holy Grail Review Review
Name: IM Holy Grail
Website: https://apps.imholygrail.co/brand-new/
Creators: Kenny Tan, and Venkatesh Kumar
Price: $17 + Upsells
Overall Rating:

1/5
The Sales Page
The creators of IM Holy Grail is trying to sell you the idea that you can enjoy financial freedom by simply using their software. With just 1 click, you can supposedly get your affiliate links in front of a 3 Billion targeted audience on Facebook, Twitter, Reddit and Linkedin.
The question is – Why isn't every content creator using this software instead of wasting time and energy publishing videos and blog posts? In the next section, you will understand why!
How Does IM Holy Grail Works? 
IM Holy Grail will create a custom shortlink to any page on the internet, which includes a blog post or a YouTube video.
When people click on this link, they will first land on your affiliate offer for a few seconds before they get redirected to the actual content.
So, basically, you are taking advantage of other people's content to advertise your own page. If someone clicks on your affiliate link and purchases the product, you will earn a commission.
It's Not Automated! 
Although you can get free unlimited traffic using IM Holy Grail, it's definitely not automated. They want you to believe the software will give you traffic without creating your own content.
However, you still have to promote your shortlink on the internet, otherwise, traffic (visitors) won't just appear out of nowhere. So, no. They won't promote the link for you. 
There are mainly 3 ways to promote your links on the internet:
Create your own content to rank on Google or Youtube (free traffic).

Share your links on Social media and forums (Free traffic).

Use paid ads on Google or social media.
If you don't want to create content or pay for traffic, you are left with just the second option, which involves promoting links on social media and forums.
This is a very ineffective strategy because you will have to manually post on groups. Besides, many groups have rules to avoid link spamming.
If you are a very popular influencer with thousands of followers, you don't want to promote an affiliate offer through a shortlink. You just promote the offer straight away!

Is IM Holy Grain a Scam? 
No, I wouldn't say it's a scam. You are buying a real product which provides a 30-Day money-back guarantee. The main problem is how the owners are promoting it. In my opinion, It gives people VERY unrealistic expectations!
Conclusion
I don't like the concept behind IM Holy Grail. They are advertising the product as an opportunity to get free traffic with just 1-click. However, they "forget" to mention that they won't promote the link for you.
It's only automated after people click on the link. Unfortunately, the product doesn't do the hardest job of getting people to click on your links. That's because no software can automate the promotion of links on the internet unless you pay for advertising. 
Verdict: Legit – Not Recommended
Get Free Traffic and Make Real Money
Getting traffic to your affiliate offers takes time and effort! The reason is that you have to build an online audience that will click on your links and buy the products you are promoting. There is a lot of competition out there, which is why you need to learn the proper strategies to always stay ahead of the curve.
If you are serious about making thousands of dollars as an affiliate, check out my #1 recommendation. That's the same platform that helped build a  successful online business and quit my job in 2019!
Final Words
Thank you for taking the time to read my IM Holy Grail review. If you have any questions, just let me know in the comment section below.
Peace!