I was browsing the Google Playstore when I discovered the Money Claw Machine app!
What caught my attention was the fact that it been installed over half a million times despite the poor graphics and boring gaming experience.
The main reason why so many people try this app is that they expect to cash out via PayPal or another method.
In this review, I will show you how Money Claw machine works and give you my honest opinion. Is it a fake app? Does it pay or not?
Also, don't forget to check out this step-by-step program that helped me build my own internet business, earn $1,600 per month, and quit my job in 2019.
Money Claw Machine App Review
Name: Money Claw Machine
Developer: TenAppsAndGames
Membership Eligibility: Worldwide
Type: Simulation
Minimum Payout: N/A
Overall Rating:

0.5

/5
What is Money Claw Machine?
Money Claw Machine is an Android application that simulates a real claw crane machine usually found in arcades and shopping malls.
However, instead of having stuffed toys, dolls, jewellery or alternative gifts, it has Euros and Pound notes inside.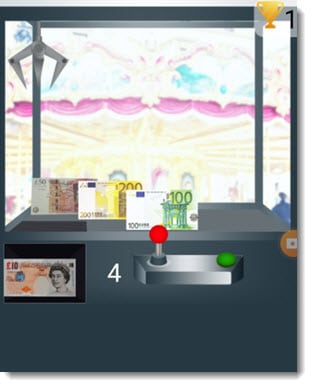 In the app description, the developers don't say you will make real money with this app. Also, when you open the game, there is no cashout button!
For me, it was obvious that Money Claw Machine was just a simulation game. But, for many people, it's not that clear!
To avoid frustration, the company should inform users that they don't offer any cash rewards.
Is Money Claw Machine Legit? Does it Pay? 
Money Claw Machine is just a simulation game made for "entertainment", so it doesn't pay. Therefore, it doesn't make sense to call it a scam.
The problem is that the developers are somehow benefiting from this misunderstanding, which is causing a lot of frustration.
If you check the reviews on Google Play you will notice that hordes of people are angry as they can't make money.
I guess if the machine had toys instead of cash notes, it would have less than 1,000 installs rather than 500,000.  Because it's so boring and ugly!
How Does Money Claw Machine Work
I don't even think it's worth reading about how it works. So, let's keep it brief!

After installing the game on Google Play, you can start playing it without creating an account.
Just move the claw crane and press the blue button to collect the cash notes. When the machine drops the note, tap on the note to grab it.
After you collect all the notes, you will unlock another machine. There are only 3 machines, so you will finish the game in just a few minutes.
In my opinion, it's a very boring game with amateur graphics! Many people share the same opinion.
At least it won't make you waste a lot of time as other "money-making" games such as a Plinko-style or a merging dog game.
Most games that supposedly give you cash rewards will make you watch a ton of videos for months and will never let you cash out.
From this perspective, the Money Claw Machine app is not that bad!
Is Money Claw Machine Safe? 
I am confident that Money Claw machine is a safe app because Google bans applications that are harmful to our devices.
If Money Claw machine wasn't safe, it wouldn't be available for download for a long time of time.
Regarding Privacy, the company promise to never store or share information about you.
Is There a Better Alternative to Money Claw Machine?

There are apps on Google Play that allows you to operate a real claw machine remotely and earn real prizes.
However, most of them are dodgy and you will have to spend money. I wouldn't play any of them!
Conclusion
Money Claw Machine is a poorly designed simulation game that won't give you any money.
I don't recommend installing this app because it's extremely boring. Heck, I am bored even to talk about it!

This reward platform is going viral! Cash out via PayPal, Visa, Gift Cards, and in-game currencies - Click here to find out how to generate an extra $10+ per day! 
If you are searching for an opportunity to make real money online, one of the easiest ways is to complete surveys and offers with this reputable platform. 
You can do these tasks from either your phone or desktop and cash out via PayPal. I have never had any payment issues so far.

There is a much better option that I would like to discuss below. If you like the idea of working from home or while travelling, don't miss out!
Earn a Full-Time Income Online
What if I told you that you can build your own virtual money "machine" and make thousands of dollar per month!
This "machine" can be built with a content management system combined with affiliate marketing.
It looks difficult, but in reality, it's nothing but a website that allows you to rank articles on Google and promote products as an affiliate.
Anyone can create this type of internet business with very little capital and no special skills.
This excellent step-by-step program helped me grow an authority affiliate site and make money on my own terms. In 2019, I quit my job to work remotely while travelling to South East Asia!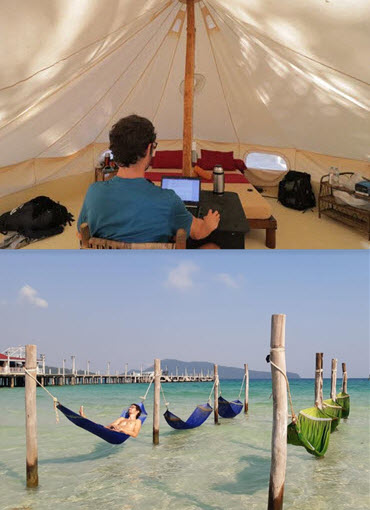 I don't want you to have unrealistic expectations about this method. It takes a lot of time and effort to build an income-generating website, but the question is: How much do you want it?
If you would like to give it a try, you can actually start your online business for free. >> Click here to learn more!
Final Word
Thanks for taking the time to visit My Room is My Office and read my Money Claw Machine app review. I hope it was helpful!
Stay safe and peace out!