Welcome to my Step Younger+ app review!
Millions of people have been using specific pedometer apps not only to track their physical activity but also earn cash rewards in the process.
Another popular option available on Google Play is called Step Younger+!
Step Younger+ claims to give you a random amount of cash every day that you use the step counter. You can also collect puzzle pieces to win a $100 Amazon gift card.
At first glance, it seems like a great opportunity to earn money while exercising. But does it actually pay? is Step Younger+ a scam or legit application?
Lots of people are frustrated, so it's important to know what is going on before wasting your time, battery and internet data with this app.
Before you leave, don't forget to check out my top recommendation to make money online. This is the same step-by-step program that helped me reach $1,600/mo from my laptop. It's 100% newbie-friendly. 
Step Younger+ App Review
Platform: Step Younger+
Website: https://stepyounger.com/
Type: Get paid to walk
Price: Free
Membership Eligibility: Worldwide
Similar apps: Sweatcoin, Yodo, Winwalk
LEGITIMATE
Overall Rating: 2/5
What is Step Younger+?
Step Younger+ is a free pedometer app that allows you to monitor your steps, distance, heart rate and blood pressure.
The company claims you can collect cash rewards just for walking. Not surprisingly, lots of people are installing this app with the expectation of earning $10 via PayPal or even a $100 Amazon Gift card.
All you have to do is install the app and let it run in the background while you exercise or go about your day.
In return, you will get Energy, which you can convert to virtual cash, free spins, and Amazon puzzle pieces.
Step Younger+ was developed by Keep Walking Health Group, which also operates two other apps Health and fitness apps called Fit+ and Drink Water.
Is Step Younger+ Legit? Does it Pay? 
App developers know that one very effective strategy to get thousands and even millions of installs is to simply offer cash incentives.
That what Step Younger+ did, and why it has reached over 1,000,000 installs in a short period of time.
What many people don't know is that Step Younger+ advertise themselves as an opportunity to earn rewards even though they are not obliged to pay.
After reading the first 20 reviews on Google Play, I had a clear understanding of what is happening. The same pattern can be found in most reward apps!
Some users claim they can never reach $10 because the app is only giving fractions of a cent per day! How can users expect to reach $10 in their lifetime if they are making a tenth of a cent per day?

Those who reach $10 claim that they are asked to update their phone in order to withdraw. However, updating the app doesn't seem to make the developers change their minds.

This user said she used Step Younger+ for almost one year and didn't earn anything!

Despite all the negative testimonials, I cannot claim this app is a scam without solid proof.
They are probably not breaking any law by not rewarding users. However, it's causing a lot of anger and frustration as the company doesn't seem to let users cash out. This lady seems very angry, and for a good reason!

This excellent step counter app is one of the few ones that will actually turn your sweat into eGift cards. The main downside is that you cannot get coins for more than 10,000 steps per day. 
Pros and Cons
Pros
Earn passive income while walking.
It tracks indoor and outdoor steps.
It motivates people to exercise and stay fit.
Cons
Lots of people complain they can never reach the required amount of $10 to cash out.
The app freezes and doesn't count the steps properly.
Excessive amount of advertising.
It consumes a lot of battery and internet data.
How Does Step Younger+ Work?
Installation and Registration
Step Younger+ is available for free on Google Play. Upon installing the app, they will ask you to customize your plan by giving your gender and age. You can only use the app if you are at least 18 years of age.
Next, you are encouraged to signup with either your Facebook or Google account to keep your data safe.
How to Make Money With Step Younger+?
If you let the app running on your phone, it will track your movement and count your steps.
From time to time, you will get credited with Energy, which you can collect by tapping on the green bubbles floating close to the step count.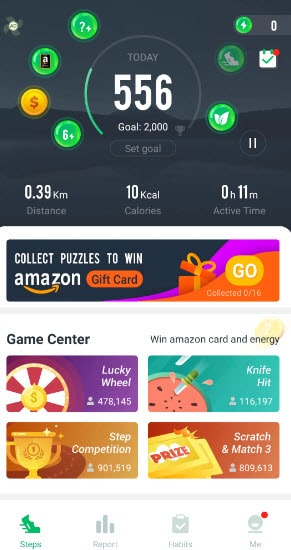 You can also collect Puzzles Pieces for the $100 Amazon prize. You need to find a total of 16 puzzle pieces, but they may never let you collect all of them.
During your activity, you will get a random amount of cash by the following 3 methods:
Claim the daily rewards
Redeem your yesterday's steps.
Use 200 Energy.
You can exchange Energy for cash, or you can spend it on the lucky Wheel, Scratcher or other games. With the lucky Wheel, you will have a chance to win Randon Puzzles, Energy or a $25 Amazon Gift card.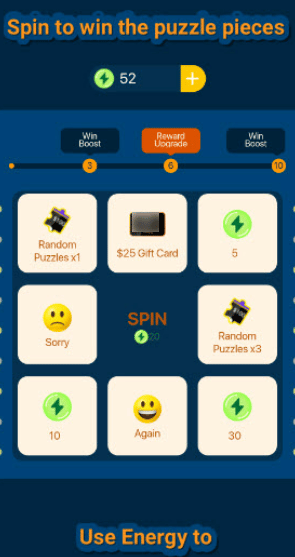 The problem with Step Younger+ is that you don't get a fixed amount of money per 100 or 1000 steps.
They say you will earn a random amount of cash, but the reality is that your earnings will drop day after day. At some point, you may be earning cents or even fractions of a cent per day.

This reward platform is going viral! Cash out via PayPal, Visa, Gift Cards, and in-game currencies - Click here to find out how to generate an extra $10+ per day! 
How Does Step Younger+ Profit? 
Step Younger+ is funded by advertisers, which explains why they will show you lots of ads while using the app.

I believe the developers have the funds to pay every user, but if they did, their profits would be significantly lower.
Imagine if every user managed to cash out $10! That would probably mean millions of dollars in liability.
Is There a Better Alternative to Step Younger+? 
I have recently reviewed one of the best pedometer apps available for Android devices. It's called Winwalk.
With Winwalk, you will get 1 coin for every 100 steps, so you know exactly how much your steps are worth. And, the best part is that it does pay! 
The only problem is that you can only earn a maximum of 100 coins per day, which is only £0.05.
Conclusion
I have to give Step Younger+ a bad rating because the app doesn't seem to let users cash out.
Unfortunately, it has the same mechanics of most "reward" apps on Google Play. You will watch a ton videos in exchange for a tiny chance to earn cash or gift cards.
If the company is not willing to reward users, they should stop advertising the opportunity to earn rewards.
Another downside is that Step Younger+ is very inaccurate sometimes. I was walking for 1 minute indoors with no counting.
Verdict: Not Recommended 
Earn a Full-Time Income Online
Instead of using apps that don't pay, why not create your own internet business that will work in your best interest?
With an affiliate site, you can work remotely and make a substantial amount of money online.
Affiliate marketing is one of the best business models available, especially for beginners.
I started my internet business in 2015, and I never had to create my own product to make a decent amount of money.
I just focus on providing valuable content and promoting other people's products through affiliate links on my pages. 
What I really like about having an affiliate site is that I don't need to bother people trying to sell stuff they don't really need.
Taking the wrong advice in this industry can make you waste a significant amount of time and money.
That's why I always recommend this excellent step-by-step program where you can learn the proper strategies and avoid trial and error. 
This is the same platform that helped me build my own affiliate site from scratch and live the internet lifestyle.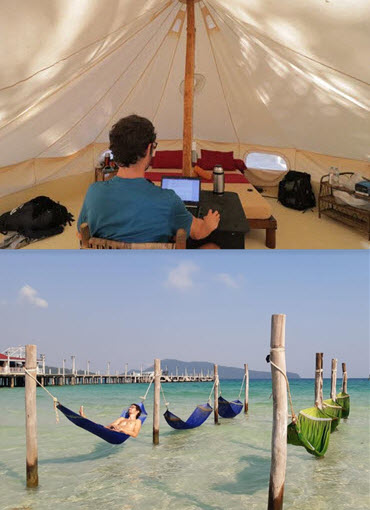 This is a dream come true for me, and I know you are capable of reaching your goals too with hard work and perseverance!
>> Click here to learn more and get started today!
Final Words
Thanks for taking the time to read my Step Younger+ app review!
I hope it was helpful and answer all your questions. So, have you used this pedometer app? Did you get paid? Kindly share your experience with us in the comment box below.
Stay safe and peace out!