Welcome to my Winwalk app review!
Winwalk is advertised as the best pedometer that allows you to earn great rewards just for walking.
With this app, you can convert your daily steps into a wide range of gift cards from major retailers such as Amazon, Pizza Express, Starbucks, and more!
Both Google Play and App Store are jam-packed with similar apps, so it is important to choose one that is reliable and pay the most for each step you take.
In this review, I am going to cover everything you need to know about Winwalk and give you my honest opinion about it.
Is it a scam or legit? How much money can you make?
Let's find out!
If you want to work remotely and earn a full-time income from home check out my #1 recommendation. This is the same program that helped me reach $1,600/mo and quit my job in 2019. No special skills required!
Winwalk Pedometer App Review
---
Name: Winwalk Pedometer App
Website: http://www.winwalk.club/
Company: Gala Mix Inc.
Price: 100% Free
Similar apps: Sweatcoin, Yodo, LifeCoin
LEGITIMATE
Overall Rating: 4/5
What is Winwalk?
---
Winwalk is a free pedometer app that rewards you for walking, running and hiking.
What I really like about Winwalk is that it tracks both your indoor and outdoor activities.
So, your steps will be counted even if you are running at the gym or shopping at the mall.
You can also earn extra coins by completing offers, taking surveys, watching videos, and referring friends.
Winwalk has been installed over 500,000 times on Google Play and is similar to Sweatcoin, Yodo, and LifeCoin.
Is Winwalk app a Scam?
---
There is no wonder that many people look at Winwalk with a high level of skepticism.
The reason is that Google Play is full of unreliable apps that are only designed to waste people's time and money.
After careful research, I concluded that Winwalk is 100% legit.
I've seen many positive reviews and there are many people who receive the gift card without any issues.
Pros and Cons Of Winwalk
---
Pros
No login required.
No GPS tracking.
Very easy to use.
Lightweight.
It doesn't drain your battery.
You can earn extra coins for watching videos, completing missions, and referring friends.
Cons
It takes a very long time to earn a gift card.
Rewards are only available in specific countries.
The Amazon gift card is not always available.
No PayPal payments.
Getting Started 
---
Winwalk only works in a few countries where rewards are available such as the UK, Canada, the United States, Germany, and France.
The first step is to install the app on Google Play and start walking!
The good news is that there is no signup, so you don't need to provide any personal information.

All you must do is modify your phone's setting so that Winwalk runs in the background without battery restrictions.
RECOMMENDED: Click here to see my no.1 recommendation for making money online.
Coins Vs Rewards
---
In the UK, you need a minimum of 20,000 coins to request a £10 gift card.
Therefore, 1 coin equals to £0.0005.
How to Earn Coins?
---
Walk
As soon as you open the app, you will see your dashboard: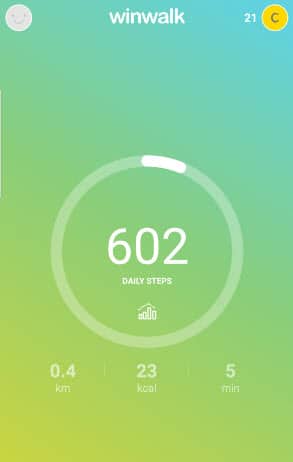 Winkalk pedometer will give you 1 coin for every 100 steps, but you cannot earn more than 100 coins per day. The reason for the limit is to avoid abuse and also to keep the business profitable.
In other words, you cannot earn more than £0.05 per day from walking.
Keep in mind that you must collect your coins by watching a short video every day before midnight.
As soon as you watch a video, all your coins will be received automatically even if you don't reopen Winwalk.
If you do not watch the video before midnight, your coins will expire.
You should understand that Winwalk is entirely funded by advertisers.

Without the ads, the company would not have the funds to run as a business and reward you.
Complete Winwalk Missions
Missions will actually help you achieve the minimum payout threshold much quicker!
The first option is to watch a video, which is available every 5 – 45 minutes. Every video will award you 5 coins.
The second option is to earn coins while playing games. In this game section, you can earn anywhere from 30 to 3,000 coins.
You can also earn extra coins by completing different types of offers.

This reward platform is going viral! Cash out via PayPal, Visa, Gift Cards, and in-game currencies - Click here to find out how to generate an extra $10+ per day!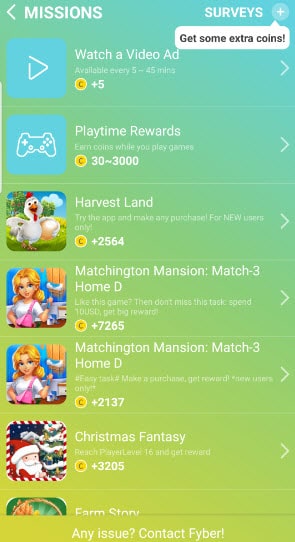 For example, you may have to download a game and achieve a specific score or level to get credited.

Some offers will give you more than 10,000 coins!
Another way to collect coins is by completing surveys from third-party platforms such as Pollfish. You can earn more than 210 coins per survey.
Invite a Friend
Another way to collect coins is by inviting friends to use Winwalk.
To invite friends, simply tap on "Invite Friends" or share your referral link provided.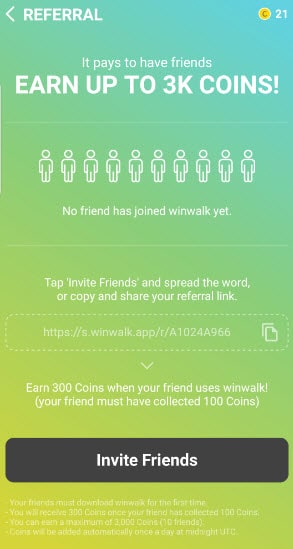 You will earn 300 coins as soon as your friend collects his/her first 100 coins.
The downside of Winwalk referral program is that you can only refer up to 10 friends.
How do You Get Paid?
---
You can redeem your coins in the shop section where you can find a variety of gift cards from major retailers.
Some popular eGift cards available in the UK are Amazon, Costa, Argos, Pizza Express, Primark, Sports Direct, TK Maxx, Tesco, and Currys PC World.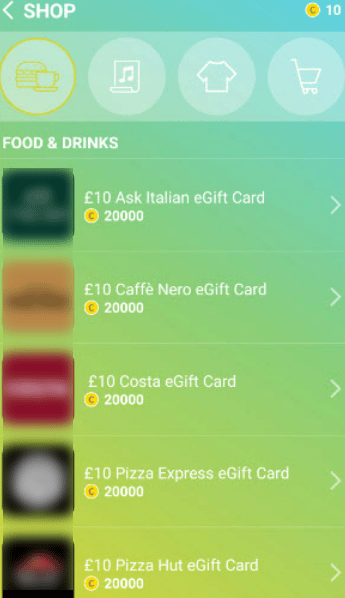 The minimum payout threshold for all of them is £10 (20,000 coins).
How Much Money Can You Earn?
---
It depends on how active you are in terms of steps, missions, and referrals.
If you don't complete any offer and don't refer any friend, you can only earn a maximum of 100 coins or £0.05 per day.
In that case, you should expect to reach £10 within approximately 7 months.
Now, if you take advantage of surveys, offers, and referrals, you can cash out much sooner!
Conclusion
---
Even though Winwalk pays very little money for walking, I really like this app for many reasons.
First, it doesn't collect my personal information nor track my whereabouts through GPS.
Second, the step counting is very accurate compared to other similar apps.
I also like the possibility of earning extra coins by taking surveys and completing offers.
Finally, the app runs smoothly in the background without consuming a lot of battery as Lifecoins does.
The main problem is that, unless you complete missions, you may have to wait for 8 – 12 months to cash out.

Verdict: Legit
Achieve Time and Location Freedom
---
Apps like Winwalk offers a great opportunity to earn money effortlessly.
However, with a clear plan of action, you could realistically earn £1,000, £3,000, and even £10,000 working from your laptop.
Lots of people are using a simple strategy to replace their day-job wages with a full-time income online.
You can ride the wave too without any tech or marketing experience!
The business model that I am talking about is called affiliate marketing.
In a nutshell, your "job" as an affiliate consists of providing valuable content and promoting other people's products through your website.
What I really like about this business model is that I don't need to close direct sales nor deal with customer orders.
All I have to do is write articles and link to products and websites that I trust.
Now, taking advice from the wrong people on the internet is like taking advice from the wrong people at the gym.
You want to learn from people who have achieved the results that you want!
If you want to learn step by step how to build a successful online business, check out my #1 recommendation.
This is the same platform that I used to build my affiliate site from scratch and finally quit my job in 2019.
There are tens of thousands of people around the world living the internet lifestyle right now.
You can be the next success story if you put in a couple of hours of work per day and remain consistent.
>> Click here to learn more and get started today!
Final Words
Thanks for taking the time to read my Winwalk Pedometer App review. I hope it answers all your questions!
If not, then feel free to leave me a comment below and I will be more than glad to help! 😉
Stay safe and peace out!