Welcome to my LifeCoin app review!
You may have found LifeCoin, an app that promises to reward you for walking and running outdoors.
It seems like an interesting opportunity to earn gift cards and lose weight at the same time.
However, lots of people are leaving a 1-star rating for this app on Google Play, which is very concerning.
In this review, I am going to show you how the LifeCoin app works and why there are so many users disappointed with it.
Is LifeCoin app a scam?
Let's find out!
While you are still here, don't forget to check out my top recommendation, which is the same program that helped me reach $1,600/mo from my laptop. No special skills required!
LifeCoin App Review
---
Platform: LifeCoin App
Website: https://lifecoin.ai/
Company: Azumio Inc.
Type: Get paid to walk
Price: Free
Membership Eligibility: Worldwide
Similar apps: Winwalk, Sweatcoin, Yodo
LEGITIMATE
Overall Rating: 2/5
What is LifeCoin?
---
As you already know, LifeCoin is a free app that pays you to do something as simple as walking!
LifeCoin tracks your movement and coverts your steps into points called life coins.
You can then exchange your life coins into a wide variety of gift cards and products once you reach the minimum payout threshold.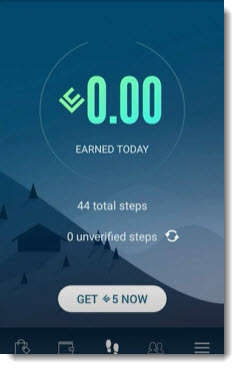 The app was developed by a company called Azumio Inc., which is a technology company focused on AI (Artificial Intelligence) solutions.
The company owns and operates many other health-related apps including Fitness Buddy, Calorie Mama AI, Sleep Time, and more!
LifeCoin and is remarkably similar to the popular SweatCoin and Yodo app.
Pros and Cons
---
Pros
You don't have to do anything except walk.
It motivates people to go outside and exercise.
There are lots of gift cards and featured products to choose from.
It's available for Android and iOS devices.
Cons
The app has glitches and may fail to count your steps correctly.
You can only earn a maximum of 5 Lifecoins per day.
It may take you more than 2 years to cash out.
It drains your battery very quickly.
How Does LifeCoin App Work?
---
Installation Registration
LifeCoin is available for free on Google Play and App Store, depending on your phone's operating system.
After you install the app, you will have to provide some basic information and enable Google Fit Services.
When you enable Google, you will give LifeCoin app access to your physical and activity data.
Me, personally, I do not like apps collecting information about my whereabouts.
So, I simply rejected, and as a result, I could not get access to the service.
How to Earn Coins
Once you activate the app, you will get LifeCoins for every GPS verified steps.

Keep in mind that although LifeCoin tracks your indoor steps, it only pays you for outdoor steps.
Where is The Money Coming From?  
LifeCoin app is funded by advertisers, which means you will have to watch some ads occasionally.
The company will then share a percentage of the ad revenue with users who are active on the app.
How Much Money Can You Make with LifeCoin?
Very little!
On the website, the company claims that the more steps you take, the more you will earn.
However, they don't tell you that there is a limit of 5 coins per day.
Also, you have to consider that you need at least 2500 coins to redeem for a $50 gift card.
I watched a YouTube video where the guy had been using the LifeCoin app since 2018.
In his video, he shows that he took 706,000 confirmed steps and earned just 646 coins.
That's 0.0009 coins for each step!
Therefore, if you want to earn the maximum of 5 coins in a day, you have to take 5,555 steps.
Finally, I conclude that you must take 5,555 steps (almost 4 km) every day for 500 days in order to cash out $50.

But the thing is, most people are not able to walk 4 km every day.
In that case, I would expect to earn $50 maybe after 2 years!
Referral Program
You can earn Lifecoins by sharing your referral link with your friends.
If someone joins LifeCoin through your link, you will earn 5 coins.

This reward platform is going viral! Cash out via PayPal, Visa, Gift Cards, and in-game currencies - Click here to find out how to generate an extra $10+ per day! 
How Will You Get Paid?
You can exchange Lifecoins for various gift cards and sporting goods.
Here is a list of some rewards with the corresponding LifeCoin requirements:

$50 Amazon gift card: 2,500
iPhone X: 25,000
Wireless headphones: 7,500
There are Lots of Complaints!
---
LifeCoin has been rated 4 stars on Google play, but there are lots of complaints!
Many people get frustrated because the app crashes and stops counting steps.
Some people are also warning that LifeCoin is counting fewer steps compare with other pedometer apps.
One guy from the UK said that he walked for 10 miles but the app didn't verify his steps.

Conclusion
---
LifeCoin is a legit app but the earning potential is ridiculously low and there are lots of bugs.
If you are lucky, you may reach $50 in proximately 2 years.
However, many people report that LifeCoin is failing to track steps, causing lots of frustration.
All that being said, I do not recommend LifeCoin for now.
How to Earn a Full-Time Income From Home
---
If you want to earn a full-time income online, I recommend that you become a content creator.
I strongly believe that there is no better way to make money on the internet.
You can build a website, provide helpful content, and earn commissions by promoting products as an affiliate.
If you want to learn step by step how to build a profitable affiliate site check out my #1 recommendation.
This is the same platform that I used to build my site from scratch and finally quit my job in 2019.
Final Words
Thanks for taking the time to read my LifeCoin App review!
I hope it was helpful, and if you have any comments or questions, feel free to write them down below.
Stay safe and peace out!