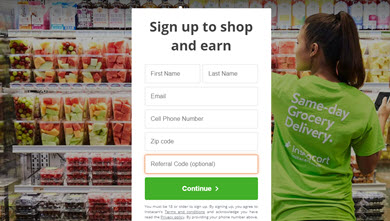 Welcome to my Instacart Shopper App review!
If you live in the US, you may have heard about this popular grocery shopping app called Instacart.
Millions of people have been using Instacart to buy groceries online and get their orders delivered within 1 hour.
Now, with the current "stay at home" situation, the number of orders has skyrocketed!
With the Instacart Shopper App, you can earn some extra income by shopping and delivering groceries to people in need.
Lots of os YouTubers are recording their experiences and sharing their earnings with this app.
But are they tell you the full story? How much money can you really make after expenses?
In this review, I am going to cover everything you need to know about Instacart Shopper app works and give you my honest opinion.
While you are still here, don't forget to check out my top recommendation, which is the same program that helped me reach $1,600/mo from my laptop. No special skills required!
Instacart Shopper App Review
---
Platform: Instacart Shopper App
Company: Maplebear Inc.
Price: Free
Membership Eligibility: USA
Type: Get paid to shop
Similar apps: DoorDash, Grubhub, Uber Eats
LEGITIMATE
Overall Rating: 3.8/5
What is Instacart Shopper?
---
Instacart Shopper is a mobile app that allows you to work as a personal shopper.
In short, you will get paid for shopping and delivering grocery items to people in your community.
The platform was launched in Minnesota back in 2015 and grew rapidly throughout the rest of the country.
It's now operating in many US cities such as San Francisco, Los Angeles, New York, Chicago, and Washington.
Instacart has been featured in many big media outlets such as CNN, Good Morning America, and USA Today.
Therefore, it is not only a legit but also a trustworthy company to work for.
Pros and Cons
---
Pros
Easy job and no experience required.
You can earn tips.
Work flexible hours.
You have the opportunity to meet and have a great relationship with people in your community.
Cons
Most Instacart shoppers earn less than the federal minimum wage after accounting for expenses.
Batches go away quickly.
You have to wait for one day or two to get a background check.
The Instacart cooler bags are a bit overpriced, and not high quality.
There are lots of people complaining that the app crashes and freezes frequently. Someone said Instacart should be called Instacrash.
How Does Instacart Shopper App Work?
---
At Instacart, you can work either as a full-service shopper or an in-store shopper.
A full-service shopper works as an independent contractor and is responsible for buying and delivering groceries to customers. Therefore, they must have your own vehicle.
On the other hand, an in-store shopper is a part-time employee in charge of shopping and staging the groceries for pick up.  In this role, you are not responsible for delivery, so you don't need a car.
Requirements
In order to become an Instacart shopper, you must meet the following requirements:
Be a resident of the United States.
You are at least 18 years old.
You can lift 50 lb.
Access to a vehicle if you apply as a full-time service shopper.
Have an Android (4.4 +) or iOS device (iPhone 5+) with an internet connection.

The Hiring Process
Whether you want to work as a full-service or an in-store shopper, you must first register and submit your application.
The process is very simple, but there are many requirements. 
Step 1- Registration
The first step is to visit the Instacart website and fill-up the form with your name, phone number, and zip code.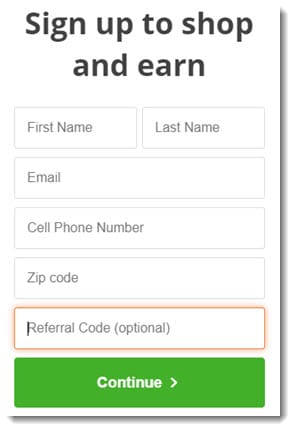 Then, they will ask your social security card and bank information.
After downloading the Instacart Shoppers app, you must submit a photo and a copy of your driving license.
Step 2 – Background check and driving record
Instacart will then pull a criminal background check as well as a driving record on you, just like Uber does.
Typically, you will get the result within 1 or 2 days, but it can take a bit longer.
If you are not sure whether you are clear or not, it is still worth applying to see what is wrong.
Depending on the issue, you can clear it up and continue with your application.
Step 3 – Wait for your Instacart Debit Card
Once you finish the registration, Instacart will send you a green debit card in the mail, which you will use to pay for orders.

The average waiting time is about 1 week, but the card can take up to 14 days to arrive.
Once you get the card, you should open your Instacart shopper app and enter the card information.
Step 4 – Insulated bags and training
While you are waiting for the card, you must show proof that you have an insulated bag. You can submit a picture of your own bags or you can order them from Instacart.
In the meantime, you will get some basic training in food handling and drink delivery.

This reward platform is going viral! Cash out via PayPal, Visa, Gift Cards, and in-game currencies - Click here to find out how to generate an extra $10+ per day! 
Scheduling Hours
Once you are fully verified, you can start scheduling hours.
It is important to take advantage of the early access, which allows you to pick hours for the following week.

The early access always takes place on Sundays at 9:00 pm (local time).
You will be eligible for early access during the first 2 weeks. Afterward, you will be required to work a minimum number of hours to continue having early access to the hours.
You can always check for new opportunities during the week. So, do not worry too much if you can't get this early access.
I recommend picking up as many hours as you can even if you are not sure whether you will be available for work or not.
That is because batches can go away quickly, and you can always cancel at least 6 hours before the shift starts.
Selecting Batches and Shopping
Open the Instacart dashboard and tap on the first option to view the available batches.
You will see a list of all the batches along with the earning estimate, the number of items, and the distance from the store.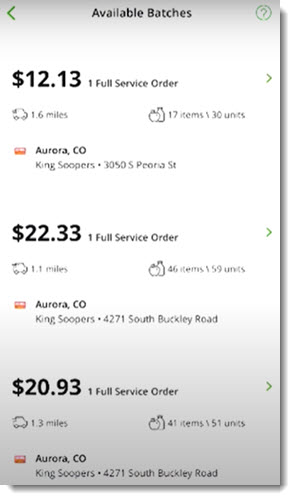 Tip: Choose a small batch in the beginning so you get the hang of it.
If you are happy with the batch, swipe to the right to accept the order.
Next, you will see the list of groceries and you can ask the customers if they want a similar replacement for unavailable items. Most customers will be ok with that.
Now, drive to the store and enjoy the shopping!
Keep in mind that you are not allowed to bring anyone with you on the car due to privacy and security issues.
Whenever you find an item, tap on the "found item" button, scan the barcode and select the quantity.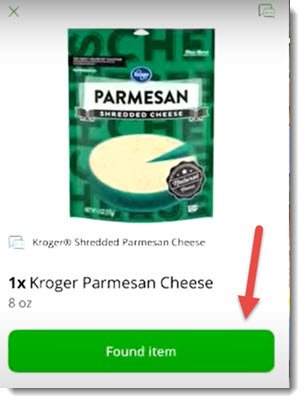 If you are dealing with an online payment order, ask the cashier to scan the barcode on the app before he or she scans any of the items.
How Much Money Can You Make as an Instacart Shopper?
---
It depends mainly on how fast you go!
Most batches fall in the range of $14 – $25 (including tips) and you can spend anywhere between 30 minutes to 1 hour to deliver.
If you shop slowly, you can expect to earn $13 – $15 per hour, and if you shop fast, you can reach $25 – $30 per hour.
The great thing about working for Instacart is that you can earn extra tips, especially if you have a good interaction with the customer!
I watched a YouTuber called Steph and she made $95 after completing 4 batches within 4 hours. So, that's $23/hour!
As you get used to the whole process, you can work faster and thus, earn more money per hour.
HOWEVER, and this is very important…

You will probably earn less than the minimum wage after accounting for mileage and taxes.
According to a study published by Payup, an Instacart shopper earn, on average, $7.66/hr after expenses, which is less than the federal minimum wage of $7.25/hr.
How to Increase Your Instacart Hourly Wage
---
If you find a high demand product such as toilet paper, hand sanitizer, bleach, etc., take a photo of it and ask the customer if he wants you to ad it on the shopping cart.
Usually, you will receive a higher tip for that!
Give preference to stores that always have products in stock and stick with them.
If you do not find an item, you have to search for a replacement or process a refund, which is time-consuming.
If things are in stock, you will complete batches a lot quicker and increase your hourly wage.
What Many YouTubers Won't Tell You
---
I have watched some YouTubers who claim to make over $100 per day after working just a few hours.
At the end of the video, they will always encourage viewers to sign up using their affiliate links or code.
Well, that is because they will earn a whopping $25 for every referral that completes his/her first shop delivery.
So, many YouTubers are probably making more money just by encouraging others to work as an Instacart shopper.
That's ok! I don't judge them for that as I also earn affiliate commissions on what I promote.
However, many of them ignore the fact that the amount of money left after accounting for gas and taxes is much lower than what they show on the camera.
When you deduct all the expenses, your profit margin will drop significantly, and you may earn less than the minimum wage.
So, unfortunately, it's impossible to achieve financial freedom just by working for Instacart.
Conclusion
---
Instacart Shopper is a popular grocery delivery app for making a little extra cash.
Many people can benefit from this gig economy, especially now that the unemployment rate is rampant.
It's an easy side hustle, but some orders can be problematic, and you need to work fast!
If you are not fast enough, your hourly rate after expenses can drop below $7.50, which is the minimum federal wage.
Also, lots of people are experiencing technical issues with the app, which is causing a lot of frustration.
How To Earn a Full-Time Income From Home
---
In my opinion, one of the best strategies is to become a content creator and promote products as an affiliate.

Me, personally, I decided to create a website and write content about different platforms and courses to make money online. That's how My Room is My Office was created.
However, there are many profitable niches out there!
If you want to learn step by step how to build a website that earns you a full-time income check out my #1 recommendation.
This is the same platform that I used to gain knowledge and grow my own website and quit my job in 2019.
But remember…
"Knowledge without action is like having no knowledge at all!" 
To make this type of business work for you, you must be willing to put in the work for at least 1 year to see results.
If you are ready to put in the work, click here and discover my #1 recommendation.
Final Words
Thanks for taking the time to read my Instacart Shopper App review!
I hope it was informative, but if you have any questions, don't hesitate to ask in the comment section below.
Stay safe and peace out!