Welcome to Crownit app review!
I have recently discovered Crownit, which claims to be India's most trusted online market research company.
With this app, you can earn rewards for sharing your opinions, playing games and uploading your everyday bills
Crownit has been installed over 1 million times on Google Play by people who wish to make a little extra money online. But does it actually pay? Is Crownit a scam or a legit application?
In this review, you will understand why lots of people are struggling to earn rupees!
Before you leave this post, don't forget to check out my top recommendation to make money online. This is the same step-by-step program that helped me reach $1,600/mo from my laptop. It's 100% newbie-friendly. 
Crownit App Review
Name: Crownit
Website: crownit.in
Company: GoldVIP Technology Solutions Pvt Ltd.
Eligibility: India
Price: Free
LEGITIMATE
Overall Rating: 1/5
What is Crownit? 
Crownit is a leading marketing research company in India, providing consumer insights to local business and big brands since 2014.
Through the Crownit app, the company gathers a large pool of consumers who are willing to share their opinions and shopping habits in exchange for rewards.
Whenever you answer surveys and upload receipts, you will get scratch cards for a chance to win Crown (points), and gift cards. Once you accumulate enough crowns, you can redeem for gift vouchers.
How Does Crownit Work?
Installation and Registration
Crownit is available on Android and iOS devices. After installing the application through either Google Play or App Store, you must register using your phone number.
If you skip the registration, you can get access to the app, but you won't be able to complete the tasks.
You can earn rewards through the following methods:
Upload Bills
You can take a picture of your bills and upload it to Crownit app in return for crowns.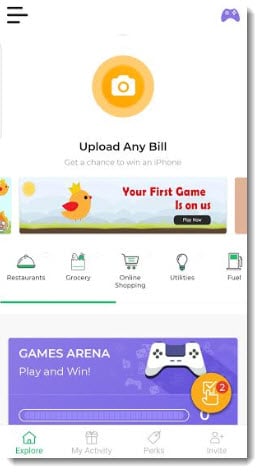 You will have to select the category of your bills such as utilities, fuel, travel, fashion, restaurants, medical and online shopping.
Many people are complaining that Crownit is taking a long time to approve the bill and give the reward.
Complete Surveys
With Crownit, you can take part in marketing research studies and earn rewards for sharing your opinion.
Surveys are simple online questionnaire that provides a critical source of data and insights for businesses.

Some surveys are sent to manual review, which can be accepted or rejected based on the quality of your answers.
Once your survey passes the quality checks, you are will be eligible to get a scratch card, which may contain various rewards such as crowns, gems, Paytm cash and vouchers.
In my opinion, this is the worst rewarding system because panellists never know how much money they will earn. With this reputable get-paid-to site, you know exactly how much money you will get for each survey.
Keep in mind that rewards may not be given out to users who provide dishonest and insincere answers to survey questions.
Play games
Whenever you upload a bill, you will be eligible to play games for 3 days. If you are a winner in these games, you will earn gems, which you may redeem for rewards.
Weekly Rush
Crownit weekly Rush gives members the opportunity to win prizes every Friday between 3 to 4 pm. You will stand a chance to win different prizes if you Rush ticket wins the draw.
You can get a Rush Ticket for each approved bill that you upload through the app.
How Do You Get Paid? 
You can redeem your crowns for gift vouchers, or as a recharge on your phone number. To buy a voucher, simply tap on redeem, select Vouchers and follow the instructions.
The value of one crown is approximately 0.4 Rupees, but it's constantly changing.
Keep in mind that you won't be able to redeem crowns instantly as you earn them. You can only redeem Crowns that are available in the "Eligible to Redeem" count, which is generated at the company's sole discretion.

Is Crownit Legit? Does it Pay? 
Crownit is a legit app operated by a reputable marketing research firm in India. That doesn't mean you will get paid for every activity.
After reading lots of user reviews on Google Play, I identified all sorts of issues. Here are some of the most common problems that you may experience:
Lack of surveys.
Technical problems. Some people are not able to open the app, upload bills and complete surveys.
Bills are pending for a long time.
You may get screened out of a survey after answering all the questions.
The surveys you complete may not get approved and you may never get paid.


This reward platform is going viral! Cash out via PayPal, Visa, Gift Cards, and in-game currencies - Click here to find out how to generate an extra $10+ per day! 
Conclusion
Although Crownit is a legit app, you may end up wasting a significant amount of time with it.

You can struggle to make any amount of money because of pending Crown, rejected bills, unapproved surveys, technical issues and more!
Answering paid surveys on your phone while commuting or queuing can help you earn a little extra cash. Unfortunately, I am not confident to recommend Crownit for my fellow Indian readers!
I think it's unnecessarily confusing and not very transparent regarding rewards.
The worst thing about it is that you will earn scratch cards for taking surveys, so you never know in advance how much money you will earn.
If you want to get paid for completing surveys and other simple tasks, I recommend this top-rated GPT site. This is not an app, but you can sign up through your internet browser and answer surveys with no issues.
The best part is that you can get paid via PayPal and Amazon gift cards!
Earn a Full-Time Income Online
I used to complete surveys 5 years ago, but I got fed up with the request disqualifications and the low rate of pay.
Luckily, I discovered how to build an internet business, get free traffic, and generate life-changing commissions. It allows me to work independently from my laptop and earn a full-time income online.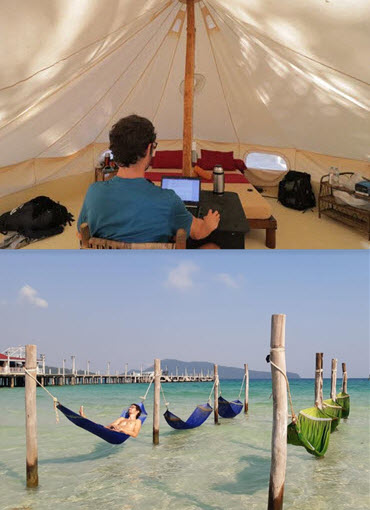 There are many business models out there, but the problem is that most of them require a big investment in ads. So, you can lose a lot of money!
In my opinion, building an affiliate site is still one of the best strategies to make money online.
If you are prepared to put in the time and effort that is required, check out this excellent step-by-step program.
It's the exact platform where I learned the proper strategies to get traffic to my site and make affiliate commissions.
Final Words
Thanks for taking the time to read my Crownit app review, and I hope it was helpful.
If you have any question or you want to share your experience with this app, just leave us a comment below.
Stay safe and peace out!