Welcome to my Coin Dozer App Review!
I was playing another money-making game when I came across Coin Dozer App.
The advert implied people could win a $1,000 Amazon gift card just by playing the coin pusher game.
When I opened Google Play to download the app, I was shocked to see that Coin Dozer had been installed 50 million times. That's insane!
You are probably searching for more information because you don't see any option to earn prizes with this game.
All they seem to give you are virtual bears, virtual watches, and other stuff with no real value in the real world.
So, can you really make money with Coin Dozer? Is it a scam or a legit application?
Keep reading to find out!
Before you leave my blog, discover the step-by-step program that helped me reach $1,600+ per month from my laptop and escape the 9-5 trap. No special skills required! 
Coin Dozer App Review 
Name: Coin Dozer
Website: https://www.gamecircus.com/
Company: Game Circus LLC
Eligibility: US and UK residents (16+)
Price: Free

LEGITIMATE

Overall Rating:

3.8/5
What is Coin Dozer? 
Coin Dozer is hands down the most popular coin pusher app available for Android and iOS devices.
Different than other misleading Coin pusher games, Coin Dozer organizes daily and weekly sweepstakes for a  chance of win $100 and even $1000.
There are also smaller prizes for 2nd place, 3rd place, honorable and consolation!
All prizes are redeemed as digital Amazon gift cards.
Coin Dozer was created by Game Circus LLC, a US-based company that also operated many other addictive mobile games such as Paplinko, Prize Claw, and Taps to Riches.
Is Coin Dozer a Legit App? Will You Get Paid? 
Yes! Coin Dozer is a trusted app that is operating legit giveaways instead of manipulating cash rewards to avoid payments. So, yes. You will get the prize if you are a winner!
It's important to understand that Coin Dozer is a sweepstakes app, which means you can only win Amazon vouchers if you win the contest.
You can increase your chances by collecting more entries, but there is no guarantee that you will be selected.
If you are serious about making money online, discover my #1 online business recommendation.

How Does Coin Dozer Work? 
Installation and Registration 
Coin Dozer is 100% free and it's available to download on Google Play or App Store. After installing the app, you just have to accept the Privacy Policy.
How To Play Coin Dozer?
The Coin Dozer game itself is simple. All you have to do is tap your screen to drop the coins so they get pushed off the edge.
However, the app developer has made it unnecessarily complex and I am still wondering why I should collect Dozen dollars or puzzle pieces.
The game has an incredible number of features that are not worth mentioning here. Otherwise, this review would be huge if I did.
I believe you are reading this post because you are more interested in earning cash rewards. If that's the case, keep reading to learn how you can win the Amazon gift cards.
Coin Dozer Sweepstakes 
Unlike other coin pusher apps available on Google Playstore, you won't accumulate virtual cash rewards while playing Coin Dozer. For example, this popular coin pusher game will give you virtual cash when you drop the coins, but you can only cash out if you are randomly selected.
Instead, you can claim free entries every 2 hours to enter the daily and weekly sweepstakes. No purchase or fee is necessary to participate.
You are eligible to win the prize only if you meet the following criteria:
You are a resident of the U.S. or the U.K.
16 years of age.
You have reached level 3 in Coin Dozer.
So, you may be able to claim gree entries once you reach level 3 and above.
The number of free entries you can get is unrelated to the amount of time you play or your result in the Coin Dozer game.
You can simply tap on the "Get free entries" button at the bottom of the screen every 2 hours to collect 10 blue tickets.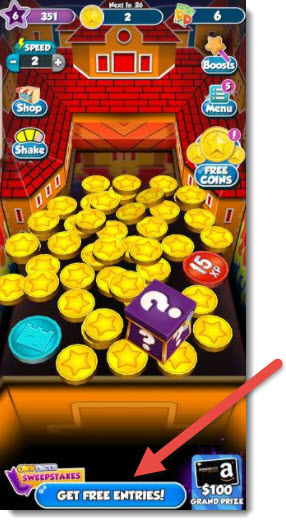 Daily Sweepstakes – Earn up to $100
The blue ticket will allow you to participate in the $100 daily sweepstakes.
Every day, 100 people will be randomly selected to win the following Amazon gift card prizes:
Grand Prize: 1 winner will get USD 100 Amazon gift card.
2nd Place: 1 winner will get USD 20 Amazon gift card.
3rd Place: 1 winner will get USD 10 Amazon gift card.
Runner Up: 27 winners will get USD 5 Amazon gift card.
Honorable Mention: 70 winners will get USD 1 Amazon gift card.
Weekly Sweepstakes – Earn up to $1,000
In addition, Coin Dozer will give you 10 yellow tickets for every 40 blue tickets that you earn. You can use yellow tickets to enter weekly sweepstakes for a chance to win the following prizes.
Grand Prize: 1 winner will get USD 1,000 Amazon gift card.
2nd Place: 1 winner will get USD 40 Amazon gift card.
3rd Place: 1 winner will get USD 20 Amazon gift card.
Runner Up: 27 winners will receive USD 10 Amazon gift card.
Honorable Mention: 470 winners will receive USD 2 Amazon gift card.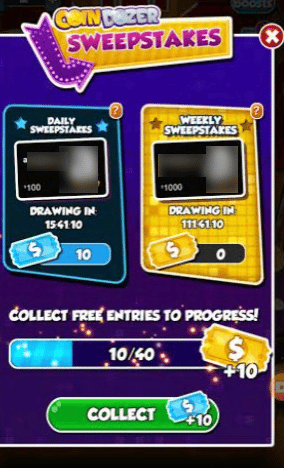 This reward platform is going viral! Cash out via PayPal, Visa, Gift Cards, and in-game currencies - Click here to find out how to generate an extra $10+ per day! 
Read the official Coin Dozer sweepstakes rules here.
It's important to mention that the odds of winning depend on the number of total entries on each sweepstake.

Considering the fact that millions of people are collecting entries, I assume the probability of winning any prize is extremely low.
The company could be more transparent and show users the number of entries just like Givvy does. But for some reason, they prefer to keep the numbers secret.
Pros and Cons
Pros 
Finally, a coin pusher game that is giving real prizes.
You can play online and offline.
Beautiful 3D graphics.
There are lots of features.
It's available on Android and iOS.
Cons
You must be very lucky to win any prize.
Coin Dozer doesn't expose the total number of entries.
There are lots of ads.
Conclusion 
I am glad to finally review a legit and pretty decent sweepstakes app that respects players. Here you can find other great apps! 
Coin Dozer is different than most money-making games because they don't have a coin or virtual cash balance redeemable for real money.
Other coin pusher games say you can cash out via PayPal once you reach a specific cash amount, but they stop giving cash once you get close to payout. They are very clever!
Well, that's not the case with Coin Dozer!
The app has the decency to pay a decent amount of money to a few lucky users rather than turn all the advertising revenue into profits.
That explains why Coin Dozer has been installed 50 million times on Google Play and rated 4.5 stars!
Earn a Full-Time Income Online
It's possible to make hundreds or even thousands of dollars per month without relying on luck!
If you dream about making this level of income and eventually reach time and location freedom, I suggest building your own online business.
More specifically, you could grow an affiliate website to attract a global audience and earn excellent commissions.
That's the business model I use to generate a full-time income working from anywhere that has an internet connection.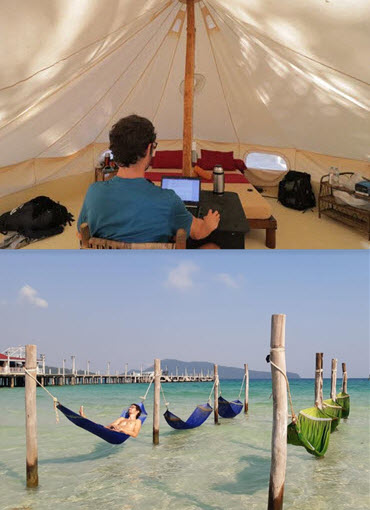 It's not too complicated. However, joining a well-structured training can help you avoid trial and error and be better prepared to compete with other skilled content creators.
I started my online business in 2015 thanks to this excellent step-by-step program that I still recommend to this date.
Before joining, you should know that succeeding in this type of business requires work hard and patience. The result of your efforts has the potential to change your life!
Final Words
Thanks for taking the time to read my Coin Dozer app review. Feel free to use the comment section below if you have any questions or thoughts about this popular application.

Stay safe and peace out!