Welcome to my Tunnel Vision review!
Thousands of people playing Tunnel Vision with the expectation to make free money while having fun.
By playing Tunnel Vision, you will collect free tickets that will be entered into sweepstakes to win cash prizes worth $3,000+. 
The company behind this app is WINR Games, which runs dozens of other games such as Daring Descent, Towering Tiles, and Bubble Burst. 
You probably know unscrupulous app developers are promoting games as if players could easily make hundreds of dollars. Unfortunately, most of these apps are misleading and will never let you cash out.
So, can you really make free money with Tunnel Vision? Is it legit or another scam?
If you want to earn a full-time income working from home, don't forget to check out my #1 recommendation. This is the same program that helped me reach $1,600 per month and quit my job in 2019. 
Tunnel Vision App Review
Name:  Tunnel Vision
Company: WINR Games, Inc.
Price: Free (no in-app purchases)
Eligibility: Worldwide (+14)
Invite code: F59UB
LEGITIMATE
Overall Rating: 3/5
What is Tunnel Vision?
Tunnel Vision is another addictive mobile game developed by a Canadian company called WINR Games Inc. The game is all about avoiding bricks on your way down the tunnel.
It's a very nice and challenging game that makes you wanna play non-stop!
I will explain more about the game and how you can earn rewards.
How Does Tunnel Vision Work?
Installation and Registration
Tunnel Vision is only available for Android devices. Before you can launch the game, you must register with WINR or log in if you are already a member. You can do so by using your email or Facebook account.
The great thing about the WINR Games is that you can sync your tickets and your account across over 45 games. So, you can increase your chances of winning by playing any of the "Big Time" games.
How to Play Tunnel Vision
It's very straightforward! Just swipe left or right to move the ball and avoid the bricks on your way down the tunnel.
You will score whenever you pass the obstacles, and the higher your score, the more tickets you will earn. Besides, you can collect tickets that will appear along the tunnel.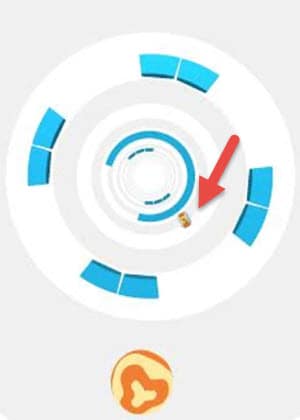 The game is over when the ball hits the brick. After that, you may be forced to watch a video ad before you can play again. 
If you complete specific milestones, you will earn a big bonus at the end of the game. For example, you will get 2,500 tickets if you score 50 and another 2,500 tickets if you score 100. 

Contests
As you play Tunnel Vision, you will accumulate tickets that can be entered into the prize draw. Therefore, the more you play, the higher your chances of winning!
WINR organizes 2 or 3 contests per week and each prize is normally worth over $3,300. You can check the countdown and the next prize at the top of the screen.
The winning ticket will be selected at random from millions and even billions of entries. The odds of winning are incredibly low because tickets earned from over 40 games will be entered into the same draw.
That's why most people prefer to convert ticket to virtual cash and withdraw via PayPal.
How to Convert Tickets to Cash
If you don't want to enter contests, you can convert your tickets to virtual currency and then cash out via PayPal. But first, you must deposit the tickets in the Bank.
Tickets that are outside of the bank will be automatically entered into the next prize draw.
You can only convert 10,000 tickets at a time, which is worth $0.10. Once you reach $10 (1 million tickets), you can cash out via PayPal.
Earn More Tickets 
Collect more tickets by installing other games from WINR, completing offers, inviting friends, and watching videos.
Is Tunnel Vision Legit? Does it Pay? 
Lots of people are playing Tunnel Vision not only to have fun and pass the time but also to earn the cash reward.

Unfortunately, there the company can reject or cancel your withdraw for any reason. The proof can be found in the "Terms and Conditions":
"Upon submitting your request for payment, WINR may, in its sole discretion, for any reason whatsoever, reject, cancel or terminate such request or payment, as applicable".
There are not many reviews of Tunnel Vision on Google play, and I didn't find anyone complaining about payments.
However, I have seen reviews from other WINR games where players reported missing tickets and errors that were preventing them to cash out.
Some people struggle to make money while others manage to cash out. I think it's a matter of luck as not everyone seems to get paid.
That being said, Tunnel Vision is a legit app. They are just sharing part of the ad revenue with players without making any promises.

This reward platform is going viral! Cash out via PayPal, Visa, Gift Cards, and in-game currencies - Click here to find out how to generate an extra $10+ per day! 
Pros and Cons
Pros
The game has excellent 3D graphics and it's very addictive.
You can get more tickets by playing other games, completing offers, watching videos, and inviting friends.
You can convert tickets to virtual cash and withdraw via PayPal.
Nice soundtrack.
Cons
It takes a long time to reach $10 and cash out.
There are too many ads.
The odds of winning the $3,000+ prize are extremely low.
Conclusion 
I could easily spend hours playing Tunnel Vision if I had the time. It's a nice game, but the main problem is the excessive amount of advertising. It's not only irritating, but it drains your internet data.

Regarding the cash rewards, you should not set high expectations because there is no guarantee that you will be able to cash out.
It's almost impossible to in the big prize and it will probably take weeks and even months to cash out $10.
If you need money, playing WINR games is a wise investment of your time.
Verdict: Legit
Other WINR Games Reviews
Brain Battle App Review – Is it Legit? Real Or Fake Cash Prizes?
Daring Descent App Review – Is it Legit? Free or Fake Money?
How to Make More Money Playing Games? 
The best way to make money by playing games is by completing app offers using GPT sites and reward apps. This reputable GPT is an excellent choice as some users are making $100s per month. 
Usually, they will ask you to install a game on your phone and play until you reach a specific level. Some offers pay over $5, and there are a lot of opportunities. 
Final Worlds
Thanks for taking the time to read my Tunnel Vision app review. I hope it was helpful!
So, what are your thought about this game? Did you earn $10? 
Peace!