Welcome to my Brain Battle app review!
WINR Games gives you the opportunity to enter sweepstakes and earn cash rewards just by playing cool games on your phone.
One of their most installed games is Brain Battle, which is all about solving simple mathematical equations.
You probably know that most app developers are not willing to share with every user a portion of their ad revenue. They use different strategies to reject payments without giving any explanation.
Can you really make money with the Brain Battle app? Is it a scam or a legit app?
Read my review to find out!
If you want to work remotely and earn a full-time income online, don't forget to check out my #1 recommendation. This is the same program that helped me reach $1,600 per month and quit my job in 2019. 
Brain Battle Review
Name:  Brain Battle
Company: WINR Games, Inc.
Price: Free (no in-app purchases)
Membership eligibility: Worldwide (+14)
Invite code: F59UB
LEGITIMATE
Overall Rating: 3/5
What is Brain Battle?
Brain Battler is an Android game that combines maths with the opportunity to earn money from your phone.

This reward platform is going viral! Cash out via PayPal, Visa, Gift Cards, and in-game currencies - Click here to find out how to generate an extra $10+ per day! 
The game consists of doing simple math calculations and providing the results as quickly as possible.
I really like its vintage style!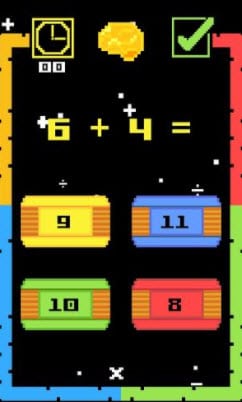 As you complete challenges, you will win tickets for a chance to win cash prizes worth thousands of dollars.
Tickets can be entered into weekly prize draws or converted to real money paid via Paypal.
The company behind Brain Battle is WINR Games Inc, which has developed other 47 Android games, including the popular Bubble Burst. 
When you register with Brain Battle, your account can be synced with any other games from the company. That means you can collect more tickets by playing other games and get more chances of winning. 
Recommended read: Check out my comprehensive list of game apps to earn money here. 
Is Brain Battle Legit? Does it Pay? 

People are sceptical of money-making games because most of them manipulate earnings and make it nearly impossible to cash out. There is nothing more frustrating than using the app for weeks only to discover you will never reach the minimum payout threshold.
Brain Battle is a legit app, but I was disappointed with the number of negative reviews that I have seen on Google Play. Many people are struggling to cash out because of the following issues:
Log in issues.
Lost tickets.
Errors while trying to convert tickets to cash.
I have seen very few people who cashed out. In addition to the problems stated above, another reason people don't make money is that it takes months to collect enough tickets.
With Brain battle, you can win the $3,000+ prize, but the odds of winning are ridiculously low.
I can't even fathom the number of tickets entered by all the active players of their 48 games. I guess there are billions of them!
It's important to understand that WINR may reject your payment request for any reason. The proof is in their Terms and Conditions where it says:
"Upon submitting your request for payment, WINR may, in its sole discretion, for any reason whatsoever, reject, cancel or terminate such request or payment, as applicable".
In other words, there is a risk of playing Brain Battle for months and don't get paid.
Pros and Cons
Pros
It's great for improving your math skills.
You can collect more tickets by completing offers, watching videos, and inviting friends.
Get paid via PayPal.
There are not many ads.
Cons
You may not win any money.
It takes ages to collect 1 million tickets and request your payment.
The odds of winning the prize draw are very low.
How Does Brain Battle Work?
Brain Battle is completely funded by advertisers, which explains how the company can provide games for free and also reward users.
Installation and Registration
After installing Brain Battle on Google Play, you can create a free account using your Facebook or email address.
However, I advise reading the Terms of Service, contest rules, and Privacy Policy before creating your account.

Keep in mind you must be at least 14 years old to play Brain Battle or any other WINR game.
How to Play Brain Battle
Simply do the math in your head and tap on the correct answer as quickly as possible.
There is a countdown from 20 seconds, and every time you hit the correct answer, you add just 1 or 2 seconds. So, unfortunately, there is not enough time to use the calculator.
You will get 1 score every time you provide the correct result, and the number of tickets you will earn is proportional to your score.
For example, if you score 21, you will get 24 tickets, and if you score 30, you will get 41 tickets.
Also, you will get 2,500 tickets after completing challenges. In the first two challenges, you have to reach 25 and 50.
Earn More Tickets 
You can collect more free tickets by completing offers, watching videos, and inviting friends to play Brain Battle.
Many offers will give you 5,000 tickets just for installing another WINR game. Each video will give you 100 tickets but there is a limit of 10 videos per day.
You can earn 2,500 tickets instantly by visiting your profile and entering my invite code: F59UB.

If a friend of yours installs Brain Battle or any other WINR game and he enters your code, you will get 2,500 tickets plus $0.10. You can find your code in your profile page.
How to Earn Money and Prizes
Prize Draw
Just like in all WINR games, your tickets will be automatically entered into the next prize draw, which runs twice or 3 times per week.
The winner will be selected at random, or so they say.
You can check the cash prize and the countdown until the next prize draw on the top of the screen. As of writing, the next lucky winner will take home $3,285.
Regardless of how many tickets you have, your chances of winning are close to zero, which is why you may want to exchange your tickets for cash. 
I like the fact that WINR shows the name of eligible winners, but I think they should also provide the number of entries at the end of the contest period.
Convert Tickets Into Cash
In order to convert tickets to virtual cash, you must first deposit the tickets in the bank.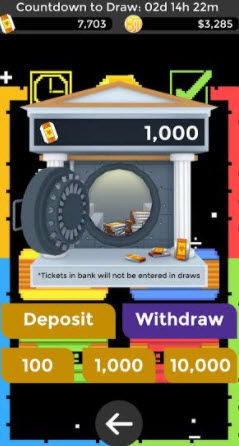 Then, enter your wallet and tap on this icon to use the conversion tool.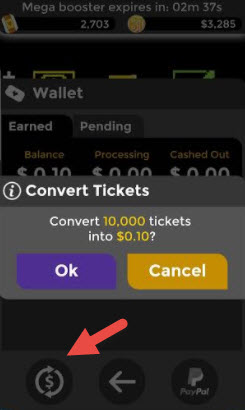 Bear in mind you can only convert a minimum of 10,000 tickets into $0.10. However, you must accumulate at least $10.00 (1,000,000 tickets) before you can request your payment via PayPal.
Is There Any Alternative To Brain Battle? 
I have recently reviewed the Givvy app, which has a few mini-games including the Tic Tac Toe, Memory and the Calculator. You can earn Givvy points for solving 5 simple math calculations within 30 seconds.
What I like about Givvy is that it allows users to cash out as little as $0.10 via Revolut, and they do pay out!
Conclusion 
Brain Battle is a cool app if you want to improve your ability to calculate in your head. I would play it while waiting on a queue or travelling!
Unfortunately, you should not expect to earn any money from the app. It can take you months to accumulate 1 million tickets, but the company can simply reject your payment request for no reason.
In my opinion, Brain Battle is better than playing other games because if you don't get paid, at least you will have improved your math skills.
Earn a Full-Time Income Online

If you would like to supplement your income or even work 100% remotely, I suggest building your own online business.
In 2015, I had the courage to take my first steps to create an affiliate site and eventually quit my job at the coffee shop.
The business model consists of providing helpful information through your website and promoting other people's products in return for commissions.
In my opinion, this is the best strategy for those who dream of having time and location freedom.
This excellent step-by-step program gave me the proper knowledge and mindset to grow a successful affiliate site.
The great thing about this platform is the helpful community and the fact that you can start your first 10 lessons completely for free. >> Click here to learn more! 
Final Worlds
Thanks for taking the time to read my Brain Battle app review. I hope it was helpful!
If you have questions, let me know in the comment box below and I will answer as soon as possible. 
Stay safe and peace out!