Welcome to my Bubble Burst App review!
Bubble Burst is advertised as the only app that gives you FREE MONEY just for playing the game.
It has been downloaded more than 500,000 times and received an excellent overall rating on Google Play.
You may be tempted to play Bubble Burst in hopes to earn some amazing cash prizes.
However, you probably know that most of these "money-making" apps fall very short of their bold claims.
The main reason is that they pay very little money and make it hard for people to cash out.
Therefore, you are probably wondering…
Is Bubble Burst a scam or a legit app? Will you get paid or not?
I decided to play this game for a while and compile a frank review, so you don't have to learn the hard way.
My #1 Work from Home Recommendation
If you want to work remotely and earn a full-time income online, check out my #1 recommendation. This is the same program that helped me reach $1,600 per month and quit my job in 2019. 
Bubble Burst Review
---
Name:  Bubble Burst
Company: WINR Games, Inc.
Price: Free (no in-app purchases)
Membership eligibility: Worldwide (+14)
Similar apps: Juicy Jelly, Big Time Cash,
LEGITIMATE
Overall Rating: 3/5
What is Bubble Burst?
---
Bubble Burst is a free mobile game that allows you to earn tickets to be entered into the weekly prize draw.
You can also exchange your tickets for real cash.
The app is just one among 48 contest apps operated by a Canadian company called WINR Games Inc.
The most popular is the Big Time Cash, which aggregates 16 games under the same app.
When you install Bubble Burst on your device, you will create one account which can be used across all the games.
That means you can play any game and accumulate tickets to enter the same prize draw.
The more you play, the more your chances of winning prizes that range from $2,000 to $3,000.
Upon writing this review, the current prize draw is $3,000!
Is Bubble Burst App a Scam?
---
There are many app developers that deceit users by manipulating earnings.
Players keep playing but at some time, they get stuck before reaching the minimum payout amount.

Some apps make you waste a significant amount of time only to terminate your account for no reason.
That does not seem the case with Bubble Burst app or any other game of the WINR Game's collection.
The company is very transparent as they show photos of recent winners through the app and website.
Besides, I haven't seen complaints about missing points and payments.
That being said, I am confident that Bubble Burst is a legit app.
Pros and Cons
---
Pros
It's fund and very addictive.
You can convert tickets to cash.
Cash out via PayPal.
Cons
The game consumes a lot of battery.
The odds of winning are extremely low.
You will earn only $0.10 for every 10,000 tickets.
Frequent ads.
How Does Bubble Burst Work?
---
It's important to understand that Bubble Burst is entirely funded by advertisers.
In other words, the company is earning revenue by showing you ads while you play the game.
Therefore, WINR Games is simply sharing back the revenue with players.
Now that you know how the business model works, let's take a look at the registration process and the game itself.
Installation and Registration
---
All the apps from WINR Games Inc., including Bubble Burst, are available for Android and iOS devices.
You can register with either your email address or Facebook account.

But before creating your account, I advise reading the contest rules, Terms of Service and Privacy Policy.
Keep in mind that children under the age of 14 are not allowed to play.
How to Collect Tickets
---
Play Bubble Burst
The main goal of Bubble Burst is to level up by popping up all the bubbles with tickets.
On each level, you can use a limited number of bubbles to pop other bubbles of the same color.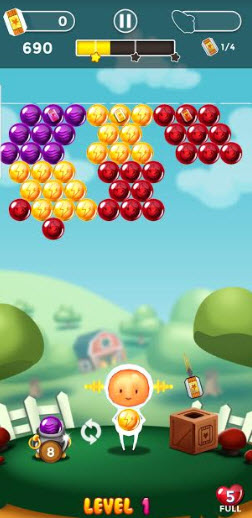 This reward platform is going viral! Cash out via PayPal, Visa, Gift Cards, and in-game currencies - Click here to find out how to generate an extra $10+ per day! 
As you progress in the game, you will earn more tickets that will be automatically entered into the next prize draw.
Unfortunately, it gets more difficult to level up and collect more tickets over time.

Complete Supersonic offers
You can earn extra tickets by completing supersonic offers.
Most of these offers involve installing games from third-party developers and reaching a certain level.
There are lots of offers, and some of them are offering more than 100,000 tickets.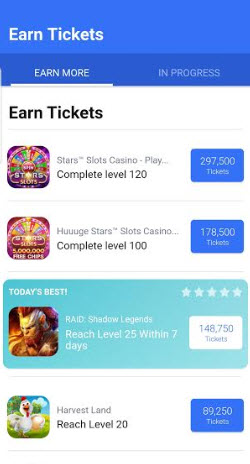 Install Other Big Time Cash games
Install other apps from WINR games and earn 5,000 tickets each.
Watch Videos
Watch more advertising videos and earn 100 tickets each.
Invite Friends on Social Media
Share Bubble Burst with your friends on social media and get 2,500 tickets plus $0.10 per friend that downloads the app.
What Are the Odds of Winning?
---
According to the company, the odds of winning depend upon the number of tickets received during the contest period.
There is only 1 prize of CAD $3,000 available and each ticket is worth one entry into the contest.
So, the more tickets you have, the higher your chances of winning.
Now, think about this for a second:
Millions of people are collecting tickets by playing over 40 different games every single day!
I can only assume that the odds of winning are significantly low.
It doesn't matter how many tickets you have, you must be extremely lucky to win the prize.
Exchange Tickets for Cash
---
If you don't think you are lucky enough, you can opt for converting 10,000 tickets to CAD $0,10.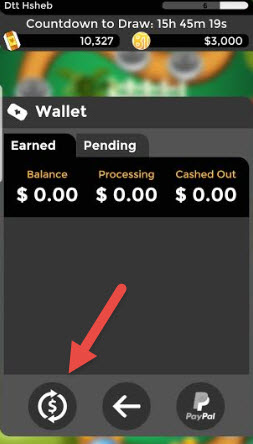 Considering how difficult it is to win the prize, I would say this is your best choice!
Just keep in mind that you must have a minimum amount of CAD $10 to cash out via PayPal.
So, if you are willing to cash out, you must play Bubble Burst consistently for a long time.

Conclusion
---
Bubble Burst app is not a scam, and it does pay!
It's a fun and addictive game, but the odds of winning are probably less than 1 in 1 million!
In my opinion, the best approach is to convert tickets to cash.
Just keep in mind that you must collect 1 million tickets before you can cash out CAD $10 via PayPal.
It takes a long time!
Eventually, you will complete all the 37 levels before you are able to cash out.
At this point, you will be forced to install and play another game to continue earning tickets.
Verdict: Legit
How to Earn a Full-Time Income From Home
---
If you are serious about making money online, I highly recommend becoming a content creator!
In my opinion, the best strategy is to set up a website, create content and promote other people's products as an affiliate.
After following this excellent step by step program, I was able to grow a profitable affiliate site and quit my job in 2019.
Running a profitable website has completely transformed my life!
You don't need to have any special skills to run this type of business.
You just need to learn key internet marketing concepts and apply them consistently until you achieve your goals.
If you are ready to put in the work, there here my advice:
> Click here to learn more about my recommended program and get started today!
Final Worlds
Thanks for taking the time to read my Bubble Burst app review. I hope it was helpful!
If you have any questions, let me know in the comment section below. 
Stay safe and peace out!