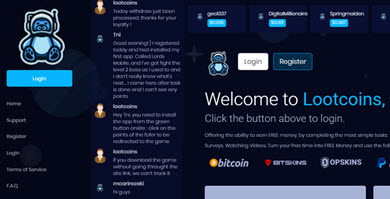 Welcome to my Lootcoins.gg review!
Lootcoins.gg is offering the opportunity to earn money by completing the easiest of tasks.
Yes, I am talking about the "good old" online surveys, trial offers, videos and more!
There are hundreds of sites like Lootcoins.gg known as GPT (get paid to).
These sites share with members part of the revenue earned from advertisers and marketing research companies.
In this review, I will explain everything you need to know about Lootcoins.gg and give you my honest opinion about it.
Is it a scam or legit platform?
Let's find out!
My #1 Work from Home Recommendation
If you want to work remotely and earn a full-time income online, check out my #1 recommendation. This is the same program that helped me reach $1,600 per month and quit my job in 2019. 
Lootcoins.gg Review
---
Name: Lootcoins
Website: Lootcoins.gg
Owner: ?
Type: GPT (get paid to)
Membership eligibility: Worldwide
Price: Free to join
Similar sites: Prizerebel (top rated), Earn.gg, Gain.gg, TimeBucks, GrabPoints 
Overall rating: 2/5 
What is Lootcoins.gg?
---
Lootcoins.gg is a GPT platform that rewards users for completing offers, installing apps, completing offers, and referring friends.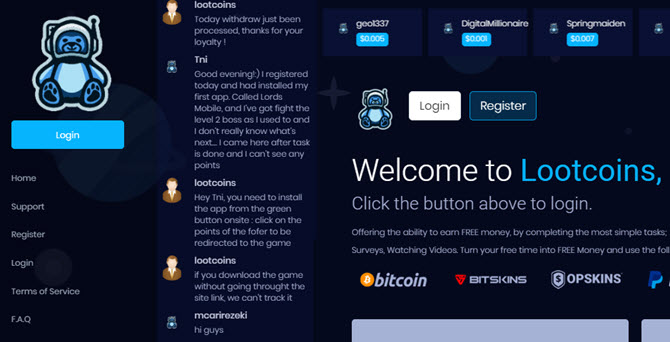 According to the Terms of Service (ToS) Lootcoins.gg is located in France, but there is no information about the owner.
It seems to be run by an individual and not a company. Otherwise, the company name would be stated on the ToS page.
Another problem is that the FAQ page is completely empty!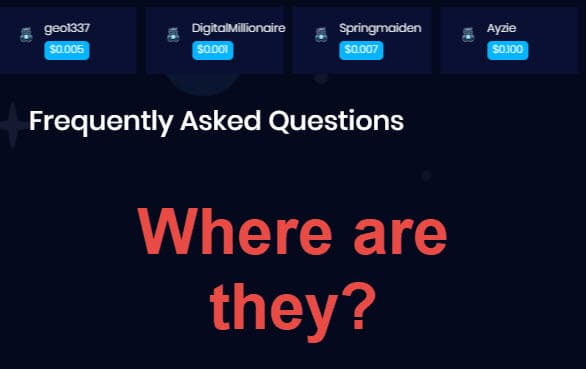 Every GPT site should have a page with the most common questions about points, payment methods, possible issues, etc.
The lack of important information can deter many people from using the platform.
On the other side, Loocoins.gg has a live chat, where the admin can answer all your questions you might have.
Is Lootcoins.gg a Scam?
---
I don't think Lootcoins.gg is a scam.
But, just like most GPT sites, Lootcoins has the right to terminate your account and forfeit all your points.

In other words, they can ban you for any or no reason at all.
According to the terms of service, they can also cancel payment orders at their sole discretion.
I have been reviewing these GPT sites for many years, and I often see people complaining about missing payments and blocked accounts.
It must be very frustrating to see all your hard work going down the drain!
Regardless of the GPT platform you choose, there is always the risk of losing all your earnings.
That's why I highly recommend giving preference to top-rated sites.
RECOMMENDED: Click here to see my no.1 recommendation for making money online
Pros and Cons
---
Pros
Quick sign up.
Easy way to make money.
There is a live chat available.
Get paid via PayPal and crypto.
Cons
Low earning potential.
No signup bonus.
No FAQ.
Registration
---
You can get access to tasks by creating a free account.
Simply provide your username, email, and password. Alternatively, you can sign up with your Facebook or Tweeter account.
Be aware that if you try to sign in with VPN, your account will be suspended.
Points & Rewards
---
It's important to understand how the point system works.

Whenever you complete a task, you will earn points (aka Coins) that you can convert to real-world currency.
At Lootcoins.gg, 1000 coins will always amount to $0.50.
You need a minimum of $10 (20,000 coins) to cash out via PayPal and $1 (2000 coins) via Crypto.
Complete Offers
---
Once you log in, you will see a list of 7 third-party providers known as Offer Walls.
These are:

This reward platform is going viral! Cash out via PayPal, Visa, Gift Cards, and in-game currencies - Click here to find out how to generate an extra $10+ per day! 
Offertoro
Offerdaddy
KiwiWall
CpaLead
Personaly
AyetStudios
PointClick track
Each platform provides different opportunities to collect coins.
For example, Offertoro is focused on paid offers whereas Persona.ly is focused on surveys.

The amount of surveys and offers available will depend on your country.
You will certainly find a lot more opportunities if you live in the U.S, Canada, and the UK.
Next, I will briefly cover the main types of offers that you can find at Lootcoins.gg.
Free trial offers
These are the type of offers where you have to provide your credit card details and subscribe to a free trial.
When the free trial ends (usually after 14 days), you will be automatically charged for the monthly plan.
Many people sign up and forget to cancel the subscription or miss something crucial in the fine prints.
So, it's very important that you pay close attention when completing these offers.
If you want to sign up for these offers and still protect yourself, I advise using pre-paid cards.
So, the worst-case scenario is losing the amount you have on the card, but at least it will prevent you from spending more money.
Free sign up offers
In my opinion, these are the safest offers, but they usually pay a few pennies on the dollar.
Usually, all you have to do is sign up with another GPT or survey panel.
Sometimes, you must sign up and earn a specific amount of money.
Here is one example from TimeBucks.
Sweepstakes offers
It's very common to find sweepstakes offers to earn points and a chance to win a prize.
However, you will always be forced to provide your email and phone number to participate.
The odds of winning are always extremely low, but one thing is for sure:
Once you give them your personal details, you will get marketing emails and call on a daily basis.
You could create an email specifically for the purpose of signing up to these offers.
But regarding the phone number,  most offers only accept landline number. So, they will find you!
Mobile app offers
If you are using Lootcoins.gg on your phone or tablet, you can earn coins for downloading and using apps.

For example, you may be asked to install a game and play it for a while until you reach a certain level.
Take Surveys
---
At Lootcoins.gg, you will also find lots of surveys from leading marketing research companies.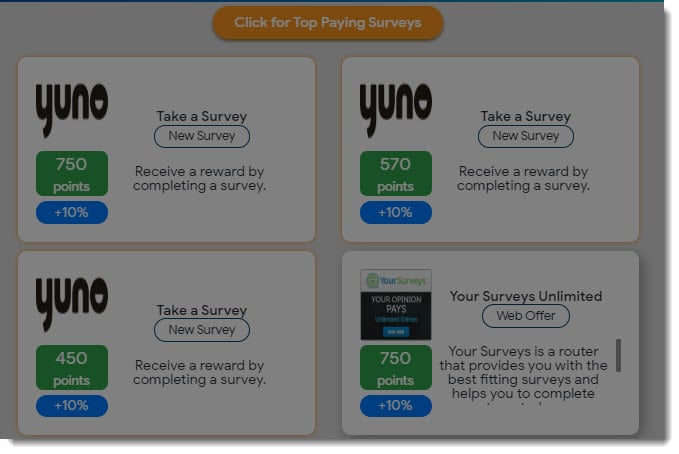 Some of these companies include Yuno, Your Surveys, and Samplicio.
You will earn coins by sharing your opinion about products and services.
Most surveys take 10 – 20 minutes to complete and pay less than the minimum wage.
Keep in mind that you will answer unpaid screener questions and get disqualified if you are not a good fit.
Refer Friends 
Another way to earn money with Lootcoins.gg is by sharing your referral link with your friends.
Unfortunately, the site is not clear as to how much commission you will earn per referral.
Final Thoughts
---
Lootcoins.gg seems legit, but the website does not convey trust.
There is no FAQ and the Terms and Conditions doesn't cover many aspects of the business.
The platform has partnered with lots of offer walls, providing lots of opportunities to make money.
But just like most GPT sites, the earning potential is very low.
Another problem is that it takes a long time to withdraw the money, especially if you live in a developing country.
The Best Alternatives to Lootcoins.gg
---
If you are searching for a reliable GPT site, look no further than Prizerebel.
This platform has been highly rated in many blogs and review sites!
I've been using this site for many years and I never had any issues with payments.
Now if you are sick and tired of earning pennies on the dollar, I highly recommend building your own online business.
After following an excellent step by step program, I was able to build a $1,600/mo affiliate site.
Owning a profitable website is life-changing!
It allows me to work from anywhere I want as long as I have an internet connection.

>> Click here to learn more about my recommended program and get started today!
Final Words
Thanks for reading. I hope my Lootcoins.gg review was helpful to you!
If you have tried this GPT site and you want to share your experience, feel free to drop us your comments below! 🙂
Stay safe and peace out!