Welcome to my Daring Descent app review!
WINR Games operates a myriad of Android games that allow you to enter sweepstakes and win cash rewards. One of their most popular and addictive games is Daring Descent, which is all about rotating the obstacles to make the ball fall through the gaps.
There are lots of app developers out there using false advertising to fill up their pockets with ad revenue. They make it seem like an easy way to make real money so that thousands of people install their apps. Unfortunately, most of them don't want to split their profits with loyal players.  
So, will Daring Descent pay you? Is it a scam or a legit app?  In this review, I will explain exactly how it works and give you my honest opinion.
If you want to work remotely and earn a full-time income online, don't forget to check out my #1 recommendation. This is the same program that helped me reach $1,600 per month and quit my job in 2019. 
Daring Descent Review
Name:  Daring Descent
Company: WINR Games, Inc.
Price: Free (no in-app purchases)
Membership eligibility: Worldwide (+14)
Invite code: F59UB
LEGITIMATE
Overall Rating: 3/5
How Does Daring Descent Work?
Installation and Registration
Daring Descent is only available on Google Play Store for Android devices. Before you can start the game, you must create an account with WINR or log in if you already have an account.
If you are at least 14 years old, you can sign up or log in using your Facebook account or email address. But before you do so, I advise reading the Terms of Use and Privacy policy to know the rules and other important information.
What I really like about the WINR is that all of their games are connected (synced) to just one account. Therefore, you can accumulate tickets and cash rewards by playing over 45 games including those from the Big Time Cash.
How to Play Daring Descent
Swipe left or right to rotate the obstacles and make the bouncing ball through the gaps. The game is over if the ball hits a specific segment of a different colour.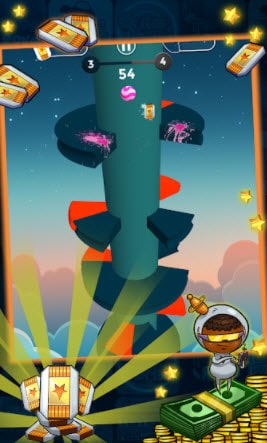 The number of tickets that you will collect is proportional to your score, and if you complete challenges, you will earn a big bonus. For example, if you reach 20, you will rack up 2,500 tickets.
Earn More Tickets 
You can collect more tickets by watching videos, completing offers and inviting other people to play Daring Descent. For example, you will get 5,000 tickets just for installing another WINR game and 100 Tickets per video.
If someone installs any WIRN game and enters your referral code, you will get 2,500 tickets plus $0.10. You can find the code in your profile page.
Prize Draw
All tickets that are outside the bank will be automatically entered into the next prize draw. At the top of your screen, you can find the countdown to the next draw, the current number of entries, and the next prize.
The prize is always over $3,000, which is not too high if you consider the insane number of tickets entered each day. Remember, they will select just 1 winner from millions of users who are playing any of the 40+ game of the company. So, the odds of winning may be lower than winning the Superball.
In my opinion, WINR should publish the total number of entries at the end of each contest period. What do you think?
Convert Tickets Into Cash
If you agree that a bird in the hand is worth two in the bush, you may want to convert all your tickets to cash.

You can exchange 10,000 tickets for $0,10. However, can only cash out once you accumulate $10 in your WIRN account.
Before you can convert tickets to cash, you must deposit them in the bank. Keep in mind that when tickets are in the bank, they will not be entered into the next prize draw.
Next, enter your wallet and click on the conversion tool. Once you reach $10, you can request your payment via PayPal.
Is Daring Descent Legit? Does it Pay? 
You probably know that most money-making games deceive players with fake dollar bills. If you are just playing it for the money, it can be very frustrating to realize that you will never get paid.
Daring Descent is a legit app, but it's important to understand that the company can reject or cancel your payment request for any reason whatsoever. I know that because it's stated in the "Terms and Conditions":
"Upon submitting your request for payment, WINR may, in its sole discretion, for any reason whatsoever, reject, cancel or terminate such request or payment, as applicable".
I have seen lots of complaints about the loss of tickets, missing payments, log in issues and errors trying to exchange tickets to cash. If you take the time to read the reviews on Google Play, you can find people who managed to cash out, but they are less than 1 in 10.
The main reason why lots of people don't make any money with Daring Descent is that it takes a significant amount of time to collect enough tickets to cash out. So, I believe that most people give up!
You can use your tickets to enter sweepstakes, but the odds of winning are probably less than 1 in a million!
Pros and Cons
Pros
It's very addictive and has excellent 3D graphics.
You can earn more tickets by playing other WINR games, watching videos, completing offers, and inviting friends.
There are as many ads as other games.
CAsh out via PayPal.
Cons
You may not be able to redeem your tickets to real money.
It takes a long time to reach $10 and request your payment.
The odds of winning the prize are extremely low.
Conclusion 
Daring Descent is the type of game that I would play non-stop while travelling or waiting on a queue. It's great for passing the time and collecting a little bit of money. However, don't set high expectations!
It takes a long time to cash out $10 and the chances of winning $3,000 are incredibly low. But the main problem is that the company can ignore your payment request even if you didn't break any rule.

Verdict: Legit
Earn a Full-Time Income Online
If you are serious about making money online, don't waste your time with mobile games. Instead, I suggest that you build your own online business so can take advantage of the digital economy.
Thanks to this step-by-step program, I created an affiliate website that gets thousands of visitors per day and earns me a full-time income online. You can also achieve remarkable results if you follow the lessons and take massive action!

This reward platform is going viral! Cash out via PayPal, Visa, Gift Cards, and in-game currencies - Click here to find out how to generate an extra $10+ per day! 
Final Worlds
Thanks for taking the time to read my Daring Descent app review. I hope it was helpful!

So, did you reach $10, and if so, did you get paid? Let us know in the comment box below. 
Peace!