Welcome to my Triple Cash Maker app review!
I was browsing the Google Play store in search of a decent reward app to recommend on my blog when I discovered Triple Cash Maker. The app has been installed just 10,000 times and rated 3.9 out of 5. It doesn't look very promising, but I decided to install it and give it a try anyway.
The Triple Cash Maker app is another reward app that supposedly pays you to play games on your phone. After completing the instructions of each offer, you can earn credits which will accumulate in your account. Then, once you collect 50,000 credits, you can request a $50 payout to your PayPal account.
It seems like an easy way to make money online, but will they pay you? Is Triple Cash Maker a scam or a legit app?
If you are serious about making money online, check out my #1 recommendation. It's the same program that helped me reach $1,600/mo working from home. No special skills required! 
Triple Cash Maker App Review 
Name: Tripe Cash Maker (formerly Easy 100 Dollars Cash)
Developer: Triple Y
Eligibility: Worldwide
Minimum Payout: $50
Price: Free
Overall Rating:

1.4/5
How Does Triple Cash Maker Work? 
Installation
After installing the Triple Cash Maker via the Google Play store, you must register by entering your country, email and password.
Credits and Rewards
Whenever you complete an offer through the app, you will earn credits that you can redeem for cash through PayPal. The minimum payout threshold is $50 (50,000 credits), which means that 1,000 credits = $1. 
How to Earn Credits
It's very straightforward. In the dashboard, you will find all the available offers, the instructions, and the number of credits that each one will give you.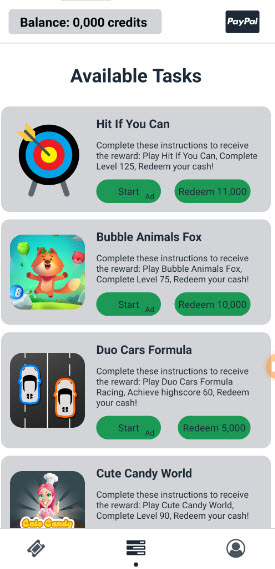 Most of the time, you will have to install the game and reach a specific level or score. Once you complete the task, click on the redeem button to get your credits.
You can earn anywhere between 5,000 to 11,000 credits ($5 – $11) per offer, which is a decent rate. The app developer claims that you can also complete surveys, but as of writing this review, I don't see any opportunity.
How Do You Get Paid? 
Once you earn enough credits, you can click on the PayPal icon at the top, enter your PayPal email and select your payout amount. I advise you to cash out as soon as you reach $50.
The company doesn't provide any time estimate of how long it takes to receive the money in your account.
Is Triple Cash Maker Legit? Does it Pay? 
Oddly enough, most of the games on the list are operated by the Triple Cash Maker itself. So, isn't it strange that the developers are offering $5 – $11 just so you play their games? This doesn't look like a profitable business strategy to me!
As of writing, there are only nine reviews on Google Play. Four users claimed that they requested the payment but they didn't get paid. Two users complained about the lack of tasks, and the only 3 positive reviewers didn't say anything about payments.
The fact that they are offering a decent amount of money to users who play their own games is a big red flag to me.

I cannot claim that Triple Cash Maker is a scam without proof, but in my opinion, I don't think you can make money here.
Pros and Cons
Pros
Cash out via PayPal.
Excellent compensation for completing game offers.
Cons
Strange business model.
There is no evidence that it pays.
There is no FAQ page.
The terms of service don't cover many important aspects of your account and rewards.
Conclusion
Triple Cash Maker is offering a decent amount of cash for completing game offers. However, some users said they didn't get paid after collecting 50,000 credits. I don't think it's worth wasting your time with this app because there is no evidence that it pays.
If you want to make money playing mobile games, check out this list and pick the best apps. Also, I highly recommend this reputable GPT platform if you wish to take part in marketing research studies.
Work From Home and Make $1,000+ /Mo 
Why earn pocket money if you could build an online business that can cover all your living expenses? How would your life be like if you could work remotely and make money on your own terms?
Thanks to this excellent step-by-step program, I've grown a profitable affiliate site which earns me over $1,600 per month!
You are capable of making thousands of dollars per month, but you should be prepared to learn and put in the work. If you want to apply the strategies that can actually change your life in the future, click the link below and discover how to get started.
Final Words
Thanks for reading my Triple Cash Maker app review. I hope it was helpful. So, have you used this app, and if so, did you receive the payment?

Peace!