Daily Match Legend is another match-3 game almost identical to the popular Candy Crush.
The reason thousands of people are playing this game instead of the original one is to cash out real money via PayPal.
Every time you reach a specific target and pass the level, they will encourage you to watch a video ad in exchange for virtual cash rewards. It works just like this popular match-3 game by Tuyoo.
I don't know how you discovered Daily Match Legend, but in my case, I found this advertising: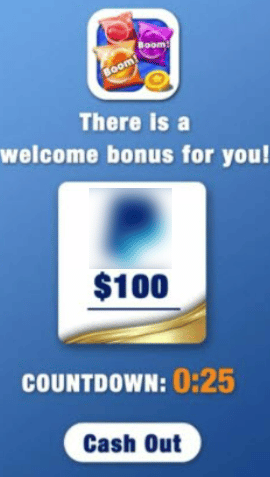 It was not a surprise to me when I launched the game and didn't see any welcome bonus. Making $100 just by installing a game is just a pipe dream, but apparently, they want to push common sense to the limit.
You are probably reading this review because you suspect this is fake! So, can you make real money with Daily Match Legend? Is it legit or another fake app? 
With millions of people losing their jobs, having an income-generating website can give you peace of mind. This step-by-step training helped me reach $1,600/mo and survive during the current crises. 
Daily Match Legend App Review
Name: Daily Match Legend
Developer: Seeco inc
Eligibility: Worldwide
Minimum Payout: $200
Price: Free
Overall Rating:

1.6/5

This reward platform is going viral! Cash out via PayPal, Visa, Gift Cards, and in-game currencies - Click here to find out how to generate an extra $10+ per day! 
How Does Daily Match Legend Work? 
Installation
Daily Match Legend is available for free on Android devices. Upon launching the app, just tap play to get started!
What worries me is that they provide neither a Terms of service or a Privacy policy link. So, you don't really know what's going on in regards to rewards, rules, etc.
How to Play Daily Match Legend? 
It's a very simple game. Simply drag the candies of the same colour and match at least 3 of them in a horizontal or vertical line. Complete the target to pass the level.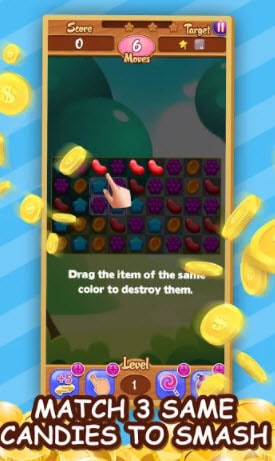 When you start the game, you can choose boosters that will help you destroy items faster and earn more bonuses.
Bear in mind that you will have a limited number of moves. The game is over if you run out of moves before you hit the target. However, you can watch a video ad to try again.

You will earn virtual cash after clearing the stage and watching a video. Occasionally, you can also collect cash rewards by smashing specific candies.
Daily Match Legend has over 1000 levels and the difficulty increases after each level.
Lucky Spin
Daily Match Legend also let you spin the wheel and collect "pieces" of expensive products such as iMac Pro, PS4 Pro, iPhone 11, Airpods and a $100 Amazon Gift Card.
You can supposedly win these products once you collect 100 pieces. It reminds me of many other games that never give you the last puzzle piece!
Is Daily Match Legend Legit? Does it Pay?
Unfortunately, lots of new Android games have been set as "early access", which prevents players from writing their reviews on Google Play. This makes people's research about the app a bit difficult!
Based on my own experience reviewing "money games", I don't think the company will process your payment. Usually, these games will give you a decent amount of cash in the beginning, but the reward decreases level after level.
At some point, you will be making just a few cents at a time, making you wonder if you will ever reach $200. Many games stop giving cash before players have the chance to press the cash out button. Others will let you request the payment, but they will just ignore it.
So, I think either you will get stuck before reaching $200 or you won't receive the payment. Nevertheless, I hope you understand that I cannot claim Daily Match Legend is a scam without proof.
How do You Get Paid? 
As I mentioned, you must have at least $200 to withdraw the money via PayPal. If you reach $200, click on the PayPal balance, select cash out and enter your PayPal email.
Conclusion

Daily Match Legend is a challenging and addictive game to pass the time, but it should not be used as an opportunity to make real money.
There is no evidence that it pays and therefore, you can waste a lot of time chasing ghost rewards.
Think about it. If it was so easy to make $200 playing these games, no one would struggle financially anymore!
There are much better platforms, apps and strategies out there. If you are searching for easy methods, I recommend this reputable GPT site where you can get paid for sharing your opinion and completing offers.
If you put in the same amount of time that you probably spend on games like Daily Match Legend, you could cash out $100 within a month or so.
Work From Home and Make $1,000+ /Mo 
Depending on a job to pay the bills in the current global pandemic situation is too risky. That's why growing an alternative source of income online has never been so important!
Whether you want to quit your job or just supplement your income, I suggest that you build your own online business.  
Thanks to this excellent step-by-step program, I've grown a profitable affiliate website which covers all my living expenses. It's not any hidden secret or shortcut to making money online. Instead, it's a realistic approach to creating a long-lasting business, which only works for those who put in the time and effort.

Final Words
Thanks for reading my Daily Match Legend app review. I hope it was helpful. So, did you reach $200 and received your payment? Let us know in the comment box below.
Take care!