Welcome to my Panda Cube Smash app review!
In this review, we will take a close look at another "money-making" game called Panda Cube Smash.
Perhaps you discovered Panda Cube Smash after watching an ad showing players earning hundreds of dollars!
The app's front cover is full of dollar notes and great graphics that will attract everyone looking for quick and easy money.
I am constantly reviewing reward apps on my blog, and I know how frustrating most of them are. It doesn't matter how long you play, your chances of making real money are very slim!
You are probably wondering if you can really win some money with the Panda Cube Smash. Is it a scam or a legit app?
Check out my honest review before you install or continue to play.
Before you leave, discover the step-by-step program that helped me reach $1,600+ per month from my laptop and quit my job. No special skills required! 
Panda Cube Smash App Review
Name: Panda Cube Smash
Company: Wonderful Moment (HK) Limited
Website: http://tuyooglobal.com/
Eligibility: Worldwide
Price: Free
Overall Rating:

2

/5
What is Panda Cube Smash?
Panda Cube Smash is an Android match puzzle game similar to the popular Candy Crush. The main difference is that the company is suggesting that players can make a decent amount of money.
In this game, you have to match 2 or more cubes of the same colour and finish the levels.
When you collect all the target cubes, you will pass the level and earn cash rewards that will accumulate in your account.
As you are solving the challenging puzzles, you will earn coins that you can supposedly convert to real money.
According to the app rules, your cash reward can be cashed out through PayPal or exchanged by an Amazon Gift Card once you reach 50 USD.
The game has been downloaded over 1 million times and has gained a lot of popularity mainly because of the dollar signs. But does it actually pay?
Is Panda Cube Smash Legit? Does it Pay?
I cannot claim Panda Cube Smash is a scam without solid proof. What I can say is that the app makes it very difficult or even impossible to reach the $50 mark, which is the minimum cash out amount.
Panda Cube Smash will give lots of virtual cash during the first levels to make you think you will cash out quickly.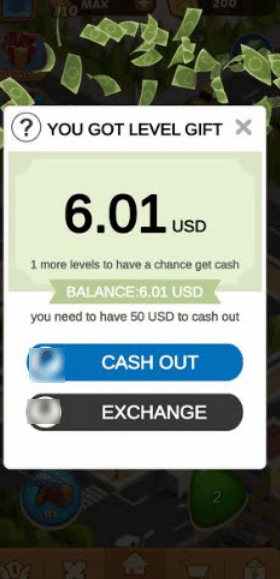 However, the more you play this game, the less money you will get!

It's very frustrating to realize that your cash balance may eventually stop growing before you can reach $50.
These games are clever advertising machines that will not steal your money, but it will generate revenue at the expense of your precious time.
If you check the review section on Google Play, you will be surprised at the number of negative testimonials. Check this out!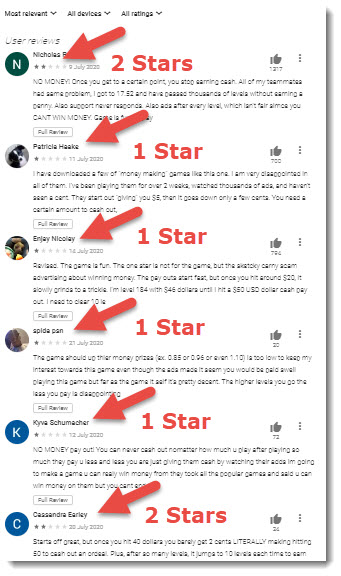 This person is stuck at $46 after reaching level 441 as she is not even making pennies.

Is Panda Cube Smash Safe? 
Google Play has security systems in place to identify dangerous apps and will ban any application that doesn't match their minimum criteria. So, it's unlikely that you will have any security issues by installing and playing Panda Cube Smash.
Regarding your data, the company promises to safeguard your personal data, but there is always a level of risk involved. That is the case with any other app you install on your device.
You should also note that the Panda Cube Smash app claim doesn't sell your data to other companies without your consent.
Pros and Cons
Pros
It's fun and very addictive.
There are over 1200 puzzles.
There are not many ads.
Excellent graphics.
Cons
The cash reward decreases after each level.
People get stuck before reaching $50.
It drains your battery, overheats your phone, and consumes a lot of internet data.
There is no evidence that the company is processing payments.

How Does Panda Cube Smash Work?
Installation
Panda Cube Smash is only available for Android devices, and you can install it for free on Google Play. Before you start playing, all you have to do is agree with the Terms of Service and Privacy Policy.
How to Play Panda Cube Smash?
It's actually a very simple game. All you have to do is match at least 2 cubes of the same colour to blast them out.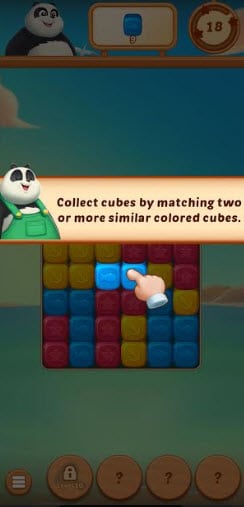 Then, you can finish each level by matching all the target cubes, which are indicated on the top of the screen.

This reward platform is going viral! Cash out via PayPal, Visa, Gift Cards, and in-game currencies - Click here to find out how to generate an extra $10+ per day! 
By matching 5 or more cubes, you can activate boosters such as fireworks, TNTs, and spinning tops. Such boosters will help you blast more cubes at one and pass the levels faster.
For example, by matching 9 cubes you will get the spinning top, which will remove all the cubes of the same colour from the board.

Heck, you can even combine boosters to increase their powers!
You can always start a new level with a free booster if you watch a video ad.
When you reach level 30, you can unlock construction and receive more rewards.
There is also a Panda gift every 10 levels and a Star Gift every time you collect 20 stars. They say you will get free coins or items randomly when you open these gift boxes.
Panda Cube Smash has many other features and earning opportunities that I don't think is worth mentioning here.
Earning Cash Rewards
It's important to know is that you will accumulate cash very quickly in the first 10 levels.
In the beginning, you will start earning a few dollars after each level, but the cash amount gets lower and lower.
It gets so bad after a certain point that you will be earning a few cents after 10 or more levels!
To give you an idea, one player was able to earn $43 on the first day and only $2 during the next 3 days. So, now he has reached $45.68 at level 191.
Another player went even further! He made it to level 500 and said that when you reach 350, you will start earning $0.01 every 10 levels.
Conclusion
I enjoyed playing Panda Cube Smash because of the challenge and excellent graphics.
Unfortunately, the app is designed to give us less and less, so you may never reach $50 before the final level. Besides, even if you do reach $50, there is no guarantee that you will receive the payment.
If you want to play Panda Cube Smash, do so for the game itself and not for the money. Otherwise, you run the risk of smashing your phone on the floor!
Is There a Better Alternative to Panda Cube Smash?
I have been testing "money-making" games for years, and I think the only company that lets you cash out is Bling, which operates this game similar to candy crush. Unfortunately, the pay is incredibly low!
All the other games seem to work at the developer's best interest with no regard for users. If they don't want to pay, they don't need to give you any explanation. It's that simple!
You could also use a reward app that pays you for installing and playing games through their own platform. Sadly, this app is also letting many people down lately, so don't set high expectations.
If you want to earn a little extra cash from your phone or desktop, it's better to join a reputable GPT site where you can earn over $100 per month by filling up surveys and completing offers.
Still, I prefer using affiliate marketing as it allows me to earn great commissions. In the next section, I will explain more about this business model and how you can get started.
Earn a Full-Time Income Online!

You could be making much better use of your time by building your own online business!
People all over the world are generating thousands of dollars per month by operating affiliate sites.
The business model consists of creating valuable content and promoting other people's products through affiliate links. The more visitors you attract to your site, the more money you will make.
I am glad that I could finally quit my job last year after growing my own internet business.
It allows me to set my own schedule, work wherever I want, and achieve the perfect work-life balance.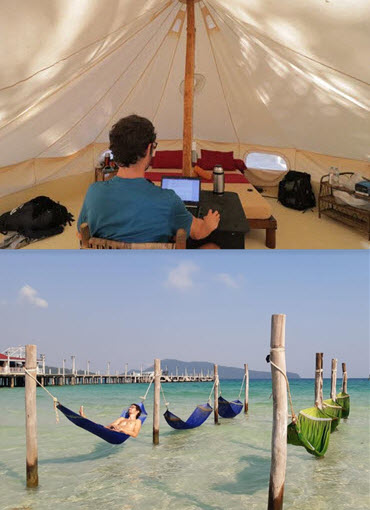 I want to share with you this opportunity as anyone can achieve the same results with hard work and perseverance.
If this the laptop lifestyle appeals to you, I advise to learn from expert marketers who walked the way to avoid trial and error. 
This excellent training program showed me the exact steps to build a successful affiliate site from the ground up.
I first found this platform in 2015, but they have been around since 2005 with a solid reputation in the industry.
You can sign up for free today and start building your business with no strings attached. >> Click here to learn more!
Final Words
Thanks for visiting my site and reading my Panda Cube Smash app review. I hope it was helpful!
If you would like to share your thoughts about this app, feel free to use the comment box below. Did you reach $50 or not? How long have you been playing?
Stay safe and peace out!