Welcome to my Word Picnic app review!
I was browsing the Google Playstore when I discovered another puzzle game called Word Picnic.
Just like hundreds of gaming apps, Word Picnic makes people believe they can win great prizes and Amazon vouchers once they play for long enough.
That's how they get users to play for a long time, and as a result, watch lots of advertising.
I am always very skeptical of such apps as the amount of money they make from ads is probably not enough to pay every user. Besides, they are always getting negative feedback a ton of complaints, and 1-star reviews.
So, is Word Picnic a legit or scam app? Will it eventually pay you? Read my honest review below to find out.
Before you leave, discover the step-by-step program that helped me reach $1,600+ per month from my laptop and quit my job. No special skills required! 
Word Picnic App Review
Name: Word Picnic
Website: https://www.mywordpicnic.com/
Type: Crossword puzzle
Eligibility: Worldwide
Price: Free
Similar apps: Wordy Word, Wizard of Word, Word Cooking
Overall Rating: 2/5
What is Word Picnic?
Word Picnic is a crossword game where players have to connect the letters to uncover the hidden words. It's a challenging game that will help you improve your vocabulary and pass the time.
Whenever you solve the word puzzle, you will earn coins that you can supposedly redeem via Amazon gift cards worth $2 and $5.
By unlocking specific words, you will also get a chance to play the lucky wheel and earn coins or puzzle pieces to win an Airpod and iPhone XS.
Word Picnic is 100% free to play and is available on Android and iOS devices.
Does Word Picnic Reward Users?
Many people play puzzle word games for entertainment, but the reason you are reading this review is that you want prizes. Am I right?
Well, Word Picnic says you can request a $2, $5, and $10 Amazon gift card once you earn enough coins. Besides, they give you the chance to earn an iPhone or Airpods by playing the lucky wheel and collecting puzzle pieces.
Indeed, these are great incentives that will keep you playing the game for many hours.
Unfortunately, lots of people report that their Amazon gift cards are always unavailable. As for the lucky wheel, players complain that it never lands on puzzle pieces when they are close to winning the iPhone XS or Airpods.
Some people also complain that they lost all of their puzzles.

Some users try to contact the developer to know what is happening, but they get no answer.
Most critical reviewers are frustrated because they thought they would eventually reach the minimum number of coins or pieces.

Well, the truth is that you are unlikely to receive any reward regardless of how long you play.
Word Picnic should inform users about that, but I guess they wouldn't attract as many players (aka ad viewers) if they did. As a result, they would not make as much money!
Another important thing to mention is that the game has no Terms of Use, which is very problematic. Without this page, you don't know what to expect from using the app regarding rewards, rules, etc.
Pros and Cons
Pros
You can play online and offline.
It's a challenging game with 1500 levels.
Cons
Gift cards are "temporarily out of stock" when you try to redeem your coins.
You may never collect all the puzzle pieces to get an iPhone or Airpods. Many people get stuck.
There are no Terms of Use.
How Does Word Picnic Work?
Installation
Word Picnic is available on Google Play and App Store. It doesn't require any registration to play, but oddly enough, they will ask permission to make and manage phone calls.
I have don't have the slightest idea why a puzzle game would want to manage phone calls from my phone. Anyway, you can deny access and stall get access to the game.
Playing Word Picnic
Swipe the finger and connect the letter to uncover the hidden words.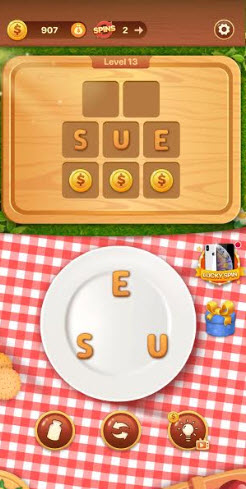 In the beginning, the game is super easy as the words have no more than 3 letters. So, you will achieve higher levels and collect lots of coins without much effort.
Once you reach level 12, it becomes a bit more challenging as you will play with 4 letters. There are over 1500 levels!

If you get stuck, you can tap "hint" to uncover a letter, but only after you watch a video ad.

You will earn 30,  40, or 50 coins per level depending on how many words you had to guess.
Every time you pass 5 levels, you can click on the blue gift icon on the side to collect a nice bonus. You can always multiply the bonus by watching a video.
Sometimes, you will have the chance to spin the lucky wheel and earn 200 coins, a mystery box, or a puzzle piece.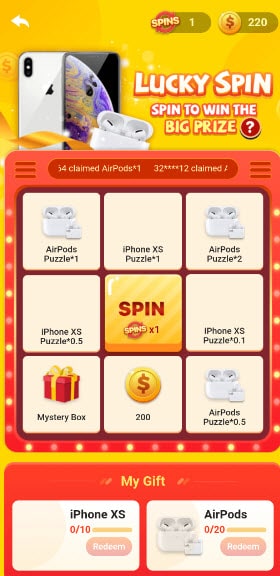 This reward platform is going viral! Cash out via PayPal, Visa, Gift Cards, and in-game currencies - Click here to find out how to generate an extra $10+ per day! 
There are two kinds of puzzle pieces – iPhone XS puzzles or Apple AirPods puzzles.
You need 10 iPhone XS puzzles to win an iPhone, or 20 Airpods puzzles to win Airpods.

To get spins, you can clear a level that has pins rewards, watch a video ad, or spend 599 coins.
One person collected 98 spins in 4 months but none of them landed on coins or puzzle pieces. All he got was a mystery box with a "Sorry" inside.

I can only assume that the spin wheel is rigged, which means you will not get a reward just because you are playing more.
Another way to win puzzle pieces is to check in daily. But again, some people are complaining that puzzle pieces don't get counted.
Rewards
If you tap on your cash balance at the top, you will find out that you can redeem 29,999 coins for a $2 Amazon gift card. You can also redeem 69,999 and 159,999 for $5 and $10 respectively.
However, I advise cashing out the minimum amount just to make sure they will pay you.
After redemption, Word Picnic promises to arrange the delivery of your reward in several days. You need to abide by the laws and take responsibility for your taxes.
Conclusion
Word Picnic is a fun and addictive game, but many players feel cheated as they cannot earn rewards.
If you check the reviews on Goole play, you probably won't find anyone who managed to redeem points for gift cards nor collect all the puzzle pieces.
When people try to redeem their coins, it says the Amazon gift card is out of stock. As for the puzzle pieces, it seems the app will never let you accumulate the required number.
I don't think Word Picnic deserves your attention. A serious app would at least warn you that winnings are not guaranteed to avoid frustration.
If you wish to earn Amazon gift cards or cash via PayPal, I advise getting rid of gaming apps because most of them are a complete waste of time.
Instead of using apps, I suggest signing up for reputable GPT sites where you can connect with marketing research companies and offer providers.
It's possible to earn over $100 per month by answering surveys and completing offers with this top-rated reward platform.
Earn a Full-Time Income Online
If you are searching for an opportunity with the potential to earn you a full-time income, I suggest building your own online business.
More specifically, I recommend growing an affiliate site because of the low risk and high-income potential.
If you know how to attracts visitors to your site and you put in the work, you can earn thousands of dollars per month.
The best thing about this type of business is that it gives you the freedom to work whenever and wherever you want. Another advantage is that there is no pressure to meet customer deadlines!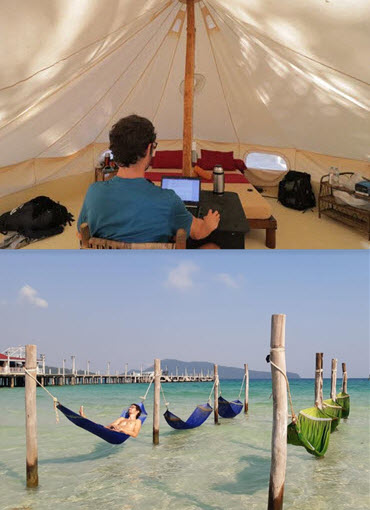 If this work style appeals to you, I advise learning from expert marketers to avoid trial and error. 
This excellent training program showed me the exact steps to build a successful affiliate site from the ground up.

You can sign up for free today and start building your site with no strings attached. >> Click here to learn more!
Final Words
Thanks for your time reading my Word Picnic app review. I hope it was helpful!
If you would like to ask any questions or share your opinions about this app, use the comment section below.
Stay safe and peace out!