Welcome to my Word Smash app review!
Thousand of people around the world have been playing Word Smash to earn money. All you have to do is play the crossword game and watch sponsored clips.
As with many other games on Google Play, the app makes you think will cash out though PayPal once you reach $50.
The advertising goes as far as to suggest players can get rich as you can see below: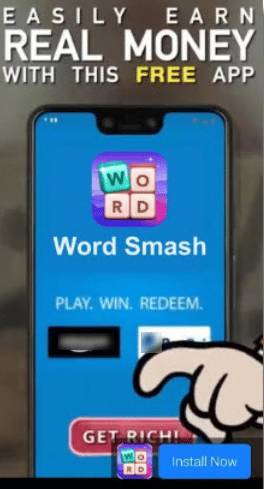 Unfortunately, you will only realize the mechanics of the game after playing for many hours.
Lots of players are disappointed and even furious at Word Smash. In this review, I will explain how the game works, and what will probably happen if you play it for long enough.
Is Word Smash legit? Does it pay or not?
Let's find out!
Before you leave, discover the step-by-step program that helped me reach $1,600+ per month from my laptop and quit my job. No special skills required! 
Word Smash App Review
Name: Word Smash
Eligibility: Worldwide
Price: Free
Similar apps: Wordscapes Search, Word stacks
Overall Rating: 2/5
What is Word Smash?
Word Smasher is a free crossword and word stack game developed by Word Smash DEV. The prime goal of the game is to find words among random letters on the board.
Word Smasher has been installed over 500,000 times and rated 4.5 out of 5 on Google Play.
You may think that's a good sign, but the overall rating on Google Play doesn't mean anything. There are many sites that pay people to install and give positive reviews, so we never know who to trust!
I like crossword games because they release stress and are great for our mental health. Sadly, Word Smasher may have the opposite effect on you when you realize you are chasing a carrot. 
Is Word Smash Legit? Does it Pay?
After passing each level on Word Smash, you will earn virtual dollars that you can supposedly transfer to PayPal as soon as you reach $50. That' the minimum amount you can cash out.
In the beginning, you will earn a decent amount of money just for passing levels and watching a few ads.
However, they will give you fewer and fewer rewards as you progress on the game. It's ok for a while, but your cash reward will drop significantly once you accumulate $30 – $40.
Between $40 – $45, you will likely make $0.01 after 10 levels! At this stage, your dream of making $50 within a few hours will die out.

The problem is that even if the app lets you reach $50, there is no guarantee that it will pay out.  That's why many people give up!
Despite the uncertainty of getting paid, I don't consider Word Smash a scam. However, I don't support this type of business as it tends to leave a trail of anger and dissatisfaction.
Pros and Cons
Pros
The game is very addictive.
There is not an ad after every level, which is not too bad!
Modern graphics.
Cons
The more you play, the less you earn.
Ads don't always open, forcing you to click on "Give up".
People get stuck before reaching $50 just like many other games.
There is no evidence of payments.
 How Does Word Smash Work? 
Word Smash is available for free on Google Play. After installing the app, you can play straight away. There is no registration and you don't even need to agree with the Terms of Service.
All you have to do is swipe the letters to reveal the words. Every time you unlock the word, the letter cubes will crash down and possibly connect more letters that will form words.
They will always give you a hint that helps you to find related words in the puzzle. For example, at level 2, the hint was "Three Little Pigs".
Once you unlock all the words, you will pass the level. You will only earn cash if you pass 5 levels and you can double the reward by watching a video ad. Alternatively, you can click on "Give up" to ignore the reward.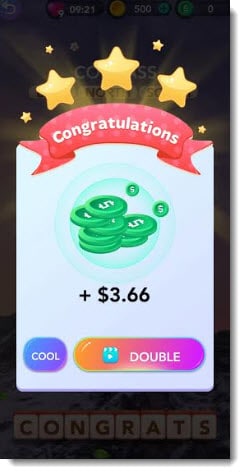 Sometimes, you will also unlock bonuses after discovering a specific word.
As you are playing Word Smash, you will also accumulate coins, which you can use to buy hint letters or change their positions. Coins can be purchased with actual money, which is another way for the app developer to make profits.

Word Smash is very similar to the popular Word Stacks and Wordscapes app. The key difference is that these other games don't provide the cash incentive.
User reviews – Complaints
Most people who take the time to write an in-depth review are complaining about Word Smash.
The problem is always the same. They will let you reach $30 very quickly to make you think it will the money is right next door. But it won't continue like this…
After $30, the cash reward will drop significantly after level after level, and you will get stuck! here are some relevant reviews:

This reward platform is going viral! Cash out via PayPal, Visa, Gift Cards, and in-game currencies - Click here to find out how to generate an extra $10+ per day! 



Some people complain that they are forced to click on "Give up" when a video ad glitches.  When that happens, the app always shows the amount of money they have lost.
However, when they do watch the ad, they usually win coins instead of cash, especially if they are at a high level.
Conclusion 
Word Smash is a cool game that fits the purpose of entertaining players, but frequent advertising can ruin your gaming experience!
When it comes to rewards, that's when things get rough!
The mechanics of the game may never let you reach $50 unless you have the guts to play for months or years to discover.
So, if you want to play Word Smash, here is my advice: Play for the fun of the game, not for the money.
Regardless of how many levels you play and how many ads you watch, you are unlikely to get the money.
Some people consider Word Smash is a fraud. Well, I cannot make such a claim without solid proof, so I will let you decide.
Is There an Alternative to Word Smash?
I am not aware of any Crossword puzzle game that is processing payments.
Even if you reach the minimum cashout amount and request the payment, I doubt you will ever get the money.
Lots of people have been commenting on similar app reviews that I posted on my blog. This crossword game, for example, doesn't seem to pay anyone!
If you want to earn a little extra money from your phone or desktop, give preference to reputable platforms. This get-paid-to site can help you reach over $100 per month by completing surveys and offers.
Earn a Full-Time Income Online!
If you want to earn enough money online so you can kiss your job goodbye, here is my advice to you:
Get rid of advertising traps on your phone and build your own internet business! 
People all over the world are making thousands of dollars per month by taking advantage of affiliate marketing. The business model revolves around providing valuable content and promoting other people's products through affiliate links.
When I discovered this opportunity back in 2015, I immediately imagined myself working from home or making money while traveling the world.
This flexibility gave me enough motivation to work hard and pursue my dream. So, here I am 4 years later working from my laptop in a tropical country: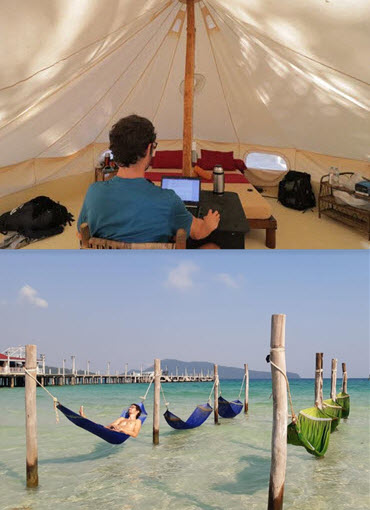 Thanks to this excellent step-by-step program, I was able to grow a profitable affiliate site even though I had no tech or marketing skills. It's now covering my living expenses and travels for many years.

You can achieve great results too if you learn to get website traffic and put in the time and effort.
Remember, there has never been a better time to build an online presence as more and more people are buying stuff online.
Final Words
Thanks for visiting my blog and reading my Word Smash app review. I hope it was helpful!
If you have any questions regarding this app, leave us a comment below! Also, feel free to share your experience of playing the game. Did you manage to reach $50? Did you get paid?
Stay safe and peace out!