Brick Buster! is another mobile game developed by Shape Keeper Ltd. This Hong Kong-based company has many other popular money-making games available on Android devices such as Lucky Pusher, Hyper Plinko, and Lucky Money.
Brick Buster's advertising gives people the impression they can earn money quickly and cash out via PayPal. It's not a surprise the app has been installed over 100,000 times! 
After watching one of their ads, I was directed to Google Play store where I installed the game to see how it works.  I also checked lots of users reviews to see if people were making real money or just uninstalling the app empty-handed.
In this review, I will show you everything you need to know about the Brick Buster! app, and give you my honest opinion. Is it legit another fake app? Keep reading to find out!
Brick Buster! App Review
Company: Shape Keeper Ltd
Eligibility: Worldwide
Minimum Payout: $100
Price: Free (no in-app purchases)
Overall Rating:

1/5
What is Brick Buster? 
Brick Buster is a mobile game where you have to smash the yellow bricks with the ultimate goal of collecting virtual cash and coins.
Brick Buster is a mobile game where you have to smash the yellow bricks with the ultimate goal of collecting virtual cash and coins. Then, you can supposedly exchange your virtual coins and tokens for PayPal cash and Amazon Gift cards.
How Does Brick Buster Work? 
All you have to do is select the angle you want to hit the ball and try to smash as many bricks as you can.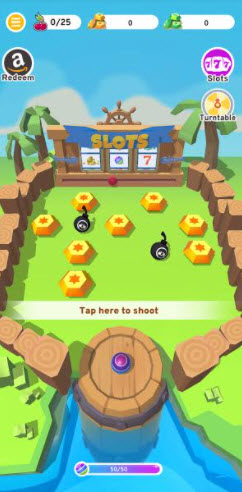 You will earn 50 coins for every brick you destroy. When you break all the bricks on the screen, it gives you the opportunity to spin and win virtual cash, coins and fruits. The only way to collect virtual cash is by watching a video before spinning the wheel.
Also, you can trigger the slots and earn more rewards by hitting the red ball that is moving left and right.
You will start with 50 balls, and you will earn one free ball every 10 minutes. Once you run out of balls, you should either wait for the timer or wait for the video to get an extra 20 free balls.
Brick Buster is a great game for killing time. It has nice graphics, but after playing it for a while, you can get bored easily. I think the mechanics of the game is not realistic because the ball stops abruptly, which doesn't happen in real life.
I am sure most people are playing it for the money. So, let's talk about all of the rewards available.
Rewards
It's important to understand that coins (virtual cash) are different than tokens. You can cash out $100 via PayPal once you collect 100 coins and redeem an Amazon gift card once you reach 4 million tokens. Brick Buster doesn't mention the value of this gift card.
They also have another gift card for players who collect 20 fruits, a $1000 prize for lucky players who get 25 fruits and another $1000 prize for those who match 777 on the slots.
I wouldn't have any hope to win these big cash rewards because the company is not obliged to process the payment. In a recent review of Brick Buster on Google Play, one user said she won $2000, but the money disappeared from her cash balance. How frustrating!

Is Brick Buster Legit? Will You Get Paid? 
I wouldn't call Brick Buster a scam, but after reading lots of reviews, I am very sceptical about making real money with this app. The reward pattern is similar to other hundreds of money-making games. You will rack up coins very quickly in the beginning, but after you reach $60 or $70, your earnings will drop significantly.
So, it takes a very long time to $100 and many hours worth of ads. Unfortunately, there is no guarantee that you will ever reach $100 and then receive the payment.
Conclusion 
Brick Buster is another game advertised as an opportunity to win cash rewards. The problem is that you will probably get stuck before you can reach the minimum payout. Many players set high expectation because they think the game was supposed to work just like in the advertising, but it's not! There is no guarantee that you will reach $100 and receive the payment.
Earn a Full-Time Income Online
If you want to make hundreds or even thousands of dollars, I suggest building an online business. There is always a new strategy, but affiliate marketing will always remain an excellent business model to use.
The method that I use revolves around creating content for my own website and promoting services as an affiliate. Once I create the content, it ranks on Google and attracts visitors all over the world. That's how you can also make a decent amount of money online!
If you want to start your online business, you can follow this excellent step-by-step training. I went through the same program back in 2015, and I think it's the best one available for beginners.
Final Words
Thanks for taking the time to read my Brick Buster! app review. If you played this game, share with us your experience in the comment box below. Did you manage to reach $100? If so, did you get paid?
Stay safe and peace out!