Welcome to my Lucky Dice app review!
In today's review, we take a close look at another mobile app that claims you win daily rewards from your Android device. This one is called Lucky Dice, which seems to behave lust like hundreds of apps that start with the magic word "Lucky".
You are here because you don't want to install and play another boring game that causes more frustration than joy. When it comes to Lucky Dice, I believe that full joy will only come if you turn that virtual cash into real money in your PayPal Account.
So, does Lucky Dice really pay? Is it a legit or another scam app? Keep reading to find out!
If you are serious about making money online, get rid of apps and discover the step-by-step program that helped me reach $1,600+ per month. No special skills required! 
Lucky Dice App Review
Name: Lucky Dice
Company: Lucky Dice Entertainment, Inc
Website: https://www.luckydiceapp.com/
Eligibility: Residents of the US, the UK (+16)
Minimum Payout Threshold: $10 or $100 depending on your country
Price: Free (no in-app purchases)
Overall Rating: 

1/5

Recommended? No
What is Lucky Dice All About? 
Lucky Dice is a free board game that gives you the chance to collect virtual cash and coins just by throwing the dice.
The game is very simple! Just tap the dice to move the pin around the board and win the rewards.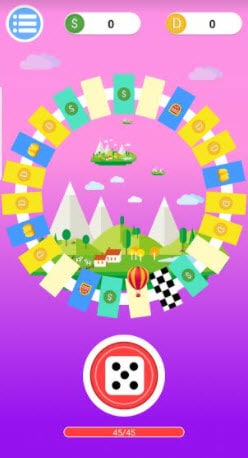 Virtual cash and coins will accumulate in different balances. You can supposedly withdraw your virtual cash balance via PayPal once you have at least $10 or $100 in your account. It depends on your country.
You can also redeem your coins for a $10 Amazon Gift card once you reach 12 Million.
Apparently, the app has been modified because it doesn't look like in the app description. With a recent update, spins and scratchers are not available anymore.
Lucky Dice is owned and operated by a limited company headquartered in Los Angeles called Lucky Dice Entertainment, Inc. However, the developer is based in Wan Chai, Hong Kong. 
It has been installed over 100,000 times and rated 4 stars out of 5. However, that doesn't mean the positive rating reflects on your chance to win real money. 
Can You Make Real Money With Lucky Dice?
I believe it's very unlikely that you will receive the payment. I am saying this because I couldn't find a success story after reading lots of reviews about this app.
Most reviews that I see on Google Play are from users complaining about missing points, missing payments and the difficulty in reaching $10.
The most common issue is that the closer you get to the minimum payout, the fewer tokens you will earn. After you reach $8, you will probably get stuck.
Some people say the board game is rigged because every time their pin goes around the board, it misses the cash spots.
Therefore, will have to play the game for a very long time and watch lots of ads with no guarantees.
I am not saying it's impossible to make money with The Lucky Dice app because they can always reward users. However, we will never know for sure.

Is Lucky Dice Legit?
It's not prudent to call any app or site a scam without proof. Making unproven statements is not right, so I will stick with the facts without making final judgements.
The only fact available for me is in the Terms of Service, which you can find inside the app or Lucky Dice's website.
Is says tokens, which includes virtual cash and coins, have no monetary value. In other words, they are not real money!
Another key information is that tokens can only be redeemed for PayPal or digital Goods at the company's sole discretion. In other words, the company can decide whether it will pay you or not.
If you are playing Lucky Dice, they assume you agree with their Terms of Service, and therefore, you acknowledge that you may never get paid.
That's why the app is still available on Google Play. If it was a scam and unsafe, it would have been banned a long time ago.
Another important information you can find in the "Terms of Use" is that Lucky Dice is eligible for residents in the US and the UK only. Therefore, the company will not process payments if you live in another country.
How Does Lucky Dice Work? 
Installation
Lucky Dice is only available on Android devices. After installing the app, you can start playing it straight away.
Please note that Lucky Dice is eligible for residents in the US, the UK and Canada (excluding Quebec). Therefore, the company will not process payments if you live in another country.

How to Play Lucky Dice
Tap on the dice to make the balloon (pin) moves according to the numbers you get. You can throw the dice 45 times per day. After the 45th dice, you must watch a video to get 5 extra dices.
Depending on the spots you land, you can get:
Cash: Earn a few cents (virtual cash redeemable for PayPal)
Coin: Earn coins redeemable for Amazon gift cards.
Lucky Slots: trigger the slots for a chance to win cash and tokens. They say if you match 777 to win $1000.
Golden egg: Smash the golden egg for a chance to win extra cash and tokens.
Sometimes, you can also multiply your rewards by 2, 3, and 5.
You can always skip it, and unlike other games, Lucky Dice will not force you to watch the advert while playing.
Most videos are about fake games which don't pay anyone. Don't fall into the trap of making a lot of money via PayPal, because you will just waste your time. 

This reward platform is going viral! Cash out via PayPal, Visa, Gift Cards, and in-game currencies - Click here to find out how to generate an extra $10+ per day! 
How Do You Get Paid?
As I already mentioned, you must reach $10 before you request your payment. In some countries, the minimum is $100.
If you tap on the coin balance, they will show you a list of Amazon Gift cards available with different cash amounts from $10 to $80. You must collect 12 million coins redeem for a $10 gift card.

I believe it will take over 6 months to reach this requirement. Despite that, you may not get paid. 
Final Thoughts
Lucky Dice is another mobile app that will make it hard for you to reach the minimum payout threshold and cash out. Yet, there is no guarantee that once you request your payment, the money will be sent to your PayPal account.
In the beginning, you will collect a few cents per day, but after you have $8+, your earnings will drop drastically.
I can't even fathom the number of dices you have to throw in order to reach the goal. It can be a painful and frustrating experience.
Is There an Alternative to Lucky Dice? 
There is an astounding number of mobile application advertised as an opportunity to win real cash rewards! While testing Lucky Dice, I discovered a similar app called Dice master 3D. 
Me, personally, I wouldn't install any of them the as odds of winning are probably less than 1 in a million. 
If you are searching for legit apps to make money while playing games, check out this post and search for the ones that are labelled "likely to pay".
Earn a Full-Time Income Online – 
If you want to make thousands of dollars per month online, get rid of apps and consider building your own online business.
I always recommend building a website that allows you to get visitors from all over the world and earn affiliate commissions.
It's not difficult, but you can get lost and even scammed in the process of searching for free information. That's why I recommend a well-structured and reputable training that will always keep you on the right track. This one is my top recommendation! 
Growing this type of business takes time and hard work, but the benefits are huge! That's why I spent 8 months working on my site just to make $1. The result?
I can now work from my laptop whenever and wherever I want!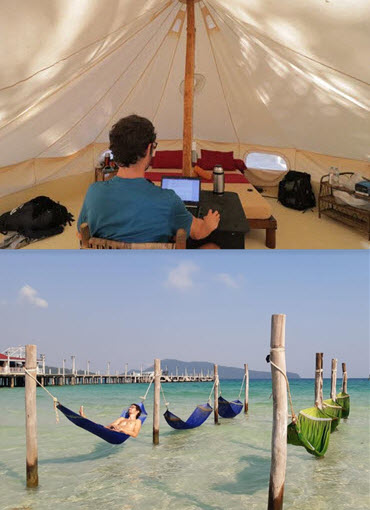 If you are prepared to sacrifice today for a better life in the future, I can help you in this journey! >> Click here to get started! 
Final Words
Thanks for your time to read my Lucky Dice app review. I hope it was helpful!
So, did you manage to reach $10 and cash out? If so, did you get paid or not? Share your experience with us in the comment section.
Stay safe and peace out!